Sustainability Q&A: JJ Doria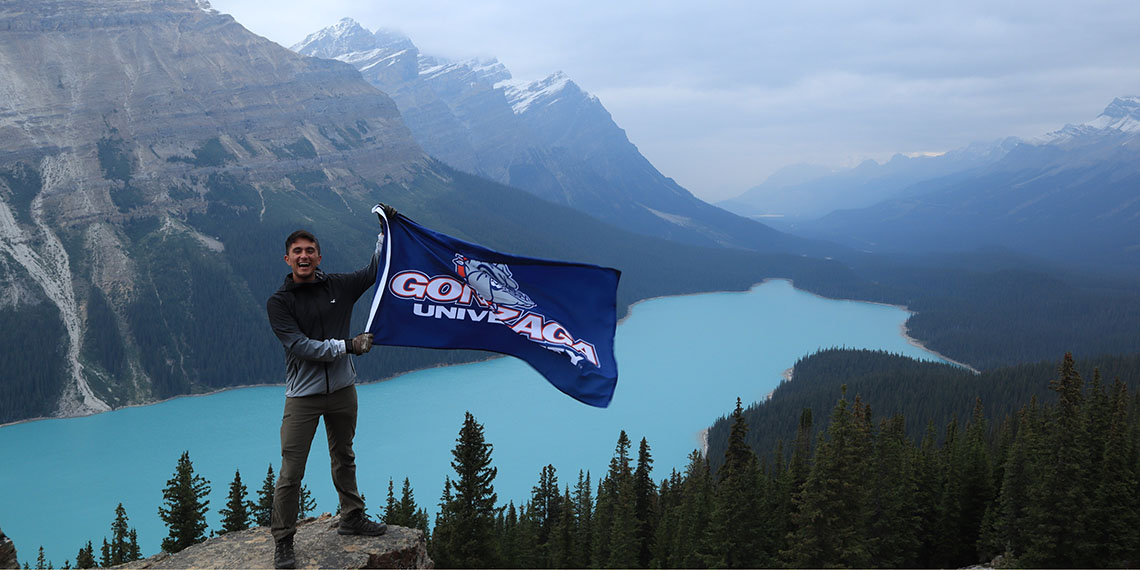 Gonzaga's Office of Sustainability spent some time with Electrical Engineering major JJ Doria, a junior who is spearheading the student push to add more solar panels to campus buildings.
What does sustainability mean to you?

Humanity has learned how to operate sustainable models allowing us to become more resilient to changing environments and improve environmental practices. Resiliency is what I think about when environmental sustainability is mentioned, as I believe the word sustainability is misused in many cases such as in business and economics.
How have you been involved in promoting sustainability on campus?

I have been involved in various environmental groups on Gonzaga's campus such as Gonzaga Green Fund, the Student Sustainability Leadership Program, GEO (Gonzaga Environmental Organization), and GEO's committee called GRIG (Gonzaga Renewable Investment Group). I have also been involved off campus volunteering at The Lands Council and interning at Avista Utilities.

My involvement started Freshman year, when I founded the Gonzaga Renewable Investment Group committee in GEO. Since then I have been co-leading this group of likeminded friends to make tangible change on campus for renewable energy and develop skills for creating a better future for energy. Currently, we are creating a roadmap, where we are analyzing buildings for rooftop solar on Gonzaga's campus to help Gonzaga prioritize where renewable energy could be installed and how it can be done in the most effective way possible. If you are interested, please join GEO and find our committee!

Talking about GEO… this year I have served as the president of GEO and it has been an opportunity of a lifetime. Not only have I been able to learn more about environmental awareness and action, I have had the opportunity to collaborate with inspiring individuals inside and outside of GEO. Most importantly, I have had the opportunity to be mentored by the GOAT (greatest of all time), Jim Simon, the Director of the Office of Sustainability who has helped me grow immensely as a student leader and environmentally minded individual. Thank you, Jim!
What are some things you do in your personal life to live sustainably?

In my personal life the most significant thing I do is commuting by bike to my job, community events, and anywhere I might need to go in a 20-mile radius. Additionally, I use reusable cups and straws for my beverages, a hydro flask for water, and reusable utensils for food. As any responsible person would do, I also make sure to compost, recycle, and throw away appropriate trash. One thing I'm proud of is my ability to carry any bottle or piece of food around with me until I find a bin to properly separate my waste. I have built up this practice to the point where I held onto a homemade burrito, which I dropped on gravel, for a three-and-a-half-hour drive while returning to Gonzaga from winter break. The burrito was successfully composted.
How could Gonzaga continue to improve its sustainability efforts?

Gonzaga has an impressive amount of accomplishments and respectable goals for a university of its size. I am very familiar with how Plant Services has been hard at work making the buildings at Gonzaga as energy efficient as possible. For example, over three buildings on campus are LEED Certified, which means the buildings are built with environmental sustainability in mind. Hemmingson is really impressive, but the heating and cooling improvements that Plant Services has made to older buildings on campus is even more impressive. If anything were to be improved, I would personally love to see the deadline of carbon neutrality moved to 2030 instead of 2050 in the Gonzaga Climate Action Plan and would love to have more staff as a resource at the Office of Sustainability. Gonzaga is making the leaders of tomorrow through the Office of Sustainability and it has been a place where I have been able to plant my roots and grow as a leader and individual.
How will you continue to promote sustainability after you leave Gonzaga?

After leaving GU I am inspired to create a society built upon thrivability, where humanity masters the most responsible use of our resources to transform cities into living ecosystems. I am currently interested in developing optimal energy solutions that involve renewable energy, energy storage, and various grid systems to provide solutions for infrastructure, natural disasters, and interplanetary travel. The world can be a better place, where future generations can prosper on Earth and various planets. The required technology and tools exist, the next step is to discover how to use them in the most efficient way possible.
Sustainability
School of Engineering & Applied Sciences