Sen. Janelle Sarauw ('14) Grateful for Leadership Education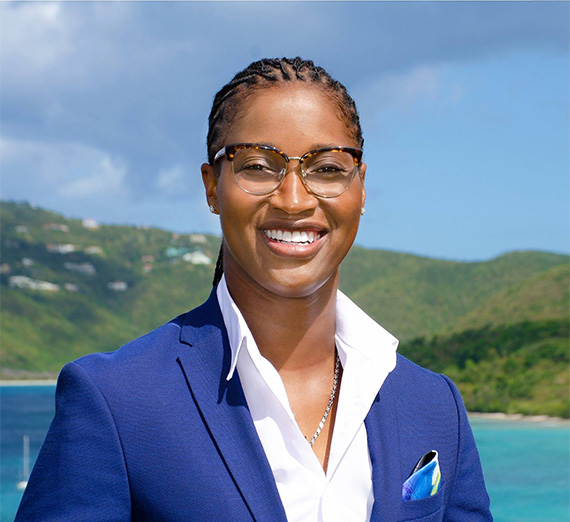 ---
Leadership and service for the common good: A mantra behind Gonzaga's mission statement and a promise among graduates of the Master's in Organizational Leadership program. Janelle Sarauw ('14), who graduated from the program with a certificate in Servant Leadership, lives out her own related mission and promise through her second term as senator of the U.S. Virgin Islands.

Sarauw is the first openly-LGBTQ senator of the U.S. Virgin Islands. Throughout her first term, Sarauw fought for her passions: "the Territory's youth, workforce, environment, culture and economy," according to her page on the Legislature of the Virgin Islands' website. Sarauw joined the 33rd legislature on Nov. 6, 2018, embarking on her second senatorial term.

Recently, Sarauw wrote to GU President Thayne McCulloh with appreciation for her education at Gonzaga and the values she developed through her experience in the organizational leadership program.

"As a graduate of Gonzaga University, I know firsthand the high quality of education provided to students," Sarauw wrote.
"I appreciate not only the education I received, but also the Jesuit values that Gonzaga instilled in me—a critical perspective on the world and a focus on servant leadership."
Sarauw also expressed disappointment in a political culture which fails to meet the leadership qualities she learned to expect, like integrity and accountability. Strong and ethical leaders play integral roles in a political system. However, many aspiring politicians, she's noticed, lose sight of the common good in their desire for personal motive.

"[Politicians] assess the distribution of power and resources, build relationships with other stakeholders and make decisions that can have great impact on the wellbeing of a nation and its people," Sarauw explained. "It was at Gonzaga that I learned leadership in the political framework requires a focus on the long-term good of a country, above and ahead of any personal short-term gains. I incorporate these teachings daily in my political career. For this, I want to say thank you to the staff at Gonzaga."

One year later, after a successful campaign rooted in transparency and accountability, Sarauw continues to serve the U.S. Virgin Islands Senate and live out her life of leadership.