Gonzaga's Fifth International Conference on Hate Studies Concludes
---
The Gonzaga Institute for Hate Studies (GIHS) wrapped up its fifth International Conference on Hate Studies, trying to provide light in a world that is sometimes filled with darkness.
The final session on Thursday focused on the topic of "Peace Leadership as a counterbalance to Hate, Discrimination and Prejudice," with an address by Ann Dinan, Ph.D. of the Deeper Leadership Institute. It was a fitting end to three days of thought-provoking programming.
The conference was packed with sessions that fit the theme of "Building Peace through Kindness, Dialogue and Forgiveness." An international array of attendees and local community members engaged with the goal of advancing ideals that promote peace.
The event featured a pre-conference workshop on "Why Race Matters," as well as keynotes by internationally recognized human rights attorney Kathleen Mahoney, J.D., a "Power to the Poetry" plenary by Bethany Montgomery, MBA, and the closing address by Dinan. In-between, interactive sessions covered topics including human rights and racism.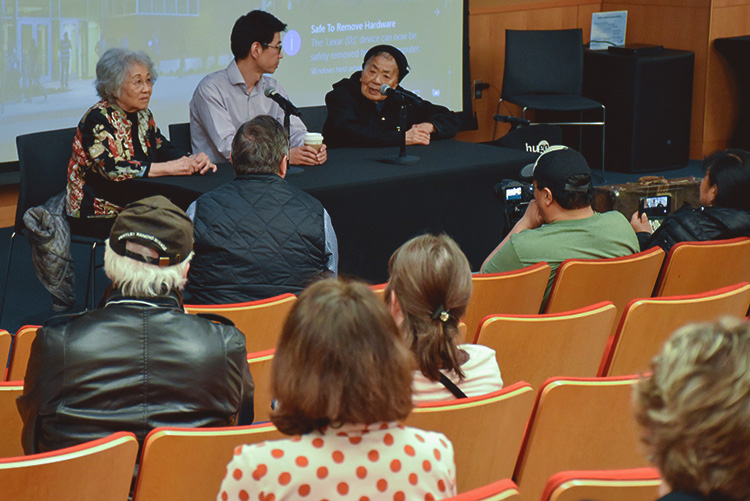 The format of the conference programming was as diverse as the subject matter. In addition to many academic topics, contemporary issues were addressed though the creative arts —from the screen (TV/film documentaries) to stage performances (theater, dance and poetry). One of the panels (above) included a discussion about a local KSPS-TV documentary, "Injustice at Home: Looking Like the Enemy," which addressed discrimination against Japanese-Americans during World War II.
The conference presenters focused on ways for individuals to take action in their communities. It also highlighted local, regional and national collaborations between GIHS and partners to educate about issues of Hate.
GIHS is part of the Centers for the Study of Hate Consortium, which also includes Bard College at Annandale-on-Hudson (N.Y.), California State – San Bernadino, and the University of Ontario Institute of Technology at Oshawa (Canada). In addition, Gonzaga's Foley Library and North Idaho College's Molstead Library are engaged in a joint effort to create digital archives supporting worldwide research in human rights and hate studies.
The conference ended on April 4, the anniversary of the day Rev. Martin Luther King, Jr., was assassinated, which was acknowledged by GIHS director Kristine Hoover in her closing remarks and reflection. Dr. King's messages of peaceful change, connectedness, and working for a greater good were omnipresent themes at the conference.