Kelly Garrett Lands Financial Accounting Standards Board Position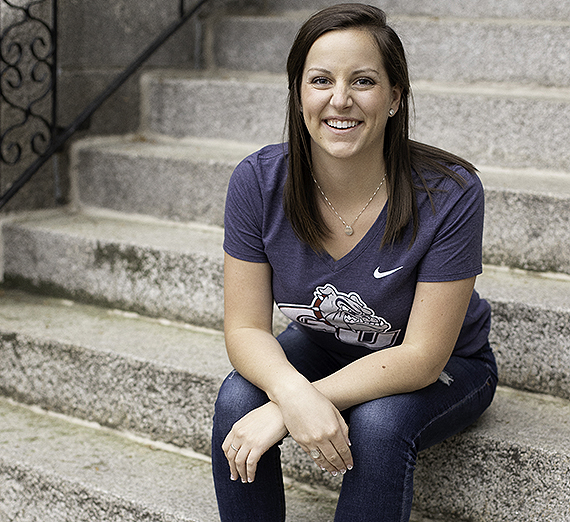 ---
Accounting for Success
SPOKANE, Wash. — Gonzaga University
Master of Accountancy
(MAcc) student Kelly Garrett is one of approximately seven students nationwide chosen by the Financial Accounting Standards Board (FASB) to receive a prestigious Postgraduate Technical Assistant (PTA) position. Garrett is the first Gonzaga student to be selected for the position.
In addition to exhibiting academic excellence and interpersonal and communication skills, candidates must be nominated by a member of their school's accounting department and approved by the dean or department chair.
The FASB is responsible for establishing financial accounting and reporting standards for public and private companies and nonprofit organizations that follow generally accepted accounting principles (GAAP) in the United States. Essentially, the FASB is responsible for making all the "rules" for accounting and financial reporting policy.
After graduating from the MAcc program in May, Garrett will join the PTA class of July 2019, and her tenure will extend for one year. According to the FASB's description of the position, her duties will involve the following: analyzing written submissions received on documents issued for public comment; reviewing and analyzing published research; preparing memorandums on technical issues for Board members' information; drafting due process documents; and evaluating accounting proposals of other organizations. Additionally, she will attend and occasionally participate in public board, task force, and other meetings pertinent to her projects.
A Diverse Background
Garrett came to Gonzaga as a sophomore transfer student. Her accounting success is all the more remarkable given that she changed her major from business administration to accounting at the start of her senior year. Andrew Brajcich, associate professor of accounting, worked with Garrett to craft a plan for her to graduate on time with a bachelor's degree in accounting in August 2018.
"In that first meeting with Professor Brajcich, he never skipped a beat when I told him I wanted to pursue accounting," says Garrett. "Despite coming to the major late, the faculty continually presented me with opportunities to challenge myself and grow within the accounting profession."
Garrett became involved in multiple programs at Gonzaga, including Mission and Ministry, Career and Professional Development, Ambassadors, and study abroad. As a senior, she competed in the Deloitte Audit Innovation Challenge and later was honored with a Public Company Accounting Oversight Board scholarship.
In the summer of 2018, Garrett interned with KPMG's audit service line, spending part of the internship in Seattle and part in Brisbane, Australia as part of KPMG's Global Internship Program.
Looking Forward
Following the arduous application process for a PTA position, Garrett said she feels honored and excited to begin.
"To join the FASB as part of this selective program and to represent Gonzaga as the first GU student chosen is truly an honor," she said.
Brajcich is among several GU faculty members to applaud Garrett's achievements, "Kelly will now work at the highest level of the profession," he said.
What does Garrett look forward to most in her new position?

"I'm most excited for the opportunity to directly participate in the standard-setting process and to collaborate alongside accounting professionals in an environment where intellectual curiosity is important and encouraged," she said.
MEDIA: For more information or to interview Garrett, please contact Haley Topliff at Gonzaga's Graduate School of Business at (509) 313-7047 or topliff@gonzaga.edu.