Boulet Boogies to a Second Degree, First Zag Dance Grad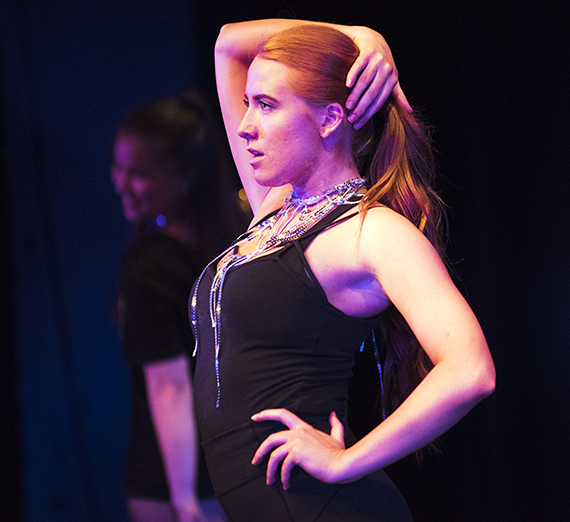 ---
SPOKANE, Wash. — Not many college students would willingly take on a fifth year. But Angela Boulet is by no means average.
After graduating with a bachelor's degree in psychology from Gonzaga University last May, Boulet returned for a fifth year last fall to earn another degree in Gonzaga's new major in dance. At commencement ceremonies on May 12, Boulet became the first Zag to earn a bachelor's degree in dance.
Boulet, who is from Spokane and graduated from Gonzaga Prep, has been dancing since she was 3 years old. After two years at Seattle University, she transferred to Gonzaga to be a part of the burgeoning dance program.
Her first meeting with Suzanne Ostersmith, director of Gonzaga's dance program, was memorable.
"I was introduced to Suzanne Ostersmith and the rest was history," Boulet said.
Taking psychology and dance classes convinced Boulet that the subjects covered similar concepts and that interdisciplinary work was possible. This inspired her to create a dance piece that incorporated positive psychology. Unlike traditional psychology, which focuses on people's problems, positive psychology emphasizes the strengths that allow individuals to manage their adversities and thrive.
Boulet says she has grown to thoroughly appreciate how positive psychology not only explores our human flaws and how to improve ourselves, but also teaches us how to build character strengths and find resilience.
Boulet and her dance group — comprised of fellow Zags — performed her choreographed dance called "Resilient" at the American College Dance Association regional conference last month at the University of Utah.
Boulet structured her dance rehearsals with the first 45 minutes focused on positive psychology exercises using journaling and meditation. The remaining hour and 15 minutes of the rehearsal focused on learning the choreography that tells the story of moving from deep pain and struggle to finding hope and resilience.
"We essentially learn the concepts that we are dancing about and then apply them on paper, in our lives, and in the dance," she said.
Ostersmith said she was pleased "Resilient" also was performed in the Student Choreography Concert in early April.
"This is a model for the kind of interdisciplinary work that can happen with dance," Ostersmith said. "Angela's proposal for this project was very thorough, and her passion for both positive psychology and dance is evident."
Boulet aims to open a wellness center in her community. She wants to create a business in which people have access to professional guidance, while also offering yoga classes, dance classes, resilience training, and nutrition centers for everyone.
"I want a mix of everything — so any kind of movement incorporated with cognitive therapies and resilience training. I really want to capitalize on the mind-body connection. This not about dwelling on peoples brokenness. Rather, it's about providing tangible lifestyle tools that boost well-being, decrease depression and anxiety, and improve personal and interpersonal relationships," she said. "Just really, really yummy food with amazing workouts, and awesome tactics for people to access positive psychology. I want this to be a place where people can find community and reclaim their personal power."