Gonzaga Alumna Liebert Thought Leader on Discernment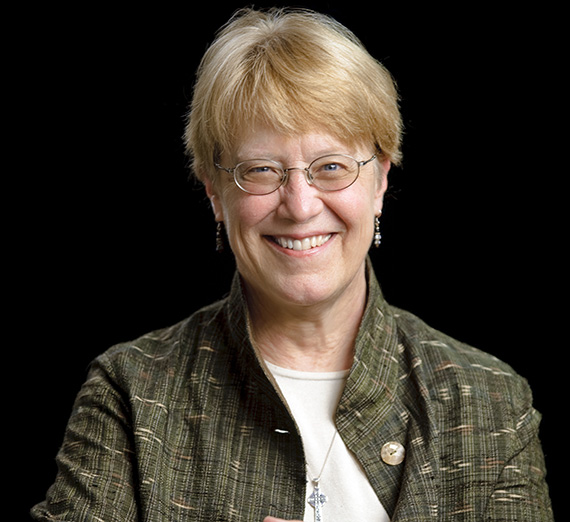 ---
Elizabeth Liebert SNJM, Ph.D. (M.A., '75), is a proud Gonzaga alumna with deep connections to the community who is internationally recognized in the field of discernment studies. She found discernment to be so important to her own spiritual life that she decided to focus on it in her professional life as a teacher of spirituality.
"Beth" attended I grew up in a Jesuit parish (St. Joseph's in Seattle and attended Holy Names Academy in western Washington before deciding to take her vows and fully dedicate her life to God as a nun. Her journey brought her to Spokane, where taught in a Jesuit parish, St. Aloysius, grade school.
Liebert studied and taught at the former Fort Wright College (now Mukogawa) in northwest Spokane in the late 1960s and early '70s before making her way to Gonzaga. She earned a master's degree in Religious Studies at GU in the late '70s while holding multiple positions in the Catholic community: graduate student, diocesan trainer, and junior high school teacher.
Liebert has several times served as part of the formation team of her province, located at first in Spokane, and later in California. She has also served in various other capacities, including a term as a consultant to the congregational leadership of the Sisters.
The connections Liebert made as a Holy Names Sister and Gonzaga student have had lasting impacts on her life. In particular, she maintained a lifetime friendship with the late Sister Mary Garvin, a Holy Names sister and longtime Gonzaga religious studies professor.
The pair ended up collaborating with another Holy Names sister, the late Kathryn Dyckman, on a watershed book in 2001. "The Spiritual Exercises Reclaimed" was published years after Liebert completed her doctoral studies at Vanderbilt University in 1986, but her experience of the Spiritual Exercises began much earlier with the retreats that the sisters made each year.
The trio worked through draft content over several years of what would become a book that took a modern look at Ignatius' centuries-old Spiritual Exercises. Through the lens of three women, the process became a discernment process of its own. They continued to facilitate discernment sessions, took mental notes, prayed, and reflected individually and collectively. Much the work happened in Spokane over a number of summer and academic year breaks.
The book is just one of six Liebert has authored and included a focus on the concept of discernment, one which she would dive into deeper in later texts. In "The Spiritual Exercises Reclaimed," the authors wrote:
"Entering into discernment, then, means becoming increasingly able to notice where God is at work in the work and in one's own life, increasingly desirous of choosing the 'more,' and God willing, increasingly generous with one's life in response."
Liebert has since published two books focused on the topic of discernment. In 2008, She published "The Way of Discernment: Spiritual Practice for Decision Making," then followed up in 2015 with a group-centered adaptation, "The Soul of Discernment: A Spiritual Practice for Communities and Other Institutions."
One goal of her work is to keep Ignatius' work relevant in today's world, though she affirms her belief that the Spiritual Exercises and Examen will continue to stand the test of time. Liebert continues to make an impact on the field of faith studies, as a professor at San Francisco Theological Seminary, where one of her recent doctoral students was GU's Michelle Wheatley.