GU Law, Spokane Riverkeeper Present Community Forum April 17 on Local Water Pollutants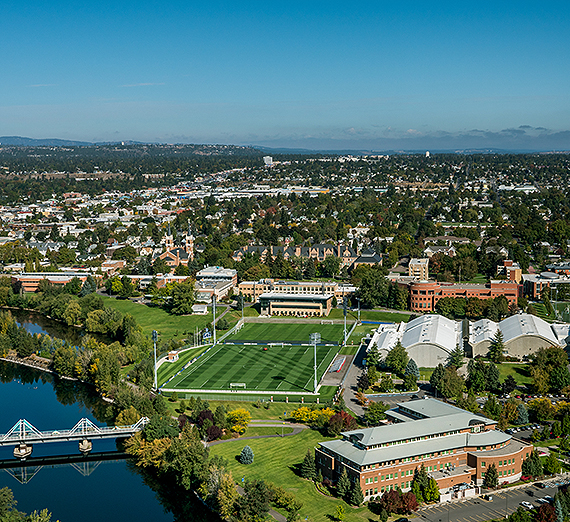 ---
SPOKANE, Wash. — Area residents will have an opportunity to hear from a panel of experts about the discovered water contamination in Airway Heights at a community forum from 6-8 p.m.,Wednesday, April 17 in the Gonzaga University School of Law's Barbieri Courtroom. The event is free and open to all.
The program is co-organized by the Spokane Riverkeeper and the Environmental Law and Land Use Clinic at Gonzaga Law School.
Per- and polyfluoroalkyl substances, or PFAS, are used to make coatings and products resistant to oil and water, or to reduce friction. They have many industrial applications and are used to make certain types of firefighting foams. In recent years, PFAS contamination above Environmental Protection Agency's health advisory level has been found in drinking water wells in Airway Heights, North Whidbey Island, Issaquah, at Joint Base Lewis-McChord (near Tacoma, Washington), and at hundreds of other military bases where firefighting foams were used. Chemicals in the foam have reportedly seeped into water in and around those bases.
Because research links these chemicals with a host of health problems, including kidney, testicular, bladder, and prostate cancer, as well as immune, reproductive, and hormonal dysfunction, the contamination amounts to a "seminal public health challenge," as Patrick Breysse, director of the Centers for Disease Control and Prevention's National Center for Environmental Health, recently described it.
The panel includes the following experts:
Arthur Wendel, acting regional director, Agency for Toxic Substances and Disease Registry;
Kevin Anderson, director of public works, City of Airway Heights;
Carina Wells, campaign organizer, Toxic-Free Future;
Kara Steward, Hazardous Waste and Toxics Reduction Program, Washington State Department of Ecology;
Dorothy Tibbetts, regional manager, Eastern Region Office of Drinking Water, Washington State Department of Health.
For questions, please contact
Kevin Carr
at Gonzaga Law School at (509) 313-3771.