A Shared Love for Gonzaga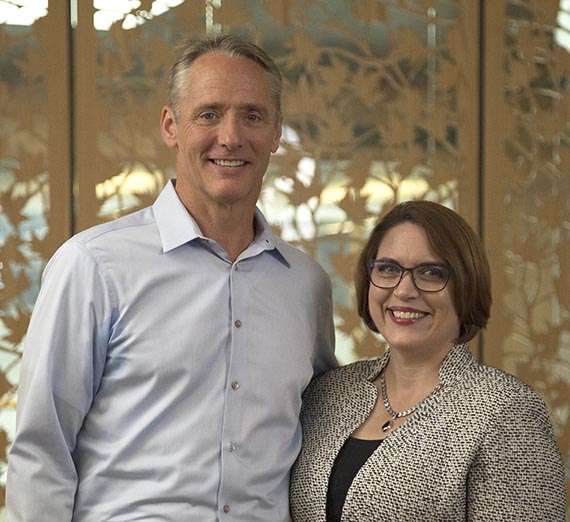 ---
Brenda and Stephen Rountree's successful marriage demonstrates the importance of shared interests and values, and Gonzaga University and the Master's in Organizational Leadership program have played a powerful role in their lives together.
Learning about concepts of servant leadership, listening and global leadership has influenced their professional careers, but the Rountrees passionately believe these same concepts have also enriched their relationship and their lives.
Stephen started the Gonzaga tradition, earning his Organizational Leadership degree in 2008. Attracted to Gonzaga for its reputation, Jesuit values and the concept of Servant Leadership, Stephen experienced a rather unexpected change on the inside. "You go into the program and you think I am going to put in all this work and I'm going to earn a degree … but you don't realize how much it changes you inside and how much you become a different person based on that experience." Stephen explains that the degree helped him become a better listener, with a curiosity about different perspectives and a commitment to helping others succeed.
Brenda joined the Gonzaga family in 2016, stating that from the day she met Stephen, he was a strong advocate of the Organizational Leadership program. "His extreme passion for Gonzaga and its people and all the stories he shared about his experience, the professors and how engaging they were, was compelling to me." Laughing together, Stephen simply states, "There really wasn't another choice. I had such a life changing experience going to Gonzaga; I wanted her to have that experience as well."
When asked about how the Organizational Leadership degree has affected their relationship, Brenda thoughtfully explains that they share a common language and purpose to make the world around them a better place. "We share that perspective. We both feel compelled to be servant leaders and we both feel compelled to improve our communities."
As Brenda and Stephen openly share their love for Gonzaga and for each other, they embody the values of Jesuit education. Talk of Servant Leadership, listening, authenticity and discovering a deeper purpose seamlessly weave throughout their laughter-filled conversation. When asked if they would recommend a couple going through the Organizational Leadership program together, Brenda confidently replies yes, wrapping her explanation in Gonzaga's Jesuit tradition. "If a couple is serious about learning more about one another and their communication styles and how they view the world and they have a strong desire to go forth and make it a better place."
Alumni
Careers & Outcomes
Academics
School of Leadership Studies
Online Programs
Alumni
Master of Arts in Organizational Leadership