Zags Behind the Wheel - The 1st Annual Gonzaga Grand Prix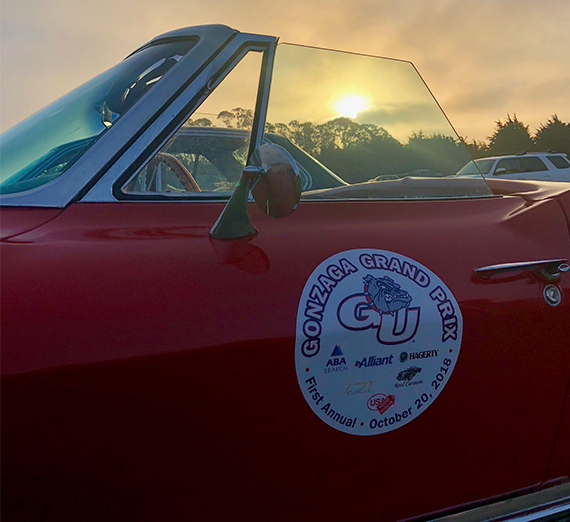 ---
Cars often tell a story. Some people can recall certain moments in life based on the car they were driving at the time: Their very first car, the extremely "well-loved" family hand-me-down received after passing their driving test, or that six-speed manual, V8 sports car they bought as soon as the "last kid" went off to college. Cars create lasting memories.
To an adult, a car is a great way to burn off some steam and escape to the lake or wine country for a much-needed weekend getaway. To a teenager with a freshly-minted drivers' license in hand, having a car is a rite of passage as well as a symbol of freedom, but it's also a vessel with a trunk in which to pack belongings into before driving off on life's next adventure, like the first day of college.
It's certainly no secret that Zag Nation is passionate about its university, the legendary basketball teams, and for the most part, all things Jesuit, but many alums and current students also love getting behind the wheel of a car just as much.
That's exactly what alumni Stephen Girlich ('12) set out to prove with the Gonzaga Grand Prix last October. Joined by fellow Zags, family, and friends, a group of 15 cars (and one motorcycle) departed San Francisco's Crissy Field on a picturesque Saturday drive from San Francisco to Modesto, Calif., with a goal of raising money for the Gonzaga Bay Area Alumni Chapter's Scholarship Fund. Relying on an "old school" route book - no GPS or Google Maps were allowed - the group ventured down back roads through the San Francisco Bay Area and Sacramento Delta, on route to Gonzaga Regent and Jeff Reed ('75)'s Carseum, where the group would enjoy a post-event barbecue lunch surrounded by a phenomenal collection of vintage, classic, and modern sports cars.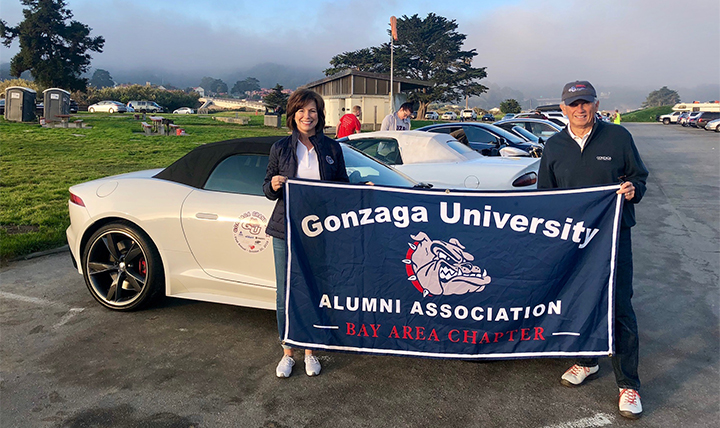 For most participants, this was their first experience on a car tour, but also their first time driving or navigating in a modern sports or classic car. Girlich, a collector car insurance broker by day, as well as the Bay Area Alumni Chapter's operations chair, also helps organize a popular annual car tour called the California Mille - a 1,000 mile, four-day tour through Northern California's backroads with over 70 vintage cars manufactured between 1927 and 1957.
"Cars have played a special role in my life and throughout my career," says Girlich. "I loved organizing the first annual Gonzaga Grand Prix, and I especially enjoyed seeing a wide range of emotions throughout the event. The Grand Prix was definitely challenging at times, but everyone was able to let loose and enjoy the open California roads - fall foliage on full display."
As a kid growing up in San Francisco, Girlich was drawn to cars from an early age – when he wasn't playing around with his collection of Hot Wheels or dragging his family to car shows around the Bay Area, he and his friends were building kit racers to compete at the slot car tracks in San Francisco's Japantown. When he was 16, his family handed him the keys to his grandfather's 1970 Oldsmobile Cutlass Supreme, the very car that his parents drove him home in after he was born, as well as the car that he and his wife Haeley drove away in after their wedding. "I'm basically in the car world now too," says Haeley, the Bay Area Alumni Chapter President. "I thought Stephen was nuts when he first brought his idea for the Gonzaga Grand Prix to our board, but cars are his passion and his career, and he wanted to share that with his fellow Zags. It didn't hurt that he let me drive a 2018 Dodge Challenger R/T for the entire event, so I was definitely hooked and can't wait for next year's event."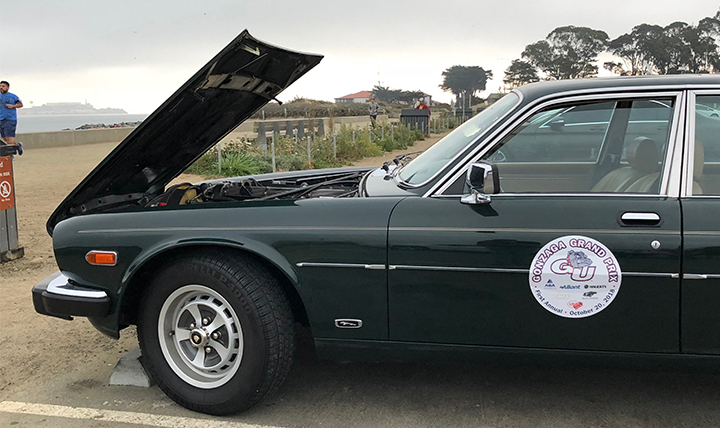 Driving nearly 160 miles in four and a half hours from San Francisco to Modesto on the Gonzaga Grand Prix was not without its challenges. In addition to a few dead batteries and the occasional wrong turn, the group also drove through some heavy fog for the first hour and a half. While unusual for the route, Stephen says inclement weather is not all that surprising on a car tour. "Inclement weather including rain is almost always a part of the tour or rally experience, and you pretty much have to drive through it to get it over with." Girlich says the navigator has a harder time than the driver when the weather gets bad. "They who might be driving in an open roadster (no hard top) and not only have to keep the route book dry enough to read, but also have to track the mileage." Ultimately, the fog cleared much to everyone's delight, and the group safely reached the Carseum in Modesto, where it was eighty 80 degrees and sunny.
Challenges aside, the Gonzaga Grand Prix was also historic for several reasons. Participants drove over and past several significant automotive landmarks such as the Golden Gate Bridge and the Sonoma Raceway on the way to Modesto. Their destination was also home to George Lucas' American Graffiti - a story about the emerging Northern California car culture in the early 1960s and a group of friends enjoying their cars one last summer night together before their grown-up lives would begin.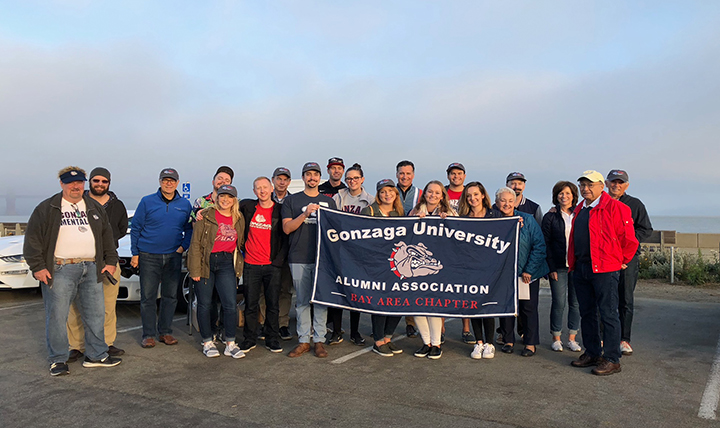 Now that the first Gonzaga Grand Prix is in the books, the chapter's goal is to start on next year's event and continue raising funds for the Bay Area Alumni Chapter's scholarship fund. After launching the first entry applications this past summer, the chapter received a lot of inquiries, Area including some from alumni in Los Angeles, Seattle, and Spokane.
"To hear from folks down in L.A. or up in Spokane saying they'd like to participate in the 2019 Gonzaga Grand Prix, that means a lot. Not only does it mean we'll continue to raise money for our scholarship fund, but it also shows that these types of fresh and exciting events are keeping Gonzaga alumni engaged and wanting to give back to the university."