Pat McCormick's Homework for Life
Planting Seeds to Foster Lifelong Learning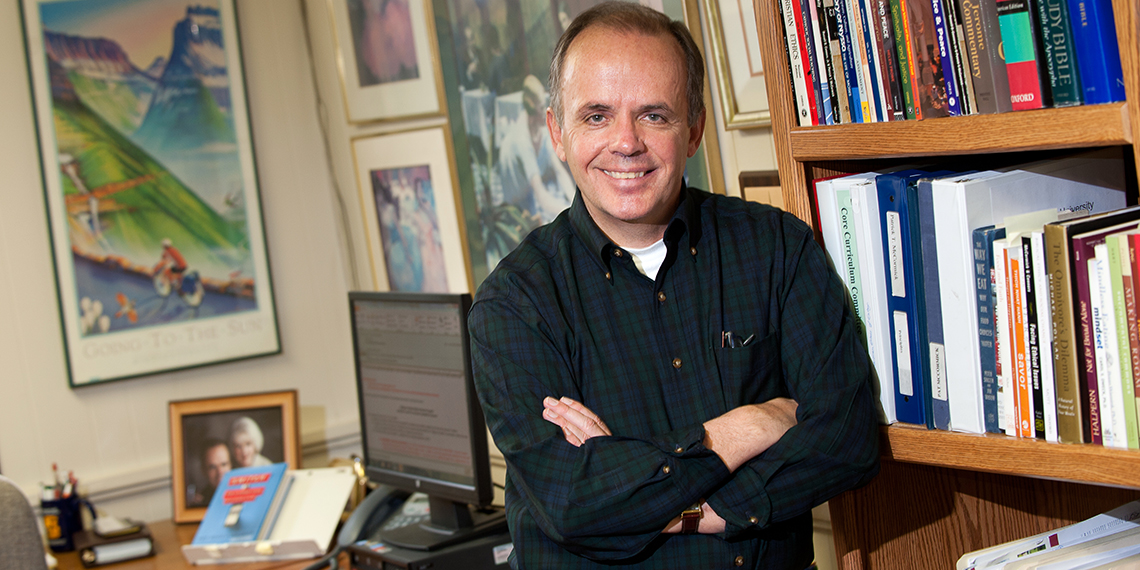 SPOKANE, Wash. — Religious studies Professor Pat McCormick has taught several thousand students in religion and ethics courses at Gonzaga University since 1994. A master in classroom engagement honored thrice by Gonzaga for his teaching excellence and scholarly research, his true teaching genius blossoms in students years after they graduate.
Recognizing that many of the students whom he was working so hard to teach would likely curb their learning once the rigors of tests and assignments ended, he came up with a plan more than a decade ago to help ensure students develop a love for lifelong learning.
Call it homework for life.
"I told the class that my concern was that they were going to read a lot in college and that they weren't going to read a lot afterward," McCormick recalls. "I gave the class an assignment to read 100 books after college."
Fast forward to April 30, 2017 when McCormick opens an email message from Kirsten (Dusenbery) Sullivan.
"Dr. McCormick. In 2006 I was a student in one of your Christian Doctrine courses. It was in that class that you challenged us to read 100 books in 10 years. To be honest, I don't remember the actual title or much of the content from the class itself, but one moment has stuck with me and been one of the most formative moments of my education," Sullivan noted. "I graduated with the class of 2007 and I'm writing to tell you I have just completed my 100th book."
Sullivan, who married Sean Sullivan ('07), went on to earn a master's degree in music history and a doctorate in musicology from the University of Washington but didn't count any of the texts for those degrees in her 100 books. The couple live in Seattle where Sean, who earned a business degree from GU, works as a manger in the information systems at Expeditors International while Kirsten is taking a break from her dissertation to raise their two preschool-aged children.
Sean was also in McCormick's course. Kirsten won the couple's friendly competition to be the first to the 100-book mark.
In her letter to McCormick, Kirsten lists all 100 books she read — multiple genres including nonfiction, historical fiction, fantasy, economics, mystery, memoir, biography, parenting, classic literature, politics and philosophy. While some were forgettable, others have "stuck with me, challenged me, delighted me," she notes. "I discovered one of my favorite authors (Hemingway) and a 'guilty pleasure' (Sherlock Holmes mysteries). My husband and I share books and discuss our reading. My sister, grandmother, and I all bond over books. I've been a member of three different book clubs and the books read with friends hold special memories."
McCormick promised "an appropriate gift" for anyone who completed the goal, Kirsten said.
"For a long time, being the first of your students to reach the goal was my burning motivation," she notes. "But surveying my list this evening, I'm suddenly struck by satisfaction and fulfillment; the competition doesn't even matter anymore."
The gift, she notes, is the impact of the challenge.
"As you foretold, reading these books has made me into an interesting person. I never feel like I'm boring when I can talk about what I've just read! Of course, these 100 books are in no way an end, but just one segment of a lifetime journey of reading. Thank you so, so much for issuing this challenge that has impacted my life in so many ways," she noted.
The Gonzaga Difference
For McCormick, Kirsten's story exemplifies the Gonzaga teaching difference.
"That's what we're looking for right? We're looking for someone who continues their education. That we planted a seed here at Gonzaga and they continued their education," McCormick said. "I think that is the most valuable thing that we can do in the classroom is to fire the imagination of people and expand their interests so that they're curious about things that are not in their professional training."
When he started teaching at Gonzaga, McCormick said he was struck by how much the hiring committee and the department paid attention to teaching skills and commitment to teaching — both in his hiring and all of the faculty searches in which he has served.
"The culture of Gonzaga from the time I've arrived has really been about that process about commitment to classroom teaching," he said. Since most Gonzaga faculty teach the majority of their courses to undergraduates — including many courses in the core curriculum or electives — the emphasis on inspired teaching is especially important.
"It's not so much that somebody is in the class primarily to get new information about their major or their profession. We do a lot of teaching that's aimed at developing the liberal arts knowledge and skills that students need to be responsible adults and citizens," he said. "We want faculty who can reach a broad audience, inspire the imagination of people outside of their disciplines and lead them to think about other disciplines in ways that they had not imagined."
Jesuit Identity
Another distinctive characteristic of Gonzaga's teaching is its Jesuit identity, McCormick said.
"When the early Jesuits began to form or sponsor colleges and universities their primary focus was on the formation of a college of faculty. That is, they were really looking at trying to form a community of scholars who would teach their students. And it was that focus on this collection of faculty who would then be responsible for the education of the students," he said. "This shifted them away from a model of a professional expert who was going to just teach within his or her discipline and just give you information. It was now a community of people who were responsible for the well-rounded education and formation of young people who came to these schools. That's a different model."
For example, Gonzaga is not satisfied with an engineering graduates merely passing their professional exams.
"We believe that an engineering student at Gonzaga ought to have courses in literature and history and philosophy or religion so that she or he can be a richer citizen of the community," he said, noting the broad liberal arts emphasis in the core curriculum ensures graduates will be able to make lifelong connections across disciplines.
Like Kirsten and Sean Sullivan who continue their homework for life.
View all the stories about what sets Gonzaga's teaching apart
Academics
College of Arts & Sciences
Academic Vice President
Religious Studies
News Center