For Raymond Reyes, Teaching Remains Transcendent
The Classroom as a Sacred Space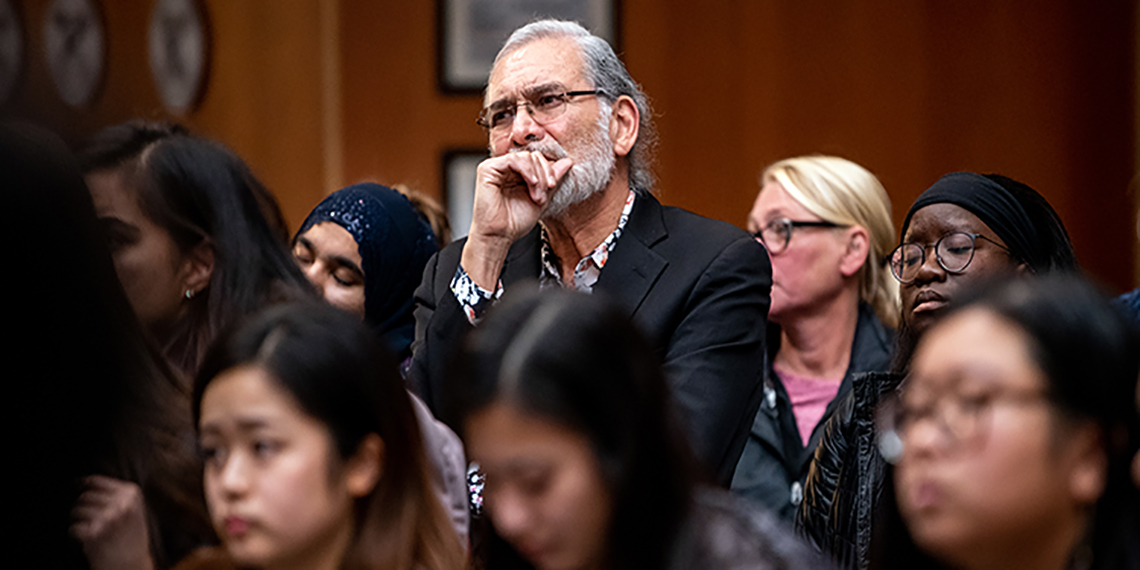 SPOKANE, Wash. — Raymond Reyes serves as associate academic vice president and chief diversity officer at Gonzaga University — a role that allows him to continue teaching, his first love, which he has done with distinction for 31 years in a wide range of courses across multiple disciplines in three schools. For Reyes, teaching remains a transcendent experience.
"When you're really in the flow, teaching is enjoying the rapture of being alive. It's a beautiful moment when two things happen: You look in your students' eyes and you can see the neurons connecting in new ways, and you can see the light in their eyes. The second part is when they do that for you," he said. "When you model being a lifelong learner and you have the intellectual humility to understand that not only are they learning from you, but you are learning from them, that's a beautiful moment."
The classroom can be seen as a sacred space for the creation of learning, he said.
"The best thing we can do is create the conditions by which human creativity is activated and ignited. When we can get students to find their passion, to find their fire that really motivates them, we've done justice to the teaching and learning process," Reyes said.
The Ignatian model of educating the whole person is a key part of Gonzaga's excellence in teaching, he said. This approach to education is named for St. Ignatius of Loyola, founder of the Society of Jesus.
"The Jesuit approach to a liberal arts education involves the art of liberation. Part of what it means to be a complete human being is to be free," Reyes said. "That freedom activates one's creativity and imagination to be able to contribute to a greater good. It's both practical and idealistic. It's having your feet on the ground and your head in the clouds."
"Ignatius is described as a practical visionary who could fly kites and drive nails," added Reyes, an expert in the disciplines of ethnicity, race, inclusion, diversity, indigenous studies and American Indian education. "He could do both the mystical and metaphysical as well as the practical and the physical."
Gonzaga's distinctive core curriculum, Reyes said, aims to ensure students are well versed in the human world, encompassed by the social sciences; the natural world of the physical sciences; and the supernatural world encompassing art, music, philosophy and religion.
"Those three dimensions create a core understanding of being able to critically think, to write well and to speak well," Reyes said. No matter the professional pathways graduates pursue, Gonzaga's teaching and core curriculum impact the type of engineer, doctor, lawyer, nurse or business person they will become, he said.
"That's the beauty of it," Reyes said. "It's this idea that what we're doing is investing in human potential and activating human potential for a greater good: to advance the progress of the world."
For Reyes, Rev. Peter-Hans Kolvenbach, S.J., superior general of the Society of Jesus (1983-2008), may have said it best when he observed, "The measure of a Jesuit education is not what our students do, but who they become."
"Who they become is important to us and they communicate that back to us," Reyes said, noting how affirming his teaching career has been when he hears from alumni.
"I get emails and telephone calls and talk to people who took classes from me 20 or 25 years ago and remembering something that I said. They say, 'Thank you for that time you talked about this because I remember that and I used it in my job.' That's how you know you make a difference in the classroom."
Reyes had just returned from giving a guest lecture in a biology course on native science.
"I looked at them and I said to myself these are 19- and 20-year-olds and I'm 66. The students I was looking at are going to be around 60 years from now. That is 2079, 2080, three-fourths into the 21st century," he said.
For Reyes, the experience was nothing short of a sacred intergenerational transmission of knowledge and experience — an important part of sustaining the GU culture of teaching excellence. But those kinds of moments have filled Reyes' life at Gonzaga where three of his former students now are tenured faculty: Jessica Maucione, English and women's and gender studies; Dan Bradley, philosophy: and Mike Hazel, communication and leadership studies.
"I mean this humbly, they wanted to come back here and they wanted to teach here. That's a testimony to who we are at Gonzaga," Reyes said. "How cool is that?"
View all the stories about what sets Gonzaga's teaching apart
Academics
Diversity & Inclusion
Faith & Mission
College of Arts & Sciences
School of Education
School of Leadership Studies
Academic Vice President
Native American Studies
News Center