Gonzaga Women Overcome Adversity in WCC Tournament Win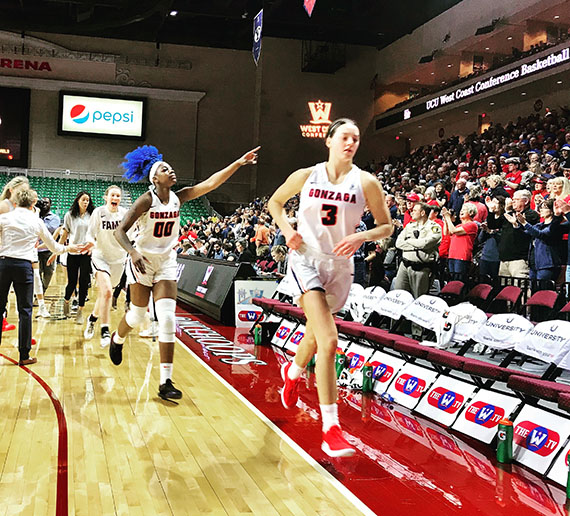 ---
The Gonzaga women's basketball team, buoyed by a strong Zag Nation contingent, pulled off a victory that coach Lisa Fortier called one of her favorite moments at GU.

Gonzaga overcame adversity and showed character in a dramatic 78-77 double-overtime over Saint Mary's at the West Coast Conference tournament at the Orleans Arena in Las Vegas.

The Zags advanced to Tuesday night's final but will be without Laura Stockton and Jill Townsend, who suffered separate leg injuries in the second half of regulation. Both players received standing ovations from a packed house of Zags fans in attendance when taken off the court. Stockton returned to the bench to cheer on her team for the final stretch. The team met with Townsend privately after the game.
The Gonzaga fans, band, and cheer team tried to rally the remaining players. Senior Zykera Rice, who hit an acrobatic game-winner at the final buzzer, said it sounded like a home game. Her shot sent the arena into a frenzy while the officials briefly verified the Zags had won.
Fortier said the win was bittersweet but she was proud of the resiliency shown by her players in responding to adversity.

"It's tough when you're down a couple of players, but I think we really rallied as a team and came together," said Fortier.