Gonzaga Alumni and Friends Celebrate Faith, Service at WCC Tournament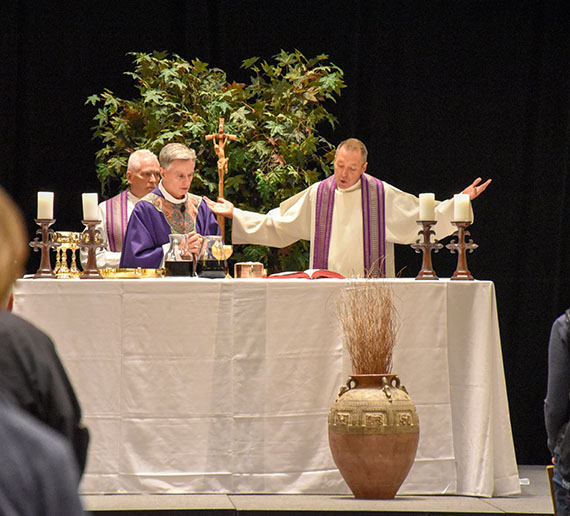 ---
The Gonzaga University community has many traditions in Las Vegas, but its perennial Sunday events are ones that have a meaning much different from the success of its basketball teams.
The first day of Zag Nation activities kicked off at the West Coast Conference Tournament with a day of Gonzaga Alumni and friends engaging in collaborative expressions of faith and service which are at the core of the university's values.
The day started with Gonzaga hosting the All-WCC mass at the Orleans Hotel's Mardi Gras Ballroom. The Lenten service was led by Bishop Thomas Daly of Spokane. Con-celebrants included Fr. Patrick Conroy, S.J., Gonzaga Alumnus and Chaplain of the U.S. House of Representatives, and alumni chaplain Fr. Stephen Hess, S.J.
The mass is a joint effort of the WCC schools and also featured participation from conference executives and staff, as well as representatives from schools such as the University of San Francisco. Bishop Daly focused the attendees on the reflective opportunities offered by Lent.
A group of more than two dozen Gonzaga alumni and friends then made their way to a service project with Catholic Charities of Southern Nevada. They learned about the wide-ranging services to the population of people struggling to survive in Las Vegas. The group toured the facility in north Las Vegas, then rolled up their sleeves and packed hygiene kits for distribution to the homeless population, food pantry clients and low-income residents.
The day ended with an uplifting Spirits and Spirituality session hosted by Fr. Hess that featured a panel discussion on the role of faith in athletics. The activities were complemented with recreational options for golf and bowling before Zag Nation focuses it gaze on basketball.