20/20 Vision
Looking Back on 20 Years at Gonzaga University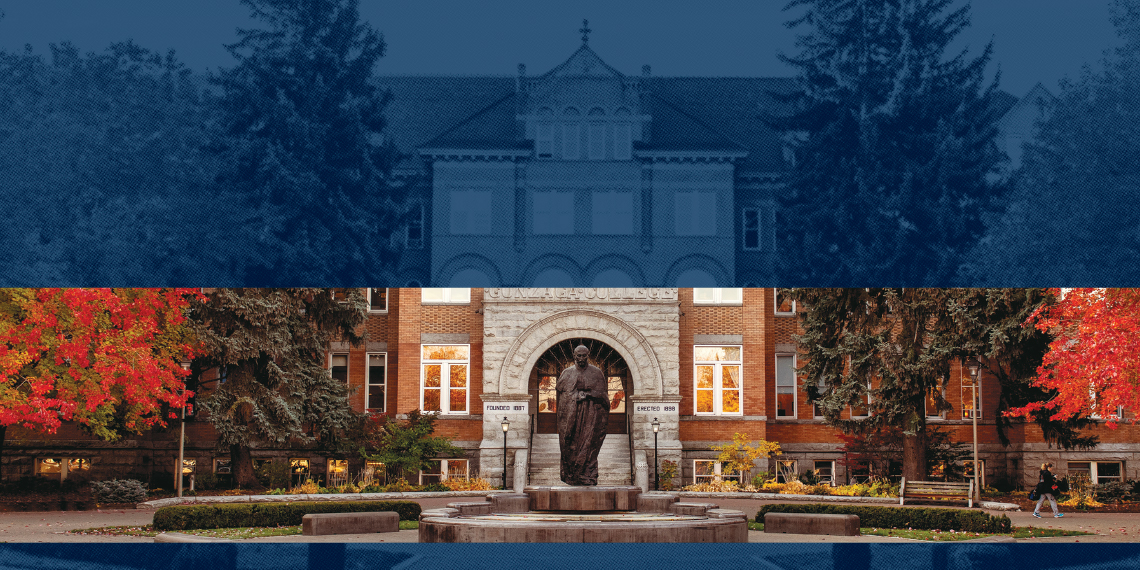 People say hindsight is 20/20, but the vision was clear for presidents Father Robert Spitzer, S.J., and Dr. Thayne McCulloh: They would continue to answer the city forefathers' original call to "build up a great university here," developing what Father Joseph Cataldo S.J., began 132 years ago.
Looking back on the first 20 years of this century, we bear witness to some of the most significant changes in Gonzaga history.
Even after the steadying influcence of Father Bernard Coughlin, S.J., Gonzaga still faced significant challenges. Campus technology was behind the national curve, student housing needed upgrades, and to increase enrollment, academic progress required facility improvements and more faculty.
In 1998-99, Fr. Spitzer became Gonzaga's 25th president and basketball took the national stage. His energy and foresight to "grow" the University to become more financially viable, coupled with the catapultlike effect the Zags delivered in March Madness, provided plenty of fuel to raise the University's profile, begin to draw more students, and lift Gonzaga out of financial woes.
Gonzaga's trustees and Fr. Spitzer saw the potential benefit of investing in basketball after the team had unexpectedly reached the Elite Eight in the 1999 NCAA Tournament. "Basketball's continued success helped change the profile of the institution academically, and helped propel enrollment and fundraising," says Chuck Murphy, Gonzaga's longtime vice president for finance, and now, chief strategy officer. "The perception of Gonzaga changed, from being a back-up school to now being a primary-choice school for many students."
When President McCulloh took over in 2009, the need to grow was no longer an issue. He chose to focus on increasing quality and asking how each institutional decision would benefit students.
During these 20 years, more than two dozen buildings were built or renovated, leadership successfully transitioned from a Jesuit president to a lay leader, two highly-successful capital campaigns raised more than a half billion dollars, including nearly $150 million for scholarships, enrollment increased 69% while the diversity of our student body saw a marked increase (from 10% to 25%), and every school was, or became, accredited by its respective bodies.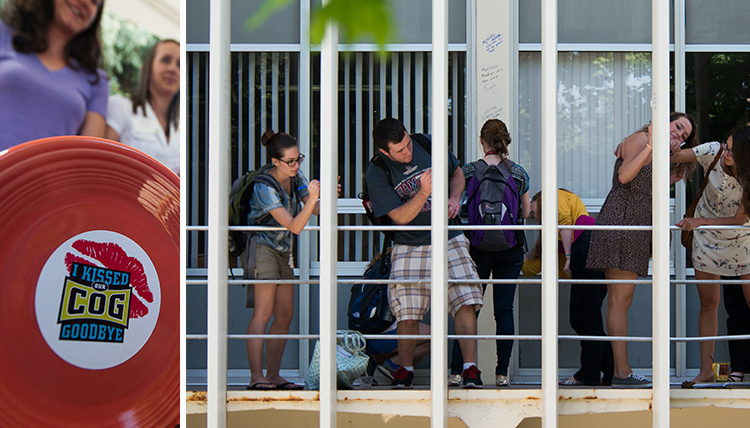 In 2013, students "Kissed the COG goodbye" as the university planned to build a new center of student activity in its place. The Hemmingson Center would open two years later.
As the University's reputation grew, so did the international luminaries who came to campus, like Maya Angelou, Jane Goodall and Desmond Tutu, to name a few.
The completion of the much-needed Law School building marked the beginning of this century, and the opening of the magnificent Myrtle Woldson Performing Arts Center in April signaled the last building project of this period. While no building has had a bigger impact on bringing the campus community together than the John J. Hemmingson Center in 2015, perhaps no structure represents the human will better than Kennedy Apartments, which, two-thirds completed, burned to its foundation at an arsonist's hand in 2006 and came back to life for fall 2007.
Academic innovation was central to these last 20 years, with the creation of the Schools of Nursing and Human Physiology, and Leadership Studies, a revised Core Curriculum, and growth of real-world experience through expanded research, more internships and increased study abroad options. President McCulloh not only orchestrated the Regional Health Partnership in 2016 with the University of Washington School of Medicine, but was instrumental in developing a strategic relationship with McKinstry to break ground on a new health sciences building adjacent to campus in 2020.
Meanwhile, a ticket to basketball in McCarthey Athletic Center remains the most sought admission in the Inland Northwest. The men's and women's performance on the court is impressive, but as important is Gonzaga athletes' No. 2 national ranking in Academic Progress and graduation rates.
With notable contributions from longtime faculty, staff and administrators over this span, coupled with the addition of gifted educators and leaders who have brought fresh perspectives, Gonzaga is on solid ground as it enters the next leg of the 21th century.


Aspiring to Academic Excellence
Investing in our students to help make their "Gonzaga experience" the best it can be, is key too. Facilities like Rudolf Fitness Center, Mulligan Field resurfacing and lighting, and more recently, Hemmingson Center, have impact on students every day . . .
. . . So does access to technology, which rapidly became everyone's best friend at the turn of the century. Gonzaga went wireless across campus in 2007, and nearly every classroom is now equipped with a multimedia center. Today, technology is a professor's right hand, enabling students to access the world through digital archive projects and virtual reality.
Much attention has focused on academic development, as well. The adoption of a new Core Curriculum in 2016 gives students the liberal arts perspective needed in a 21st century world, while continuing in the Jesuit tradition with a focus on critical thinking. New majors and minors added to Gonzaga's academic offerings include Engineering Management, Dance, Visual Literacy and Critical Race and Ethnic Studies, among others.
However, the most academic changes have taken place in graduate programs. New degrees created during this span include a Master in Communication and Leadership, and doctoral programs in Nursing Practice, Anesthesia Nursing Practice, and Education. "We've also added concentrations to give students more opportunities to focus on academic areas better aligned with their professional aspirations," says Associate Provost Jolanta Weber. Project management with the M.B.A. and servant leadership within the Master of Organizational Leadership, are a couple of examples.
"To ensure education remains relevant and appealing to all students today, we continue to expand our online offerings. In addition, more students are choosing to study abroad, and today we have options in more than 60 countries," Weber says. Under the guidance of President McCulloh, Gonzaga ranks in the top 20% of all national universities in the September 2019 Best Colleges edition of U.S. News and World Report, and continues to raise the bar as one of the country's truly exemplary Jesuit, Catholic universities.


Cura Personalis: Care for the 'Whole' Student
Meanwhile, student support and well-being services are more necessary today than ever before, says Associate Provost Judi Biggs Garbuio. Academic Advising and Assistance, Cura Personalis, and First-Year Experience are just three of many new programs initiated in the last 20 years to pay special attention to each student's mental health.
Other changes? "Students are more social justice-minded today, and our Center for Community Engagement is helping students get out into the community and around our country to serve the common good," Biggs Garbuio says. As evidence, the popular alternative spring break immersion program, Mission: Possible, just celebrated its 20th anniversary. And Gonzaga students have routinely volunteered near-to and beyond 100,000 hours of service to the community annually.
Additionally, President McCulloh's leadership team has taken to heart the messages from students that they – and the Gonzaga community as a whole – would benefit from a more diverse faculty, staff and student body. To that end, the University partnered with the University of Washington to provide postdoctoral fellowships that bring additional faculty members of color to GU, and a new Office of Diversity, Equity and Inclusion, established in 2019, continues efforts around intercultural training and bias awareness. GU has grown in diversity and support of students in other ways, too, like through the Lincoln LGBTQ+ Center, which turns 15 this year.
And GU students give back to each other every day. People comment how often on this campus someone is opening a door for them.
When McCulloh became president in 2009, it was clear the University's first lay president wasn't going to let the institution's Jesuit heritage lose one step. In collaboration with the Office of Mission and Ministry, McCulloh has continued to be more intentional about emphasizing the value of our mission in our work.
"Back in the day, it was believed that the Jesuits will take care of the mission. But now, with the declining number of Jesuits, it's up to lay members to partner more with Jesuits to maintain our mission," says Murphy.
It was very intentional to put the Mission and Ministry office on the first floor of Hemmingson Center, recognizing the central focus it plays in who we are as an institution, Murphy says. There was also a deliberate choice to make academics, student life and mission primary tenants of the new facility, which indeed has become the center of campus life.
The University's Jesuit mission is strong, fueled by increased awareness created through the Mission Examen Priority (a process required of all U.S. Jesuit schools), which asked for and received input from nearly every Gonzaga constituency.


Perception is Reality
The real heart of campus life is its people. Gonzaga's freshman class this fall is the highest-achieving class ever enrolled at the University, and the most diverse. And with high-quality students and citizens comes a desire by high-quality faculty, administrators and staff to come work here, Murphy observes.
"New people bring new ideas, creativity and vision for what this place can be," Murphy adds. "They build upon the success we have enjoyed, and bring new energy. In 2019, we went through the process of hiring four new deans. Many of us were blown away by the quality of people in our applicant pool. Those we hired are exceptional people and quality leaders with impressive visions of where they want to take their schools.
"It goes back to perception, and GU's perception as a quality national university is well-established. High-quality people want to be a part of this. And our presidents, Fr. Spitzer and Thayne McCulloh, have been a huge part of getting us to this point."
Gonzaga has set itself up for a strong future when much of higher education is seemingly unsettled by declining demographics, raised competition and increasing opportunities for specialized training outside traditional higher education. While GU's impact on the local community and broader region is one indicator of success, the real proof is how students leave this university and use what they've gained to influence the world in positive ways.
And that's why, says McCulloh, "All decisions start with this question: How does this benefit our students?"
It's a perspective that reflects nicely on the past, and bodes well for the future, too.


All decisions start with asking: How does this benefit our students?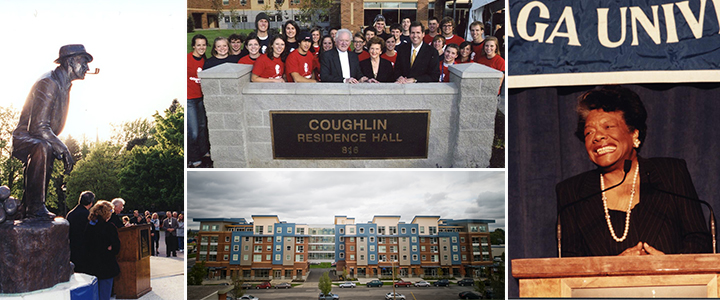 (left: celebration of Bing Crosby, 2003 | center, top: dedication of Coughlin Hall, 2009 | center, bottom: Kennedy Apartments, 2017 | right: Maya Angelou, 2000)
A FEW PRIORITIES FOR THE NEXT 20 YEARS
• Integrated Science and Engineering building, a partnership between the College of Arts & Sciences and the School of Engineering and Applied Science
• Increased research opportunities for students
• Continued connections in the community for real-world education
• Creative alliances between Schools of Law and Business for certification programs and other ventures
• Expanded focus on nursing and health sciences with the UW School of Medicine-GU Regional Health Partnership
• Additional certificate programs in leadership and other disciplines for working adults unable to undertake full graduate degree plans
• More opportunities to link students with graduates for mentoring and career insights


WHO MAKES GONZAGA'S SUCCESS POSSIBLE?
There have been many major benefactors whose philanthropy has made an indelible impact on the Gonzaga campus and its students. Two of them are John Hemmingson, whose $25 million gift provided lead funding for the new student center and several other strategic projects, and Miss Myrtle Woldson, whose $55 million gift built a performing arts center and a new endowment for scholarships. Interestingly, neither is a Gonzaga graduate, but rather dear friends fully engaged in, and inspired by, this Jesuit enterprise.
Other generous and long-term donors have helped grow Gonzaga's endowment from $94 million to $309 million, empowering the University to increase endowment spending by 264%, mostly on student scholarships and endowed faculty chairs. In the recently completed Gonzaga Will campaign, more than 40,000 benefactors stepped up, about 60% of whom were first-time donors. What this demonstrates is the incredible collective power of individuals who give whatever they can – whether it be $25 or $250 or $25,000.
Looking to the future of Gonzaga, great opportunities for students will continue to rely on the faithful generosity of the University's supporters, big and small, near and far.
Be part of the next generation of students who want to have the Jesuit experience.
NEW AND MAJOR RENOVATED BUILDINGS
ACADEMIC: Law School, Paccar, Herak, Tilford, Jepson expansion,
Hughes addition, College Hall, Florence Mozilo Center,
Magnuson, Humanities, Woldson
STUDENT LIFE: Crosby, Hemmingson
RESIDENCES: Corkery, Dillon, Goller, Twohy, Kennedy, Marian, Coughlin
ATHLETICS: Rudolf, McCarthey, Stevens, Volkar; Patterson & Luger fields
OTHER: Huetter, BARC, Della Strada; West Mall
1999 v. 2019 IN NUMBERS
SPOKANE POPULATION 196,993 217,000
SPOKANE RENOVATIONS Davenport Hotel Riverfront Park
ZAG FAVORITE PUB Jack & Dan's Jack & Dan's
ON-CAMPUS RESIDENTS 1,611 2,780
EMPLOYEES 836 (279 faculty, 557 staff) 1,354 (467 faculty, 887 staff)
UNIVERSITY BUDGET $73 million $323 million
ENDOWMENT $94 million $309 million
ENROLLMENT 4,433 7,504
(2,848 undergraduates) (5,285 undergraduates)

TUITION $16,710 $44,280
POPULAR MAJORS Business | 285 Business | 591
(by # of students) Psychology | 218 Biology | 438
Biology | 179 Psychology | 414
Political Science | 158 Nursing | 397
General Studies | 150 Mechanical Engineering | 314
Academics
Alumni
Gonzaga Magazine