Tickets Available for ACDA Conference Performances March 11-14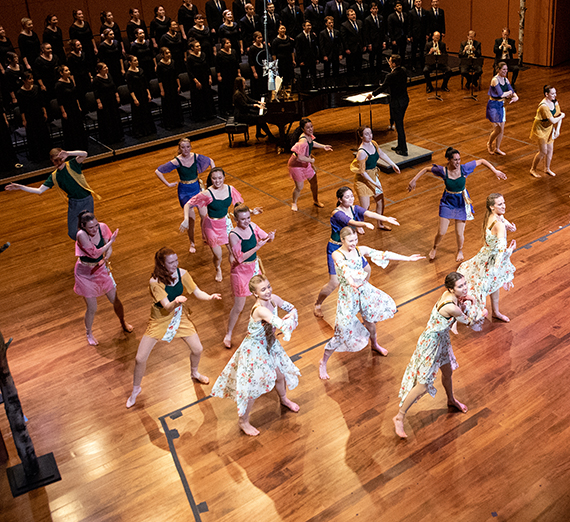 ---
Renowned NYC Mark Morris Dance Group Headlines Opening Event March 11
SPOKANE, Wash. — Gonzaga University hosts the American College Dance Association Northwest Conference, March 11-14, 2020, welcoming 26 universities from across the region to the celebration of scholarly and creative expression through dance.

A limited number of tickets are now available for key performances, including an opening night performance at 7:30 p.m., Wednesday, March 11 by the renowned Mark Morris Dance Group of New York City.

A Patron Pass entitles ticket holders to:
Premium seating at the Mark Morris Dance Group Opening Concert March 11
Four different adjudicated concerts 10:30 a.m. and 7:30 p.m., Thursday-Friday, March 12-13
The final Gala Performance: 7:30 p.m., Saturday, March 14 that includes 10-12 works selected by conference adjudicators.
The Patron Pass is offered at $150 and is available at the Myrtle Woldson Performing Arts Center box office or by calling (509) 313-2787.
Born in Seattle, with deep roots in the Northwest, Mark Morris is among the most celebrated choreographers of modern dance in the world today. Named a Fellow of the MacArthur Foundation in 1991, he has received 11 honorary doctorates. He has taught at the University of Washington, Princeton University, and Tanglewood Music Center.

The theme for the ADCA Spring 2020 Northwest Conference is "Dance as Service," and it draws upon Morris' groundbreaking work in Dance for Parkinson's, a program that strives to increase coordination, balance, flexibility and strength through music and movement in a broad range of dance styles. Gonzaga hosts Dance for Parkinson's sessions weekly in partnership with Northwest Parkinson's Foundation in Spokane.
ZagDance, a free after-school enrichment program for local elementary school students, and Boundless, a dance club with classes and performance opportunities for Gonzaga students, also reflect the University's commitment to bringing dance to the community.

For more information, please contact Suzanne Ostersmith, assistant professor, Gonzaga department of theater and dance, at (509) 313-6508.