What are you doing for Advent?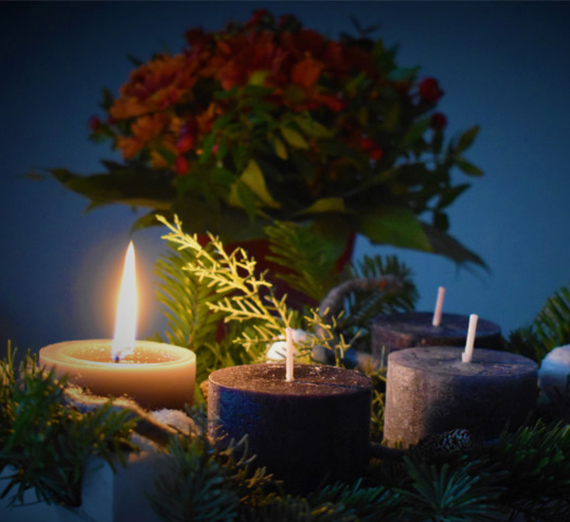 ---
"What are you doing for Advent?" She asked.
It was mid-November of last year. I was sitting on the floor in my basement.
What am I doing for Advent?
Um, nothing.
Isn't that what Lent is for?
We were a group of moms who met once per month after our kids were in bed. We took turns hosting and planning different topics for prayer, reflection and sharing. Finished with our conversation of that evening's main topic, we had turned our attention to our Advent Retreat in December.
Oh, Advent retreat! That's what I'm doing for Advent.
But that wasn't what she meant.
The idea of "doing something for Advent" intrigued me, but I didn't do much with it last year.
Mid-November came again (as it does), and I received an unexpected thank you note from a Gonzaga colleague in the Office of Health Promotion. It included a small card noting the benefits of gratitude and an encouragement to "pass it on." What really moved me about the note was that it wasn't for a particular action or event but instead acknowledged something about who I was and how I was. And then, I had an idea. Perhaps this year, I would do something for Advent.
I bought thank you cards. I even remembered to pack them in my luggage. Thanksgiving break came and went in a blur of visits with Midwestern family and friends. Suddenly, it was Wednesday, the fourth day of Advent, I was on a plane back to Spokane, and I had done nothing. Again. But the long trip home provided plenty of time to catch up.
I wrote one note. Two notes. Three notes. Four notes.
To my high school youth minister. To my godmother. To my confirmation sponsor. To a older married couple who were dear mentors during college.
I calendared out the rest of Advent, naming one person per day to thank, not for any one thing in particular, but for who they were and how they were. Or, to put it in more Advent-y terms, to thank them for incarnating God's love in real, tangible, and meaningful ways in my life.
I scheduled thank you notes up to December 25.
But I could think of more people!
God's love was too big for one season, too big for one Advent, too big for one Christmas.
And maybe that's why we celebrate, year after year. The Incarnation is real. It happened. But it didn't happen as a one-time thing. God has been revealing Godself throughout all of history and continues to do so. Christ's presence is born among us, over and over again, here and now - in nature and in slowing down (as Luke encouraged us last week), in prayer, in worship, in Scripture, in Sacraments, in service and working for justice, in people, and in countless other ways.
As I prepare to write another thank you note today, I'm very aware that I'm going to need more Advents.
Luckily, I'll get another one next year. And every year after that.
What are you doing for Advent this year? (It's not too late to begin!)
Who has incarnated God's love in real, tangible, and meaningful ways in your life?
---