A Decade to Remember: McCulloh's first 10 years as president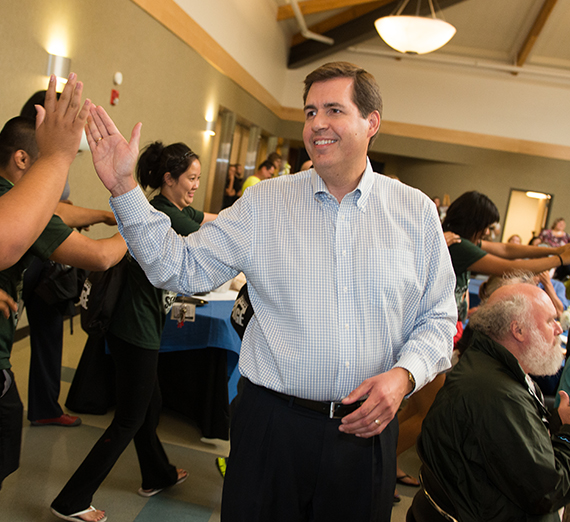 ---
2019 marked two milestones for Thayne McCulloh: his 30th reunion as a Gonzaga graduate and his first 10 years as the University's president. Here are just 10 of many achievements our University has enjoyed under his leadership.
10. Gonzaga has nurtured its Jesuit, Catholic Mission through many initiatives, including strengthened orientation and management education for faculty and staff, constructing a new home for the Jesuit community, expanding the Marian Grotto, completing the Mission Priority Examen, and creating a combined Office of Mission & Ministry.
9. Academic excellence has increased, as evidenced by progressively higher rankings in national publications, through hiring additional tenure-track faculty, establishing new schools (Nursing & Human Physiology and Leadership Studies), attracting highly qualified and dedicated administrators, developing strategic collaborations such as the Regional Health Partnership with the UW School of Medicine, and revising the core curriculum.
8. Our campus features many vibrant new facilities – Hemmingson Center, Della Strada Jesuit Community, Volkar Center for Athletic Achievement, BARC (Zagshop, offices and parking),
Myrtle Woldson Performing Arts Center, Stevens Center for Tennis and Golf – and repurposed other facilities to bring programs, such as those in the Humanities or Student Affairs, together.'
7. Generous donors have made the largest gifts ever committed to this University, allowing us to successfully complete our largest campaign in history, raising $355 million. This campaign
also provided more than $110 million directly for scholarship support with 284 new student scholarships created.
6. To bolster the student experience, we've improved programming for first-year students, achieved "veteran friendly campus" status, expanded the Lincoln LGBTQ Center and the Unity Multicultural Education Center and worked diligently to address needs for an increasingly more diverse community.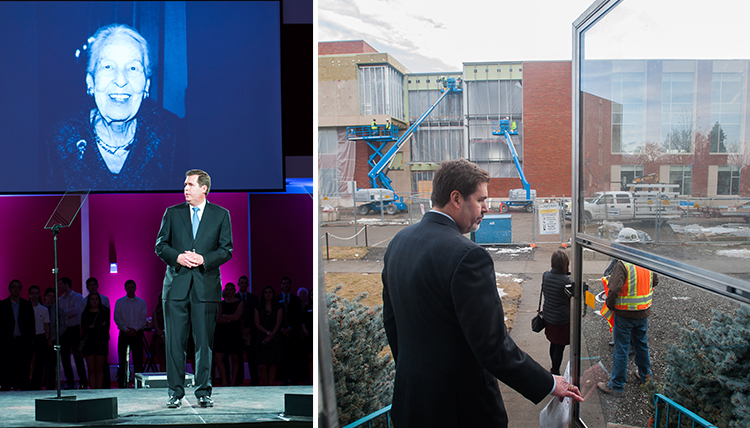 2015 was full of big moments: Launching the "Gonzaga Will" capital campaign (featuring the legendary gift of Miss Myrtle Woldson, pictured on screen at left) and opening the John J. Hemmingson Center to centralize student services.
5. While we're proud to boast an appearance at the National Championship in men's basketball, the highest value of Gonzaga athletics is the academic performance of student-athletes who together rank second in the nation only to Harvard (2019).
4. We've completed major organizational changes to improve efficiency of operations, academic excellence, enrollment success and the student experience. These include hiring a Vice President for Administration, creating an Enrollment Management division and centralizing graduate enrollment.
3. The Gonzaga profile has reached new heights. In the U.S. News college rankings, we moved from the category of a "regional" university to a "national" university (putting us alongside the Ivy League schools and prestigious state research institutions), and our credit ratings with two investor rating services upgraded to the highest we've seen.
2. Enrollment has seen a steady increase in undergraduates who bring an increasingly strong academic profile and greater diversity. Our schools continue to offer new graduate programs that draw professionals from across the nation into the Gonzaga family.
1. We've had some fun. As GU's first lay president, McCulloh enjoys a leadership style that endears him to students and alumni alike: An eloquent speaker and effective writer who takes his work seriously, he tweets and rides a scooter across campus (but not at the same time), displays his Scottish heritage with a kilt for special occasions, rocks a goatee during basketball season, and loves to show off the many NCAA championship rings that note Zag success.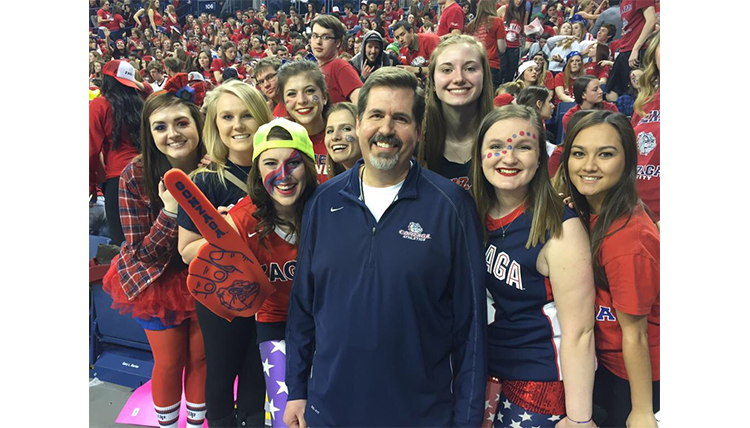 President McCulloh with Kennel Club students in 2015.
In His Own Words
Of all the moments I'll never forget, here is one:
The day the John J. Hemmingson Center opened. To have a new student center was a dream of ours for so long, and we knew what a transformational impact it would have.
The hallmarks of good leadership, to me, are:
Respect, humility, tenacity, appreciating the talents and skills of those around you, and a willingness to be open to the perspective that others have, and incorporate it into the vision.
University life is full of challenges. What keeps me focused is:
Remembering that the primary purpose of our work is to build a better world by helping our students become capable and successful.
If I could do one thing to ensure Gonzaga's success for the next decade, it would be to:
Help every alumnus, supporter, friend and benefactor truly understand what a perpetual impact education at Gonzaga has, and how through their support of us, they are changing the world.