PwC Chief Administrative Officer Gary Price Visits Gonzaga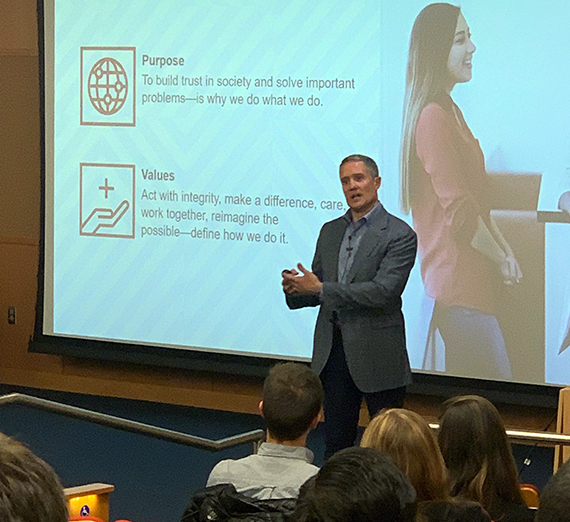 ---
SPOKANE, Wash. — The Gonzaga University accounting programs were honored to recently host Gary Price, PwC's partner affairs leader and chief administrative officer. Price met with students and faculty before speaking to a larger audience as a part of PwC's efforts to connect with students and develop future business leaders.
As a member of PwC's U.S. leadership team, Price is responsible for partner-related matters, executing firm strategy, and assisting in its digital transformation. He previously served in a variety of leadership roles, including market managing partner in Greater Atlanta, assurance strategy leader, and Southeast Region internal audit services leader.
"It was a pleasure to visit Gonzaga University, where I had the opportunity to speak with current students, faculty and several former PwC interns on how we're best preparing our workforce for the future," Price said. "I was impressed by the Gonzaga community's passion for learning and commitment to equipping its students, the leaders of tomorrow, with knowledge and experiences to help them best succeed in a digital world, regardless of the career path they may choose."
His visit complements other PwC efforts on campus, including the PwC Case Challenge and collaboration with Gonzaga's chapter of Beta Alpha Psi, the International Honor Organization for Financial Information Students and Professionals. PwC is also known as PricewaterhouseCoopers.
"Gonzaga is so fortunate to have top accounting firms like PWC on campus," said Jaxie Frey (BBA '21). "Being able to learn about what is going on in the accounting world, specifically with how technology is impacting the accounting workforce and hearing it from someone at the leadership level of Gary Price is a priceless opportunity."
The Gonzaga University School of Business Administration is a leader in Jesuit business education. Its Master of Accountancy (MAcc) and Master of Science in Taxation (MSTax) programs are
ranked 18th best in the nation by U.S. News and World Report
, and 72.3% of accounting graduates pass the Uniform Certified Public Accountant Examination (2017) on their first attempt, well above the national average of approximately 54% and 21st in the nation.
For more information, please contact Haley Topliff,
topliff@gonzaga.edu
.