Fr. Ken Krall Not Letting Age Stop Him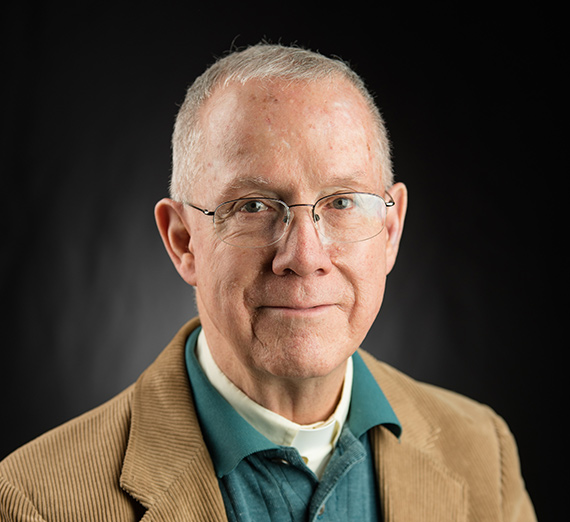 ---
By Dale Goodwin ('86)
He's not working from home, but Latin Lecturer Father Ken Krall, S.J., does prepare his lessons in his new Humanities Building office, which coincidentally, is the room he most recently occupied when that building served as Jesuit House.
But he is quite content in his new "living" room at the Della Strada Jesuit Community, where he has his own bathroom and shower, a bigger bed and a balcony.
"When I first moved in here I had a feeling I was at a conference staying in a nice hotel, comparing it to my old room at Jesuit House. It's very nice."
Fr. Krall arrived at Gonzaga in 1985, when "we must have had 55 Jesuits living here," Fr. Krall says. "Now we have 17 or 18 living in our new space."
But he is impressed with the efforts of President Thayne McCulloh, who "is doing a lot to foster Jesuits coming here. When (Father) Tim Clancy (S.J.) offers a summer series to Jesuits on technology and religion, he can count on Thayne for financial help. We have Jesuits coming from India, Africa and other places. We hope the ESL program participation by Jesuits will continue."
Fr. Krall, who turns 80 later this month, still enjoys being a vital part of the Jesuit works here at Gonzaga, teaching part time plus serving parishes, convents and the occasional reservation chapel throughout the Inland Northwest, and celebrating Mass on campus.
In his free time he enjoys seeing movies at the Magic Lantern and attending musical events. "Since (Fr.)
Kevin Waters (S.J.) moved south, (Fr.) Bob Lyons (S.J.) asked me to voice-over advertising spots "for the live, high definition video broadcasts the Metropolitan Opera beams out to the Northtown Cinema 10 times a season."
And he still sings baritone with the Spokane Chorale, or in his words, "Taking black dots on a piece of paper and turning them into beautiful music."
"I have no desire to retire. Realize that Jesuits have fewer milestones to remind us we're aging, like marriages, kids' birthdays and mortgages. I have been a Jesuit for 60 years. I don't have the same vim and vigor I once had, but I still enjoy teaching.
"I like what I do. I like where I do it. And I like with whom I do it," says Fr. Krall. Why stop now?