Two Zags Collaborate for Podcast Fun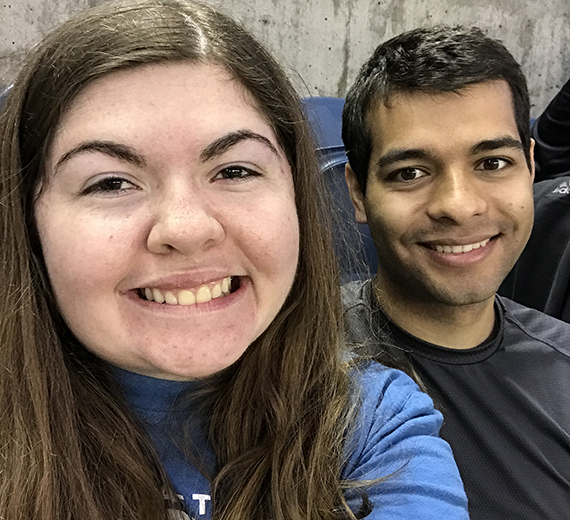 ---
SPOKANE, Wash. — Gonzaga University alumna Mary Conyard and GU senior Brian Ramaswami are enjoying creating their admittedly campy weekly podcast "Sass, Stories & Sarcasm" in which they crack jokes and discuss a variety of subjects, including Zags' basketball.
Conyard ('16), an enrollment marketing specialist at Seattle Pacific University, asked Ramaswami, a computer science major, to join her as the co-host. The two friends met at Gonzaga. The podcast debuted on May 17, 2018, with "The First One" and the two have created 32 episodes so far — one each week — including "How Do You Say Uruguay?" and "Gobble till You Wobble" among others.

Available on Apple Podcasts, Spotify, Stitcher, Google Podcasts and many other podcast platforms, the podcast is slowly attracting an audience with an average of more than 100 listeners per episode. Mainly, the friends who met at Gonzaga have a good time, which comes through loud and clear.

While it sounds like they are sitting across from each other in the recording booth, Conyard and Ramaswami use Skype to record each episode with Conyard in Seattle and Ramaswami at GU. Once recorded, they use GarageBand to edit the episodes before posting them on Anchor, their podcast platform.

Their listeners include friends, family and others who found them on the internet. Other topics include segments related to upcoming holidays, what they both did over the weekend, trivia, recaps on TV shows and puns about pickles — all with a playful banter.

They use Google Drive to write their outlines each week and use Skype to discuss ideas for segments. However, their jokes are not included in the outlines and are ad-libbed during the recording.

Conyard and Ramaswami base the sarcastic tone and format of the podcast off of their conversations with each other. While they follow an outline, they treat each episode as a conversation.

"We didn't really discuss a certain tone, we just had our normal conversation and I guess it's good that it's relatable to everyone," Ramaswami said. "I just enjoy the conversation really, just talking about whatever current events seem to be going on."
Conyard, who received her bachelor's of business administration with a marketing concentration at GU, said she enjoys coming up with content and figuring out which segments to do each week. Some of their favorite topics to cover include interviewing their friends, trivia, Gonzaga basketball and weird news stories.

"Sometimes it's kind of hard to think of good segments week after week, but we seem to always come up with funny things to talk about," Conyard said.

Despite having only audio to captivate their audience, Ramaswami said he uses visual language for subjects that listeners may not know, but usually his conversations with Conyard are on topics that do not require a visual and they avoid discussing topics that often need one.

"Since podcasting is all auditory, we always have to make sure we're able to explain things to people without any visuals," Ramaswami said. "From describing plays that happened in that week's Gonzaga games to just trying to describe what happened to us in our weekly updates, context and being extra descriptive is more important than other mediums since people aren't able to see us or our facial expressions."

In one segment they took a "Are You Smarter Than a 5th Grader?" quiz in which they read questions and possible answers aloud. They did not look at the quiz beforehand and believe doing so makes the episode funnier and more authentic.

"You should listen to this podcast because it has a range of topics that a variety of people like and relate to, with a sarcastic spin on whatever is going on that week and that we're interested in at the time," Conyard said.