Gonzaga Hosts Civil Rights Teach-In on MLK Day Jan. 21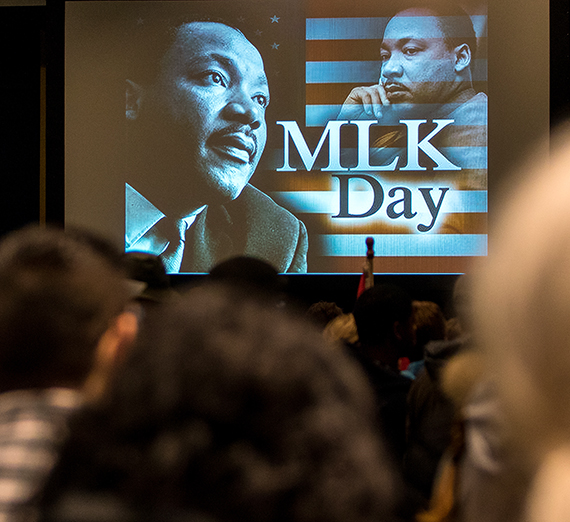 ---
'Historic Perspectives & the Fierce Urgency of Now'
SPOKANE, Wash. — In honor of American civil rights icon Martin Luther King, Jr., Gonzaga University will host a "Teach-in on Civil Rights in Spokane" from 12:15-2:30 p.m. in the Hemmingson Center Ballroom (third floor) on Martin Luther King Jr. Day, a federal holiday, Monday, Jan. 21.
The program, titled "Historic Perspectives & the Fierce Urgency of Now," is sponsored by Gonzaga's Center for Community Engagement and Gonzaga's Unity Multicultural Education Center. Gonzaga students, faculty and staff will attend the MLK march and rally downtown and return to campus for the teach-in. Members of the public are welcome to attend the teach-in, however, space is limited and registration is required. RSVP: https://bit.ly/2PAzHyg
The teach-in event includes the following presentations:
12:15-1 p.m. ~ Fair Housing Act & Housing Policy in Spokane
Presented by Rick Eichstaedt and Logan Camporeale. Eichstaedt is director of Gonzaga's Environmental Law and Land Use Clinic and a GU Law School professor; Camporeale is a local public historian.
1:05-2 p.m. ~ Life, Legacy & Contemporary Impact of Local Civil Rights Leader Carl Maxey
"History and Legacy" presented by Spokane attorney Dennis Cronin.
"Bringing this Home: Our Current Landscape" presented by Sandy Williams, publisher of the Black Lens newspaper in Spokane.
2:05-2:30 p.m. ~ Panel w/all Speakers
The speakers will discuss their involvement in community activism and social justice and respond to questions.
For more information, please contact CCE Director Molly Ayers at (509) 313-6396 or via email at ayers@gonzaga.edu.