School of Education Rededicates Rosauer Center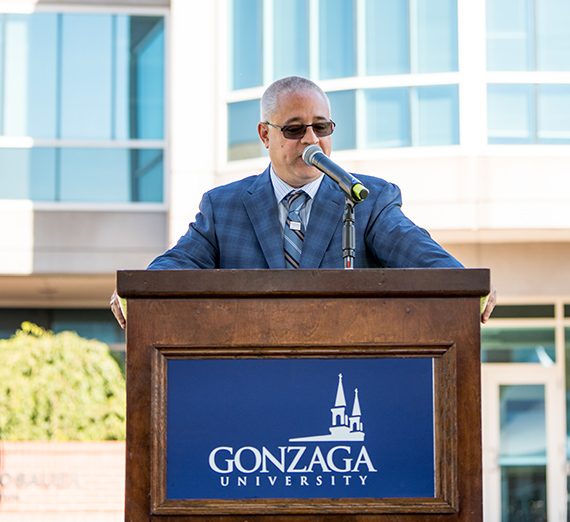 ---
It's about community and faith, coming together for the greater good, where even people from humble origins can make a long-lasting impact on the world.
That was the inspiring message delivered by those who addressed the gathering at the rededication ceremony for the J.M. and Jessie Rosauer Center for Education in commemoration of the 25th anniversary of its opening.
The ceremony featured remarks by Gonzaga President Thayne McCulloh, School of Education Dean Vincent Alfonso, and Robin Rosauer ('65), who shared the compelling story of his parents' journey and connection with Gonzaga. The event also included a blessing of the building by Fr. Stephen Hess, S.J., and kicked off the 90th year celebration of the establishment of the school.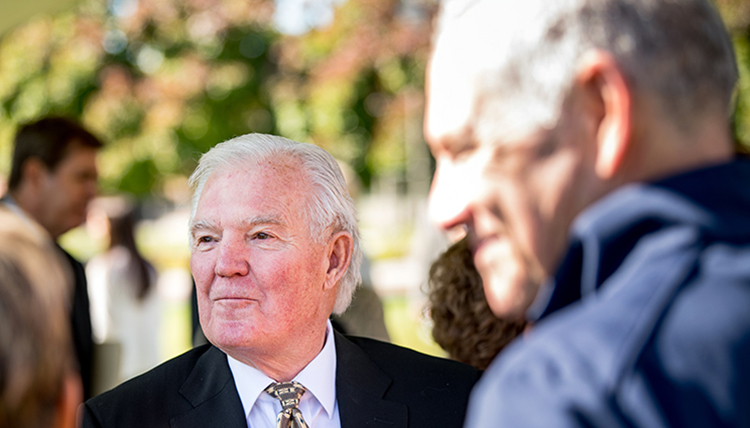 "Mert" and Jessie Rosauer worked hard to earn the success that led to their names gracing the School of Education building, which was finished in 1993 with their generous support. Robin explained that neither attended college themselves, but placed a high value on Catholic education and were fond of GU.
President McCulloh noted that Fr. Bernard Coughlin, S.J., and the university leadership of that era had a special bond with the Rosauer family.
"(Fr. Coughlin's) relationship with them is emblematic of what makes this university special," said McCulloh, who and praised a foundational value of the Rosauers. "They couldn't go to college themselves, but understood that education is a game-changer."
Robin was joined by his sisters and other members of the extended Rosauer business family, including longtime leadership from the innovative grocery chain that his parents founded in Spokane and expanded into a local icon.
"This is the home that your parents built, but it will always be your home, too," Dean Alfonso said to the family members in attendance.
The building is just one of many contributions by the Rosauers to Gonzaga over 50 years. Their generosity includes the Crosby Center, the Bernard J. Coughlin, S.J. Endowed Chair, the Business School Building Fund, the Fund for Gonzaga, the Dussault Foundation, Foley Center Library, and the Joseph Merton and Jessie Rosauer Family Scholarship for education students with financial need.
- Jeff Bunch