UWSOM-Gonzaga Regional Health Partnership Creates Rural Pipeline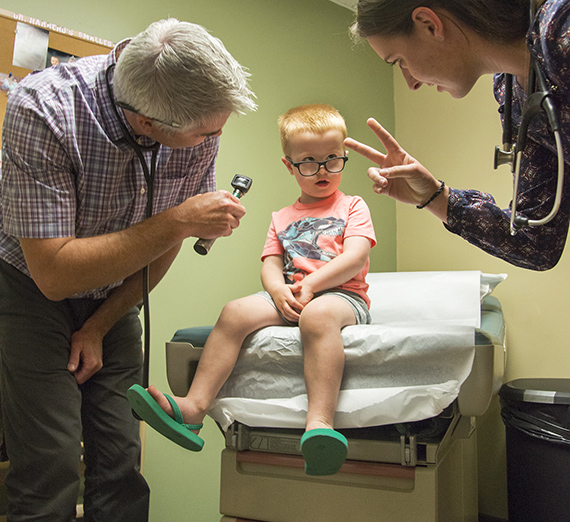 ---
The University of Washington School of Medicine- Gonzaga University Regional Health Partnership Creating a Pipeline to Rural Healthcare; 25 students are serving Eastern Washington as part of the Rural Underserved Opportunities Program (RUOP).
By Cindy Hval
Sara Phillips is discovering Native American culture in Wellpinit.
Justin Thompson is becoming a familiar face in Moses Lake.
And Erin Boland is experiencing a homecoming of sorts in Grand Coulee.
The three University of Washington School of Medicine students are participating in RUOP (Rural Underserved Opportunities Program) – a four-week, elective immersion experience in community medicine for students between their first and second years of medical school.
During the summer months, students live in rural or urban underserved communities throughout Washington, Wyoming, Alaska, Montana, and Idaho. They work alongside local physicians in hospitals, clinics and private practices. They also partner with community organizations to address public health issues relevant to the area.
"Our students develop a profound appreciation of what life is like for physicians practicing rural medicine," said John McCarthy, M.D., Assistant Dean for Rural Programs.
Sara Phillips understands how important it is to have physicians in rural areas because she grew up without easy access to medical care. She was raised on the tiny island of Kauai.
"We had lack of access to medical care in our small native community," she said. "It has a tremendous impact when you see how chronic health issues can deteriorate without readily available primary care. It's the reason I wanted to go into medicine."
Phillips said the town of Wellpinit, located on the Spokane Indian Reservation, has welcomed her into their tight-knit community.
Her schedule includes time spent at the Indian Health Services Clinic in Wellpinit, as well as going out on home visits with the public health nurse.
"You never know what's going to come through the door of the clinic," she said. "It's partly why I enjoy rural practice. You have to be prepared for everything."
But it's been her work with the public health nurse that has been most meaningful to her.
"To be able to go into people's homes and see what their lives are like is amazing," said Phillips. "It's the experience I cherish the most."
And it's cemented her career goals.
"Wherever I end up, I want to work with a native community," she said.
Justin Thompson isn't sure where his career path will take him, but he's enjoyed his experience in Moses Lake.
The third-year student's first visit to the town came before he'd even attended a class at medical school. That's because Thompson is a TRUST (Targeted Rural and Underserved Track) student. TRUST is an optional program that provides an exceptional educational experience to prepare students for careers working in underserved rural areas and underserved small cities.
TRUST students not only do their RUOP training in their designated community-- they also return as often as possible throughout their medical education.
Confluence Health family practice physician Dennis Kearns is Thompson's preceptor.
"I worked with Dr. Kearns throughout RUOP and stayed in their home," said Thompson. "It's been great."
Thompson served six years in the military, and said the lure of small town life is tempting. Especially since he and his wife have a young daughter.
"My goal is to live and work in a place where I can make the most difference," he said. "I like having more time to spend with patients-- it's refreshing and rewarding. Making connections with people is why I came to medicine."
In addition, he said the educational opportunities he's had in Moses Lake have been valuable.
"Learning from someone with so much experience and knowledge-- the benefit was immeasurable."
But the benefit isn't only for the students.
McCarthy said students bring new ideas and technologies to the physicians they work alongside.
"As a physician, it's helpful to me. They bring the latest and greatest technology," he said.
They also bring questions – lots of questions.
"They want to know what life is like for doctors in rural areas. They ask about the lifestyle-- about what it's like to see a patient at the grocery store," said McCarthy.
However, Erin Boland didn't have those kinds of questions. She grew up in tiny Ephrata, Washington, and is doing RUOP at nearby Grand Coulee Medical Center, an hour's drive from where she was raised.
Like Thompson, she is a TRUST student.
From radiology to urgent care, she said she's experienced a wide variety of specialties at the 25-bed hospital.
"You don't know what rural medicine is until you get out here-- the diversity, the energy!" Boland said.
That's exactly what McCarthy hopes his students will experience.
"I want the students to have an appreciation of the reality that medicine is different in rural areas," he said. "There are nuances of practicing in smaller communities where relationships can be very different due to social realities."
He added underserved doesn't always mean rural-- some students work in urban clinics with an underserved population.
One of the goals of the University of Washington School of Medicine is to develop a workforce for the region. Programs like RUOP allow students to work in and begin to understand rural/underserved communities.
Indeed, when looking at graduates from 2003 to 2013, data shows that RUOP students were more than twice as likely to enter rural practice than their classmates who didn't participate in the program.
"We've helped populate Eastern Washington with physicians in rural communities," said McCarthy.
Erin Boland plans to be one of them.
"This is the medicine I want to do," she said. "Working and living in a rural community is the perfect fit for me."