Teaching the Teacher Overseas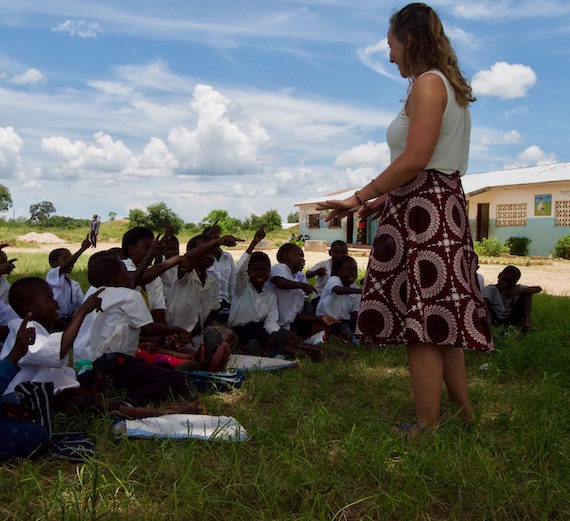 ---
Photo credit: Katie Polacheck
Katie Polacheck ('17) is a Peace Corps Rural Education Volunteer in Zambia, teaching English to students ranging in age from 10 to 17 in grades 5, 6, and 8, and is just about half-way into her post. Polacheck participated in the Zambia study abroad program while at Gonzaga and returned as a TA the following year, so Zambia is a special place to her.
"I wanted to go back to Zambia and I wanted to try teaching, so when I looked at Peace Corps placements, I was really hoping for the opportunity to go back," she says. "It turned out that leaving [shortly after graduation] in June 2017 there was a position teaching English in rural Zambia, so it worked out perfectly.
Teaching English overseas is a great way to see more of the world and to serve as a cultural ambassador (and correct some of the preconceptions about Americans), but it's also a way to build one's own language skills—of a second, third, or fourth language and English; to increase intercultural competence; and to self-reflect on one's values and beliefs within a global context.
Polacheck has embraced the opportunity to immerse herself in the culture of her rural community and is especially moved by the sense of sharing she has experienced. As the only American within a 100-km radius, she has learned to rely on the people around her. "Living with a host family, letting people care for me, is especially difficult; I'm this one American person, I'm supposed to be self-sufficient and prove that I can live here and be a teacher. But my most meaningful interactions have involved letting people take care of me—feed me, and help me, and be there for me," she says.
"When you find that sense of community, I think it's something really special, and it lifts up everyone in that community, people who are trying to go to school, or to feed their families, or whatever it is—everyone supports one another in a way that definitely can happen anywhere in the world, and when you find it, you have to latch onto it."
Other recent graduates from the College of Arts & Sciences are also taking full advantage of the many prestigious opportunities available to teach overseas. Selected from a pool of native English speakers from 40 different countries, Abigail Williams ('18) and Arin Mitchell ('18) recently headed to Japan to serve as assistant language teachers with the Japan Exchange and Teaching (JET) program.
The two have both been placed in rural communities, with Williams in Taketa City in Kyushu in the southern part of Japan, and Mitchell in Tomari Village in Hokkaido in the north, a village of fewer than 1,800 people; few, if any, other Americans live in their towns.
Japanese Program Director Seiko Katsushima has encouraged many students to participate in the JET program and invites JET recruiters to campus each Fall. "It is a teacher's joy to hear their success and achievement," she says. "The program provides college graduates opportunities to teach English and share American culture to Japanese students at public schools, but JET participants also gain cultural understanding by immersing themselves in the Japanese society and by giving participants the opportunity to consider their own identities as Americans."
Also 2018 graduates, Claire Standaert and Aizley Hansen are poised to travel to Germany and Spain this month, having earned the distinction of Fulbright English Teaching Assistantships, a program that also adds cultural ambassadorship to the service recent grads render in international classrooms.
Having hesitated to apply to the competitive Spain ETA program, Hansen, who fell in love with and thrived at Model UN at Gonzaga, will be teaching Model UN to high school students in the Madrid region. "When I saw I would be teaching Model UN at a bilingual high school, I was immediately drawn in," she says.
After spending time in high school in the Dominican Republic and a semester in Tanzania learning Swahili as a Boren Scholar, Hansen sees great value in being able to communicate with community members in their native tongues. But she also concedes that English is a valuable language to know. "English is so widely spoken and it opens up a wealth of opportunities—even if it's Spanish high school students going to Tanzania or Kenya. They might not speak Swahili, but a lot of people speak English and they could have interactions with others through their knowledge of that mutual language."
Standaert, too, has spent a good part of her life engaging in different cultures and languages, living in Germany and Panama as a child and studying abroad in Muenster, Germany, while at Gonzaga. "Now that I'm older and more aware of my combined role as American and global citizen," she says, "I want to build upon those experiences. The Fulbright ETA is a perfect fit—it seeks to build goodwill among nations and foster mutual understanding.
"During the Fellowship, I hope to gain a greater capacity for engaging in complex conversations, promoting goodwill, and building community. I also hope to use the teaching and communication skills I learn in Germany and my interest in international relations to continue pursuing intercultural dialogue professionally—in whatever capacity that may be."
Academics
College of Arts & Sciences