Jundt Art Museum Presents Rodin Exhibition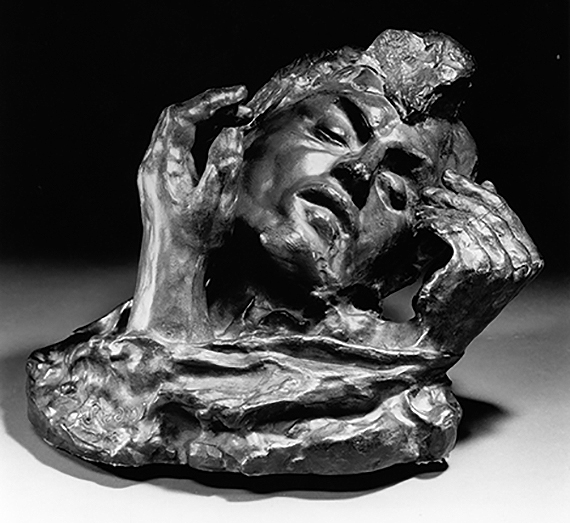 ---
Above: Auguste Rodin (French, 1840–1917), Head of Shade with Two Hands, ca. 1910.
Modeled about 1910; cast 2 in an edition of unknown size, date unknown. Bronze; Alexis Rudier Foundry. Lent by Iris and B. Gerald Cantor Foundation
Gonzaga News Service
SPOKANE, Wash. — The exhibition "Rodin: Truth Form Life / Selections from the Iris and B. Gerald Cantor Collections" will be on display in the Jundt Art Museum at Gonzaga University from Sept. 8 through Jan. 5, 2019. A free public reception will be held from 4-7 p.m., Friday, Sept. 7.
By the early 20th century, Auguste Rodin was regarded by many as the greatest sculptor since Michelangelo. Rejecting 19th-century academic traditions that dictated what was "proper" in art, Rodin used sculpture made from hard marble and bronze to convey the vitality of the human spirit. His vigorous modeling emphasized his personal response to the subject, and he conveyed movement and emotion by inventing new poses and gestures.
This special, traveling exhibition, organized and made possible by the Iris and B. Gerald Cantor Foundation, presents 22 of Rodin's important bronzes modeled between 1860 and 1910, plus three bronzes by Rodin in the permanent collection of the Jundt Art Museum.
"Rodin: Truth Form Life / Selections from the Iris and B. Gerald Cantor Collections" is supported in part by a Spokane Arts Grant Award.
In the Arcade Gallery, "From the Collection: European Prints from the Age of Auguste Rodin," features works drawn entirely from the permanent collection of the museum at Gonzaga. The display highlights images created in Europe during the last decades of the 19th century and the first two decades of the 20th century, corresponding to the era of Rodin's own artistic production.
The museum's exhibitions and events are free and open to the public from 10 a.m. to 4 p.m., Monday through Saturday; closed Sundays and University holidays. For more information call (509) 313-6843 or visit www.gonzaga.edu/jundt. To arrange a docent guided tour, please call Karen Kaiser, curator of education, at (509) 313-6613.