Top Dog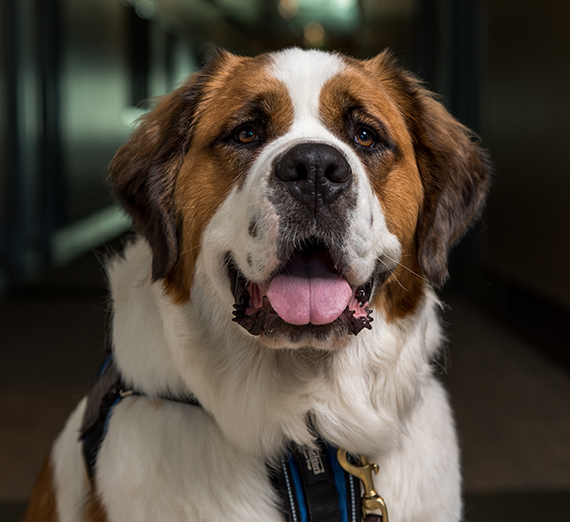 ---
This is Lucy, one Zag's service dog, here to let you in on some secrets about service animals, and where a dog can always find treats at Gonzaga.
Name: Lucy
Breed: Saint Bernard
Age: 2 years old
Weight: 115 lbs., if you really must know
Job: Service animal
Boss: Dee Dee Brown ('18)
Teacher: Finley, Dee Dee's first service dog
Favorite Hangout: Herak and PACCAR, that's where Dee Dee's civil engineering classes are
Favorite People: Dr. Maxwell and Dr. Nowak
Best Treat-givers: Shanna Abbott in the School of Engineering and Applied Sciences has a very dependable cookie supply, as do the friendly folks in the academic testing center
Best Hangout Spot: In the hallway by Dr. Nowak's office in Herak is a great place to be sure plenty of people stop to pet me while I'm keeping an eye on Dee Dee.
Least Favorite Place: Those classrooms in College Hall are so small and the aisles between desks are a bit narrow for a "fluffy" dog like me.
What I've Learned: I can enter College Hall without getting too excited about the squirrels that jump out of the trash cans by the entrance.
Biggest Adventures: I got to walk in the commencement ceremony with Dee Dee in May. Then, I flew on an airplane to New York. For a dog like me, it's nothing but first class!
My Human, Dee Dee Brown
Dee Dee is really smart. When she graduated in May, she was one of only 10 people accepted into this really cool research program at Clarkson University in New York. Just like everywhere we go, Dee Dee made sure the professors at Clarkson would be OK with me coming along. We also got to study at Lake Ontario because Dee Dee's research is about how mercury levels are transmitted from plants to big fish to the people who eat them. She really likes studying pollution and wants to become an environmental engineer to help protect our air and water. How could I not want to support a person like that?
3 Kinds of Dogs at Work
My title is "service animal." That's a name for those of us who notice symptoms of a medical condition in our humans – like low-blood sugar in our bosses with diabetes or seizure indications in those with epilepsy – or assist people who have a disability that affects vision, hearing or mobility. We have completed a crazy amount of training, not just normal obedience training, but how to recognize human needs and how to respond. Nothing is more important to me than making sure Dee Dee is OK.
Some people have emotional support animals. ESAs (that's their nickname) provide an amazing benefit to humans who live with mental health conditions like anxiety or post-traumatic stress disorder. Having an animal present can help people cope with a variety of challenges.
Another kind of animal you see at a place like Gonzaga is the therapy dog. Therapy dogs come to campus for students to pet when they're really stressed out – like during finals week. That's the charm of being a dog: Our happy tails and dangling tongues just help people relax.
Advice and Understanding
Free of charge, treats not required.
You can't always see a person's disability. Don't assume that because they don't have a visible challenge that they don't need extra support.
Remember that people with disabilities have added stresses and concerns around advocating for themselves everywhere they go. Be sensitive to that.
Please don't ask why I am with Dee Dee or how another service animal supports his or her human. You probably don't feel comfortable sharing your medical or emotional needs with strangers, and that's true for most others, too.
From a legal standpoint, people who need a service dog to access an area aren't required to tell you why they need their dog with them at school or work, or even the grocery store.
People also don't have to prove their animal is needed for service. But here are some ways you can tell when a dog is really a service animal: Our human will always have us on a 6-foot lead and never one of those retractable leashes. We are very well-trained and obedient. Our place is near our human, even when that squirrel runs in front of us or another dog comes charging.
Though you may find me irresistible (who doesn't?), you really should ask Dee Dee for permission before you pet me. That goes for any service animal: The human is the one who speaks your language, so ask first!

Disability Accommodations at Gonzaga
GU's Center for Student Academic Success includes three offices: Academic Advising, Learning Strategies Management (which includes tutoring, learning specialists and the academic testing center), and Disability Access. The Disability Access Office determines accommodations for students with disabilities, both permanent and temporary. Accommodations ensure these students have equal access to all programs, activities and services. For details: Disability Access (509) 313-4134