The Ultimate Zag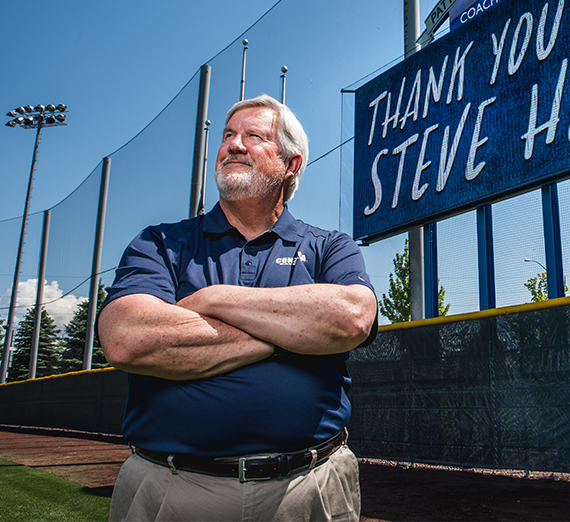 ---
By Dale Goodwin ('86)
Steve Hertz and his high school sweetheart, Vicki (both '72), stepped off the plane onto the snow-covered tarmac at Spokane International Airport in December 1969. Eyes got big. These Southern Californians had never seen snow before. "We looked at each other and said, 'This is it! We're going to go to school here.' " As it turns out, this pair have made Spokane, and Gonzaga, their home for all but five of the last 50 years.
On the occasion of his and Vicki's retirement from Gonzaga – he as former baseball coach and associate athletic director, she as supervisor for student teaching and field experience – Steve reflects on some of the people and events that have made Gonzaga such a special place over the last half-century.
He remembers returning to campus from a road trip in May 1970, hearing that four Kent State student protestors were killed by Ohio National Guardsmen, bumping into ROTC buddies here, and feeling deep compassion for them all.
A year later, an armed man with no affiliation to GU and high on LSD, killed a caretaker at St. Aloysius Church, smashed the altar and several statues, and eventually was gunned down by Spokane police. "Someone later told me that the assailant came up to the car of student Jay Hillock, who would later become GU head basketball coach, sitting in the driver's seat. The gunman pointed his weapon through the window and pulled the trigger. Apparently his gun jammed. That incident brought us all together.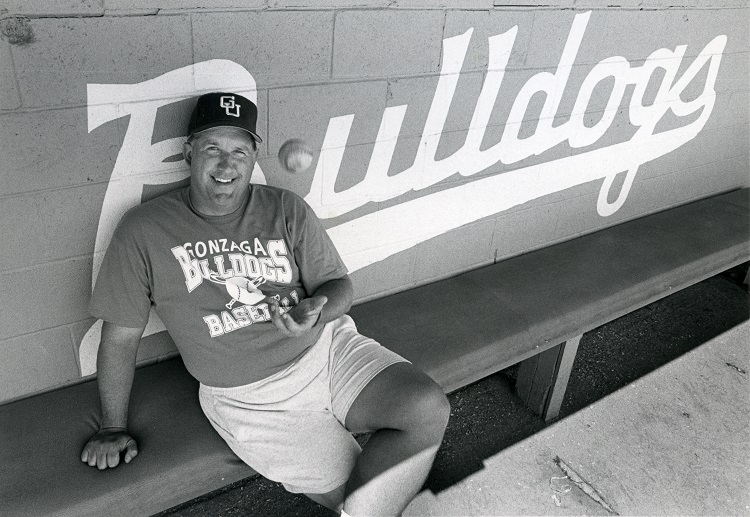 One of the favorite hangouts back in the day was Pakies, a greasy spoon on the corner of Standard and Sharp, where Dillon Hall now stands. "I'd give anything to sink my teeth into a Student Blitz today – spicy Italian sausage cut lengthwise, great sauce and cheese all over it on a hoagie roll . . . and the best fries I've ever had in my life," Hertz recalls, as if he can still taste it all again.
His palate now fully engaged, Hertz remembers, "Dutch's sat on Boone, across from College Hall. The sweetest elderly lady would bake these wonderful pies and pastries; it was like going to grandma's house."
Among Hertz's most cherished relationships was with Father Bernard Coughlin, S.J., who served as president 1974-1996, and as chancellor through 2016.
"He is my mentor and close friend," Hertz says. "Every time I went through a hardship I'd find a bottle of wine on my desk and a note from Father saying, 'Hang in there, Steve, I'm with you.' He was like a second father to me. I think he had that impact on nearly everyone who had the chance to work with him. He deserves a lot of credit for making Gonzaga a world-class institution."
In the mid-1990s, as Fr. Coughlin stepped away, Fr. Edward Glynn, S.J., stayed only eight months as Coughlin's successor.
"We were so fortunate when Father (Robert) Spitzer came aboard," Hertz says. "Often we'd be at the same events. Talk about pressure speaking on the same dais with him. I probably heard him speak 300 times, and every time the hair on the back of my neck stood up because what he said was so inspiring. The best thing he did was believe in people."
Hertz believes the construction of the McCarthey Athletic Center in 2004 and the John J. Hemmingson Center in 2015 will have paramount impact on the entire campus community for decades to come. "Now, national broadcasters want to come here to call a game in the Kennel. This is one of the top five basketball arenas in the country.
"The Hemmingson Center wraps its heart and soul around our students, staff, faculty and community," Hertz says.
Listening to Hertz talk, his words embody what it is to be a Zag. And think about all the young men and women who have been mentored by Hertz. But he's quick to credit others.
And then there's his love for his players.
"Pitcher Bob Finn ('88) had just lost his best friend, Dave Machtolf, and the funeral was the same day as a big doubleheader against a very good Washington State team," Hertz recalls. "I didn't expect to see Bob, but as I was preparing my lineup for the nightcap, he came running up to me in suit, tie flying, and said, 'I want the ball.' "
Hertz told Finn, "My first priority is to protect you. You've been through enough this week." But Finn insisted, and went on to pitch a 7-1 win.
Another tenacious player left a mark on Hertz. On the day Hertz's father was dying, Jason Bay ('00), longtime major leaguer, told Hertz he'd hit one out for his dad. Bay homered that day. "Dad died that afternoon, and later that night, Jason called and said, 'That was for your dad.' "
Influence goes both ways.
"I'll never forget the 1978 NCAA semifinal game against UNLV," Hertz recalls. "Tom Gorman was twirling a nifty 11-hitter. He was tiring. We were in the ninth inning, two outs, we led 3-2, and the tying run was on third. I left the dugout to call for my closer. I got to the foul line, and Gorman stuck out his hand and said, 'STOP.' I kept walking toward the pitcher and he said, 'Get the hell off my mound.' I turned, and walked off the field. Tom's next pitch resulted in a slow roller to first base. Game over."
Gonzaga players compete with character and fight to the end, with extra effort and big hearts, and not just in athletics. "Zags do special things in every aspect of life – academics, service, care for others," Hertz says. "It's the intangible that makes this place, and our people, special."
Hertz gives credit for his success, first and foremost, to his wife, his "No. 1 draft pick." And he credits the University for its tremendous impact on him and his family.
"Everything that I have in my life that's good has been fostered by, and grown from here. Our six kids are all GU grads, as well as five of their six spouses. Gonzaga is everything to me and my family, and that won't change."
Watch more of Dale Goodwin's interview with Coach Hertz here