School of Leadership Studies Alumni Updates - Summer 2018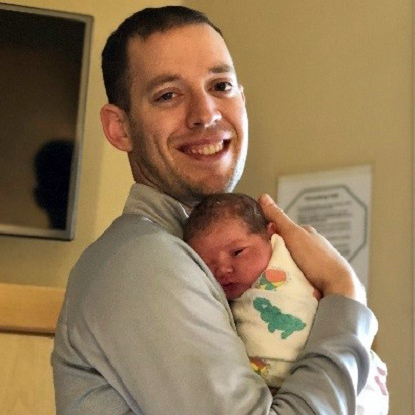 ---
Nick (ORGL) and Dana (DPLS current student) Questad recently welcomed their third baby girl to the family. Madeline Rose, 7 lbs 8 oz, was born on Gonzaga Day at 10:11 PM. She's following in her parents footsteps as a true Zag!
Elizabeth Benz (COML, '18), of Portland, Maine, was promoted to Director of Student Support, College of Graduate and Professional Studies, at the University of New England. Elizabeth manages the support team that provides high-touch retention services for the UNE online population. You can see Elizabeth's COML portfolio at https://ebenz8.wixsite.com/ebenz.
ORGL alumnus Greg Witkop, M.D. recently published a book Dignified Leadership: Curing the Cancer of Objectification. Dr. Witkop is an associate scientist at the University of Washington Applied Physics Laboratory.
The following students recently finished their dissertations and will join the 5,000 other School of Leadership Studies alumni from around the globe. Congratulations!
#

Professor:

Dissertation Chair

Official Name In Program

Dissertation Title

1

Barbour

Thomas R. Buck

Evangelical Leadership: A Study of Saints and the Rhetoric of Evangelization

2

Barbour

Antonio Jiménez-Luque

Critical Intercultural Leadership Process for Social Change:Critical Consciousness, Resistance and Emancipation in a Pluri-EthnicSocial Movement Organization

3

Ferch

Harry Daniels-Schatz

Homelessness, Transformational Leadership, and Policy Reform: A Mixed Methods Study

4

Ferch

Cami Eastep

A Portrait of Servant Leadership: Women Caring for New Mothers Through Preparing and Sharing Food

5

Francovich

Kay Ditzenberger

Servant Leadership, Community and Inclusion: A Case Study of the Ike Special

6

Francovich

Andrea Fallenstein

Leadership and Social Movements

7

Francovich

Jeff Geldien

How Elements of Sensemaking, Constructive Development, and Pragmatism Impacted the Law and Policy Change for NCAA Student-Athletes

8

Francovich

David McNamee

Factors of Resilience and Post-Traumatic Growth in Response to Combat-Inflicted Post-Traumatic Stress Disorder

9

Francovich

Kimberly Mungaray

Re-imagining Accounting Leadership through a Phronetic Lens

10

Francovich

Ivon Prefontaine

How Teachers (Ex)perience Becoming Who They Are as Teachers: A Phenomenological Study

11

Francovich

Paul Susac

Dogmatism as an Expression of Ideological Loyalty

12

Francovich, Gambrell, Ferch

Kevin D. Williams

A Decision-Making Framework for Resource Mobilization and Social Movements for Organized Communities Suffering From Oppression

13

Gambrell

Jim Jones

The Influence of Learning Organization Maturity on Employee Engagement within Higher Education Information Technology Business

14

Gambrell

Kirk Kimberly

Developing an Instrument to Assess the Co-implementation of the Community Policing and Compstat Police Reforms

15

Gambrell

Amy Martin

Making Meaning of Leadership: A Phenomenological Study of Italian American Women

16

Gambrell

Valerie Shayman

Traumatized by Trauma: The Impact of Vicarious Trauma on Higher Education Threat Assessment Professionals

17

Fu

Chi Hua "Denise" Ho

An Emergent-Peace Model: Leading Through an Evolving Socioeconomic Alliance Between Mainland China and Taiwan—A Multiple Case Study

TOTAL DOCTORAL GRADUATES AY 2017-18: 17