Magis Awards for Nordstrom and Measor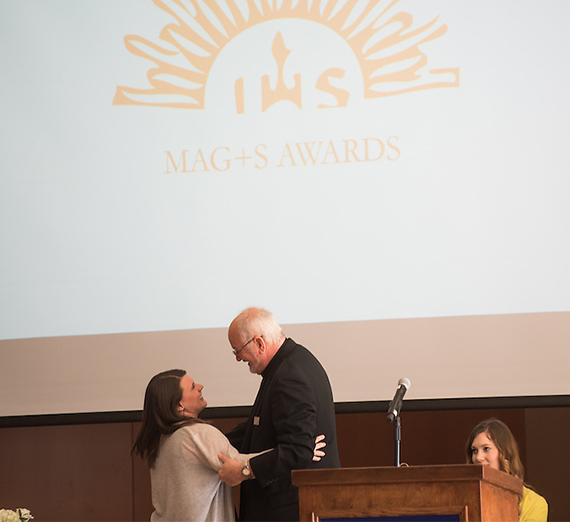 ---
True North
Helping students develop their goals and determine their next steps is an extra passion many faculty members have. To celebrate that important work, Gonzaga's Career and Professional Development center recognizes a faculty member with the Compass Award for contributions to the career development of students. The 2018 recipient is Heidi Nordstrom, assistant professor of Integrated Media, who teaches in the undergraduate Sport Management and graduate Sport and Athletic Administration programs. She has attended multiple Treks in Seattle and Portland, coordinated a Sport Management excursion for the Spokane Trek, and helped build the Williston internship program, which resulted in several students securing meaningful full-time opportunities. The Compass Award comes with a $500 gift to the recipient's department for a career-related service.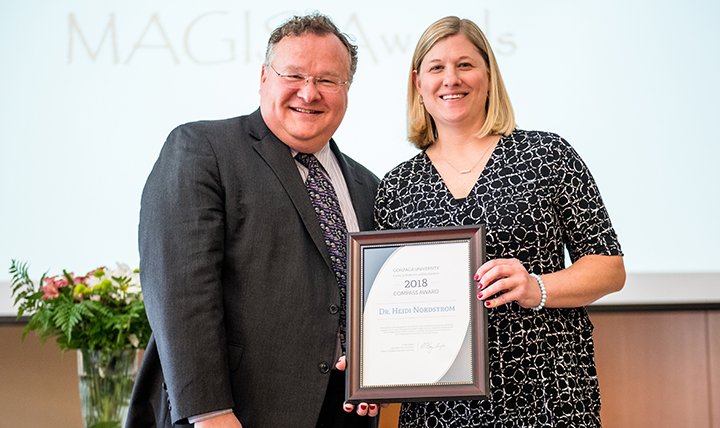 A Presence Like Father Tony
Father Tony Lehman, S.J., was beloved by so many, for his active presence in the lives of student groups and individuals. His legacy is remembered each year when, as part of Student Development's Magis Awards, a member of the campus community is celebrated for his or her volunteer commitment to advising a student organization. For the second year, Kevin Measor is the Outstanding Adviser. He provides great support to the Health Sciences Club, where he constantly champions its work and demonstrates true care for each student.