Harman Khare, Ph.D. Adds New Options to Mechanical Engineering Studies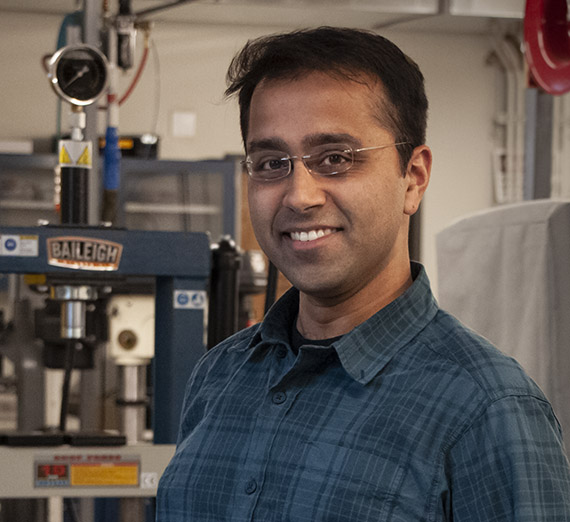 ---
The Mechanical Engineering department's newest faculty member wants to make the word "tribology" a common word.
Many might think it refers to sociology or anthropology, but the term means the study of surfaces in motion. Coming from the Greek root meaning "to rub," tribology explores friction, wear, and lubricants.
"Before starting tribology research, I was honestly unaware the word existed," says Dr. Harman Khare, who begins teaching this fall as a SEAS Assistant Professor. "Being able to reduce or eliminate friction and wear is crucial for sustainability – reducing energy consumption and greenhouse emissions – as well as for designing next-generation engineering systems such as advanced vehicle powertrains and extraterrestrial space systems."
Khare spent the last four years at the University of Pennsylvania, where he oversaw research projects in nanotribology. He earned his Ph.D. at the University of Delaware, and researched several solid coatings with aerospace applications, including molybdenum disulfide (MoS2) and diamond-like carbon coatings.
"What really drew me to tribology was that I was able to take my interests in hands on design, experimentation and automotive mechanics, and apply it to an area of research where I could make profound economic and societal impact – something I see value in. Along the way, I could learn new concepts in surface chemistry and materials science. Tribology is highly interdisciplinary," he says.
That desire to cross departmental boundaries drew Khare to Gonzaga. On his visit to the campus, he was struck at the close-knit community. "Everyone seemed to know everyone else, people are invested in each other and in the community," he says.
He says he is also impressed by the School of Engineering & Applied Science's desire to teach students the social impact of their work by combining hands-on research and community outreach. "Despite its already strong reputation, there is a keen, shared desire within all of the School to continue finding innovative ways to improve engineering education, to constantly advance student learning experiences," he says.
Khare has introduced many students to their initial research laboratory experiences, and he will continue to do so at Gonzaga. "Beyond technical education, working in a research laboratory also provides several other (often less obvious) skills which a student will carry with them as innovative members of society, long after they graduate," he says.
Khare expands the school's diverse global perspective. The U.S. is one of three countries he's called 'home' in the past three decades. His early childhood was spent on the African continent, and his first college experiences were in India. He remains curious about different cultures and their cuisines, language, and music.
"I've always valued human diversity," he says. "I think all current and former Gonzaga faculty, staff and students carry with them rich and diverse experiences, yet everyone shares the common pursuit of academic and personal excellence, and service for the greater good."
That is why he believes Gonzaga is a wonderful fit for him. "As someone who believes in the power of diverse and shared experiences, I want the Gonzaga community to consider me as an ally and someone willing to listen and willing to work with them in the pursuit of these shared ideals," he says.