Hannah Tolson Reflects on World Championships, Future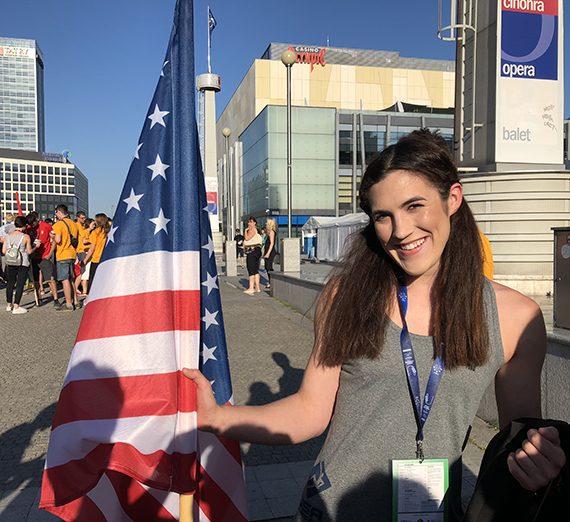 ---
Gonzaga News Service
SPOKANE, Wash. — After a strong showing at the World University Championships June 20-23 in Bratislava, Slovakia, Gonzaga University's national championship rock climber and honors student Hannah Tolson is taking some time off from training to reflect on the experience and consider her future in the sport she loves.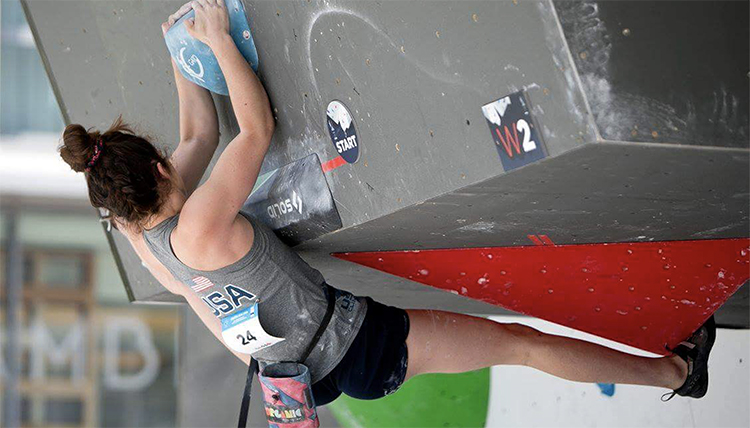 Arguably the best collegiate all-around female rock climber in the nation, the rising senior from Scottsdale, Arizona, finished eighth in bouldering, 13th in lead, and 12th in combined at the World University Championships. Had she not false-started in the speed event, Tolson figures she would have finished sixth or seventh overall.
"Going into the event, I really had no idea what to expect. When I made the top ten in one of my disciplines and was very close in the other, I felt a sort of validation that I really could hang with the best in the world," she said. "All in all, I had an amazing time trying my best, meeting world-class athletes, and pursuing the sport that I love at the highest level. Now I'm taking a much-needed break and strategizing how I can get back next year!"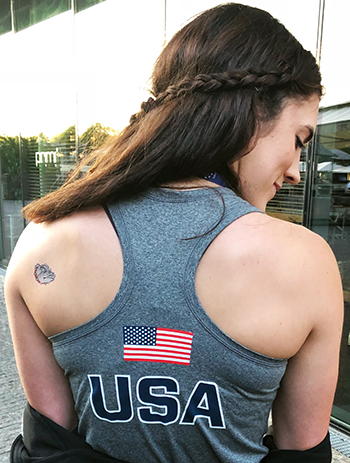 And while she was more than 5,200 miles away from campus, Gonzaga was never far from Tolson's mind. She sported a temporary Bulldog tattoo on her back in Bratislava.

"Competing abroad was one of the greatest privileges of my lifetime. It's really hard to describe what it means to be able to represent my country," she said. "The whole week I felt like I wanted to succeed for reasons beyond my own personal satisfaction. It took a lot of the pressure off knowing that I had a greater purpose: to represent my country and my Gonzaga team to the best of my ability."

Tolson, who captured the national championship in sport climbing at the USA Climbing Collegiate Nationals a year ago, was the only athlete (male or female) at this year's U.S. national finals to qualify for the world championships in all three sports: sport climbing, speed climbing, and bouldering.
Since rock climbing is not an NCAA sport, Tolson formed the Gonzaga Climbing Club so she could compete at the national tournament the past two years and to share her passion with other Zags. Filled to capacity with 40 students, the club meets twice a week during the school year at the Bloc Yard Bouldering Gym and competes in local events.
Tolson, a mathematics major who plans to attend medical school, looks forward to challenges in the classroom during her final year at Gonzaga. With her success in climbing, she plans to pursue the sport at an elite level this coming year.
She is aware that climbers will compete for the first time in the Olympics at the 2020 Games in Tokyo.
"Competing for Team U.S.A. is an electric feeling, and I know that this will not be my last year doing so. With such big academic goals on the line, I can't say that I'm ready to put school on hold and train for Tokyo," Tolson said. "With that being said, I know I love this sport and I am not saying an Olympic run is out of the question for the future."