Summer Leadership Institute for Young Women Begins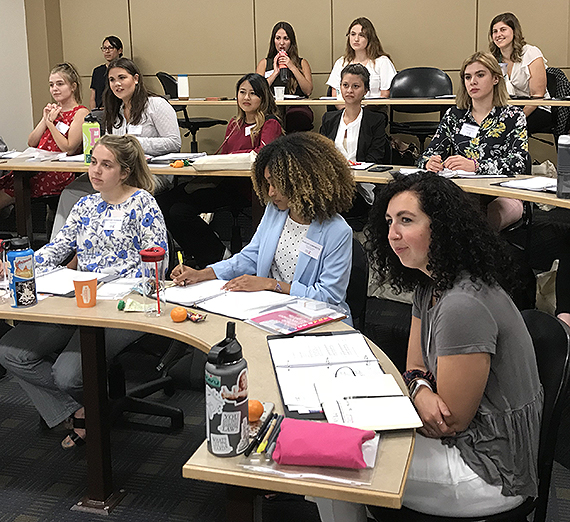 ---
Gonzaga News Service

SPOKANE, Wash. — Twenty-two female undergraduate students from across the state who are energized to become more involved in the political process gathered Thursday at Gonzaga University to begin a six-day summer women's leadership institute sponsored by Gonzaga and Washington State University Health Sciences Spokane.

Thanks to a $45,000 grant last year from the Women's Funding Alliance, the women are learning strategies to become more effective leaders in the civic and political arenas. Through the program — titled WSU/GU National Education for Women's Leadership — a select group of women involved in politics will offer the students unique opportunities for intensive guidance and mentoring on ways to influence government during the institute that ends July 17.

In an introductory session Thursday morning, Cynthia Stavrianos, the institute's academic director and GU associate professor of political science, told the women the institute will be challenging but manageable with 12-hour days packed with information and inspiration. She emphasized the importance of "being present" and urged students to focus on learning and practicing skills they can use immediately.

"While you are here, be here. Have your whole head in this game," said Stavrianos, chair of the GU women's and gender studies program. She urged the students to put aside — at least during the institute — gendered social norms that girls and women should put other people ahead of themselves.

"For this week, let's give ourselves permission to put ourselves first and be thinking about what we want to get out of this and what we are getting out of this and just be present in the moment," Stavrianos said.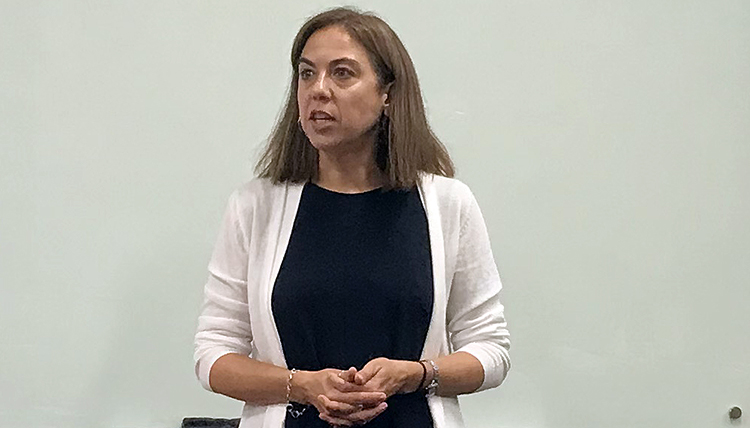 One student said she was still getting used to the expansive opportunity to freely discuss issues that matter deeply to her, noting she has grown accustomed to being shut out of political conversations as she tends toward being abrasive when discussing important issues.
Stavrianos also urged the students to be open-minded and embrace differences — both in people and their perspectives.

"Work on new ways of thinking and being open to new ideas and collaborating across differences this week because, frankly, it's from interacting with people who are different from us that we get new insights and that we develop new ways of thinking," she said.

A nonpartisan, six-day residential program, the institute is modeled after the award-winning leadership program created by the prestigious Center for American Women and Politics at Rutgers University, which aims to address the problem of underrepresentation of women in U.S. politics by educating, encouraging and enabling the next generation of women leaders.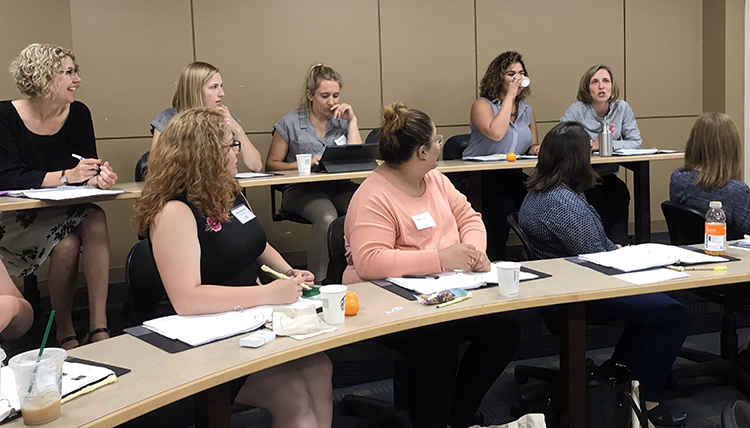 Women leaders with experience in politics, government, business, policy and activism, along with faculty from GU and WSU Spokane, will coach the students. The institute culminates with student teams practicing their public speaking and leadership skills through a daylong legislative simulation of politics and public policy.
NEW Leadership WSU-GU educates and inspires college women to make the world a better place by becoming actively engaged in the civic life of our state and nation.

In addition to Gonzaga and WSU, the participating students are from Central Washington University, Eastern Washington University, Heritage University in Toppenish, Washington, and Whitworth University.

Heather Crandall, associate professor of communication studies at Gonzaga and academic advisor for the institute, said the more she has learned about the imbalance between women and men in leadership positions, the more inspired she has become to work toward equity.

"Women make up around 20 percent of the U.S. Congress — uneven. Women comprise around 5 percent of the CEOs in Fortunate 500 companies — hardly balanced. In media, men author 63 percent of the news we read in the top 10 papers," Crandall said. "I want all of my students to be able to reach those leadership positions they aspire to. Those opportunities have to open up at the top. I see this institute as a way to work on that."