Hannah Tolson Competes in World Climbing Championships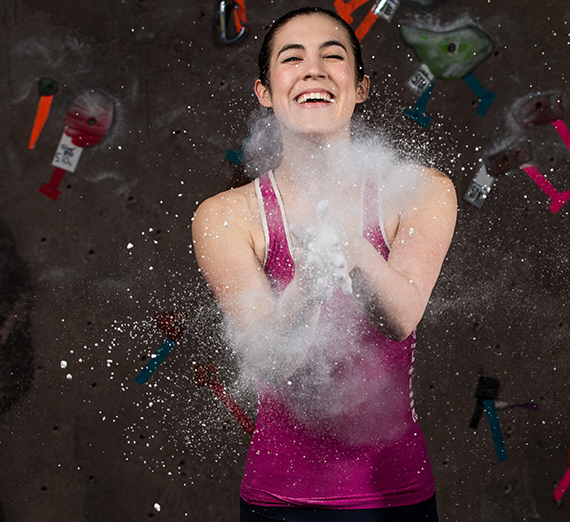 ---
Gonzaga News Service
SPOKANE, Wash. — Arguably the best collegiate all-around female rock climber in the nation, Gonzaga University honors student Hannah Tolson continues her meteoric ascent in the sport June 20-23 when she competes in the 2018 World University Championships in Bratislava, Slovakia.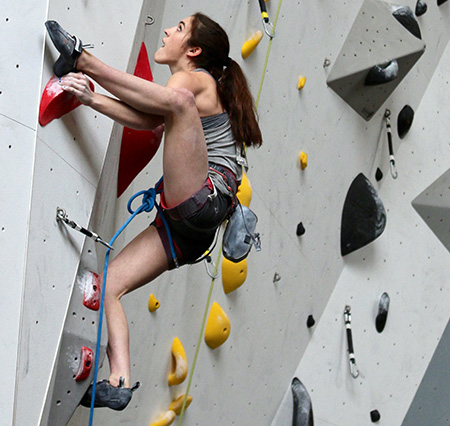 After capturing the national championship in collegiate rock climbing last year, the rising senior from Scottsdale, Arizona, accomplished a different and much more grueling feat at this year's
USA Climbing Collegiate Nationals
held April 20-21 in Houston, Texas. In a single 15-hour day of competition, she qualified for the world championships in all three sports: sport climbing, speed climbing, and bouldering — finishing third, third and fifth, respectively.
"I was the only athlete, male or female, to make it to worlds in all three disciplines," Tolson said. "I liked doing three competitions stacked on top of each other but it was really physically and emotionally exhausting."
Since rock climbing is not an NCAA sport, Tolson formed the Gonzaga Climbing Club to compete at the national tournament the past two years and to share her passion for climbing with other Zags. The club, filled to capacity with 40 students, meets twice a week during the school year at the local climbing gym the Bloc Yard and competes in local events.
"Climbing is a sport that's hard to be good at in just four years," Tolson said. "A lot of our kids have found it difficult to break into the competition scene. So the club is all about getting people excited to compete and to practice. It also builds camaraderie and community."
At the national championships involving 500 qualified competitors, USA Climbing recognized Tolson with its Collegiate Ambassador Award, given annually to four students for their dedication to climbing and community involvement.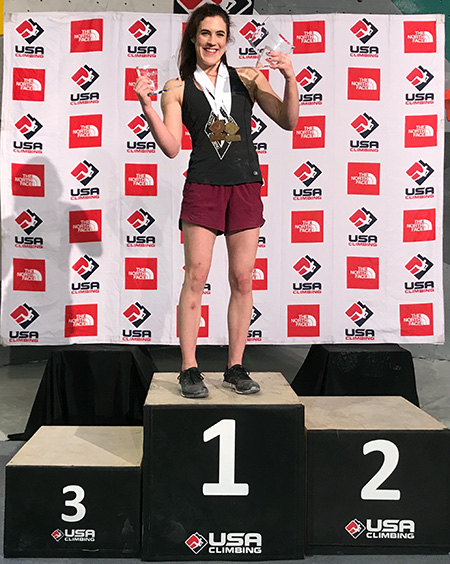 "That was a really good affirmation that I am trying to do my best to share the sport with Gonzaga and the student body," Tolson said.
"Gonzaga has been overly supportive of my climbing. I love being at a school that celebrates more unconventional athletics. I don't think you get that in a lot of schools," Tolson said. "I love Gonzaga. Gonzaga recognizes passion regardless of where it is — whether it's basketball or competitive rock climbing. If you are willing to put in the work, Gonzaga is willing to support you."
While climbing plays an important role in Tolson's life, she's also focused on earning a mathematics degree, and aims to attend medical school. She presented math research at a conference in Nebraska in January, worked last summer on a research project at the Mayo Clinic in Phoenix, Arizona, and is currently doing research involving polygon dissections.
Tolson sees connections between climbing and math.
"I love solving problems and I think that's where I get my love for climbing. Climbing is one big puzzle," she said. "This research project has been like puzzle pieces and I'm trying to arrange them. That's why I want to go into medicine — it's problem-solving."
After Tolson graduates next spring, she plans to spend a year training — perhaps for the 2020 Olympic Games in Tokyo where c
limbers will compete for the first time.
"I may throw my hat into the Olympics," she said. "If I squeak out a top 10 or top five at the worlds then I will probably start thinking about it more seriously."
For now, it's one day at a time for Tolson who is excited to represent Gonzaga in the worldwide competition.
"I will be repping the U.S. flag on my back and a little Bulldog tattoo on my cheek," Tolson said.