The Power of Partnership: Avista Support Prepares Students for Career Success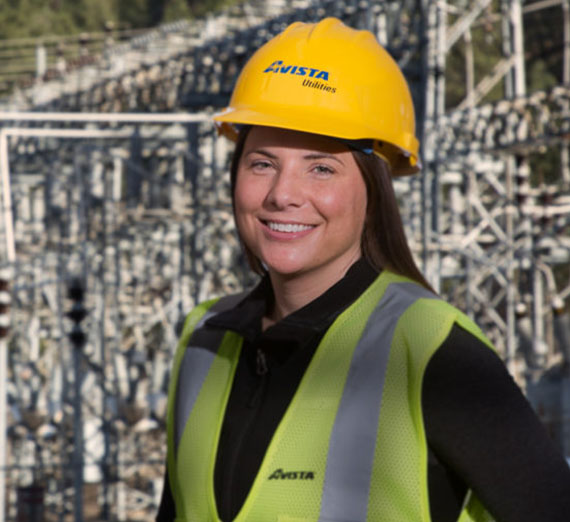 ---
A car slams into a power pole, breaking the lines and taking down the power throughout a multi-block residential area. A 911 call is placed, but provides no immediate information about the downed pole's location. Instead, Avista Utilities must send a crew to search for the broken lines—delaying response times and needed repairs.
This is a common problem for Avista. In response, the utility company turned to SEAS's senior design students for help. As part of Gonzaga's Center for Engineering Design and Entrepreneurship (CEDE) program, student-design teams worked for two years with Avista's engineering professionals to develop a cost-effective sensor that can be attached to the power pole. If a pole is knocked down—by a car or even weather—the sensor detects the location of the outage and sends that information to Avista, allowing Avista to respond and restore power more quickly.
The smart pole sensor project is one of more than 40 student-design projects that Avista has sponsored over the last 20 years. Named Outstanding CEDE Sponsor of the Year in 2017, the company's strong partnership and real-world projects have helped prepare dozens of Gonzaga SEAS students for career success.
Heather Rosentrater, Avista's vice president of energy delivery, said she is proud of the relationship her company and her alma mater have built over the years. A Gonzaga alumna, Rosentrater earned her bachelors degree in electrical engineering in 1999, and she continues giving back, having recently joined the SEAS Executive Council.
"Avista values the partnership and relationship with Gonzaga and its students enabled by the CEDE program," she said. "We benefit by hiring well-qualified program participants as summer students and as new engineers. We also benefit through the development opportunities that our employees get from serving as mentors to project teams."
Like many companies across the U.S., Rosentrater said Avista is losing significant experience and knowledge as longtime employees retire. Partnering with Gonzaga and supporting programs like CEDE helps prepare graduates to backfill this natural loss of talent.
"It is essential that companies actively engage in activities to help prepare our future workforce to successfully hit the ground running once they start their careers," Rosentrater said. "One of the ways to help prepare them is by supporting university programs that expose students to real-world design and team projects."