Faculty Recognized for Human Rights Support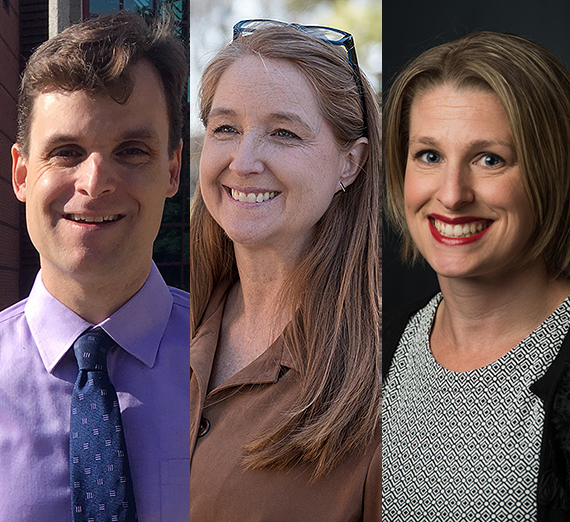 ---
(Above) Gonzaga faculty members honored were Brian Cooney, Kristine Hoover and Katey Roden.
Gonzaga News Service
COEUR D'ALENE, Idaho — The Kootenai County Task Force on Human Relations (KCTFHR) honored Rev. Happy Watkins of New Hope Baptist Church in Spokane and three Gonzaga University faculty members with its Civil Rights Award at the organization's 21st annual Human Rights Banquet.
Gonzaga faculty who received the Civil Rights Award were: Brian Cooney, Ph.D., English professor and director of the Gonzaga University Center for Public Humanities; Kristine Hoover, Ph.D., associate professor of organizational leadership and director of the Gonzaga University Institute for Hate Studies; and Katey Roden, Ph.D., lecturer of English and women's and gender studies.
Raymond Reyes, Ph.D., associate academic vice president and chief diversity officer for Gonzaga, delivered the keynote address at the April 20 event, which was themed: "Our Pursuit for Equality and Social Justice for the Human Race Continues."
The KCTFHR is a volunteer organization founded in 1981 by Dina Tanners, an activist and member of the Jewish community, in response to the harassment and criminal activities of the Aryan white supremacy movement in Kootenai County, Idaho. The organization promotes positive human relations, speaks out against hate crimes, celebrates diversity and opposes discrimination.
In his keynote speech, Reyes critically examined subjects including addressing human differences as a justice issue, the challenges of "post-truth" politics, and how to engage peacemaking processes while avoiding social justice fatigue.
The Gonzaga faculty received the award for collaborating with Tony Stewart, Board member and secretary of the KCTFHR, in 2017 on a digital humanities project explaining the story of how ordinary people can do extraordinary things in their communities for victory over hate and advancing social justice, using an in-depth digital format.
The project will include case studies of 20 communities across America that have consulted with the organization to adopt peaceful strategies to combat intimidation, harassment, threats of violence and hate crimes by extremist groups. It will also include simulations and curricula involving student-based exercises and problem-solving ideas.
The goal of the project is to share the story and ideas with college students across the nation and worldwide in addition to other individuals, groups, organizations and leaders interested in counteracting hate. The project aims to inspire people to work for democracy and join with others to form a powerful force for good in local communities to create a more just and equitable world.
In addition, Hoover is working with her colleague Kem Gambrell, Ph.D., and students on a book to be titled "Victory Over Hate: Powerful Strategies from a Pacific Northwest Civil Rights Group" to accompany the project. The project will use the organization's human rights collection, from 1981 to present, at the North Idaho College Molstead Library, as a source of information.