The Ministry Institute: Haven for Servants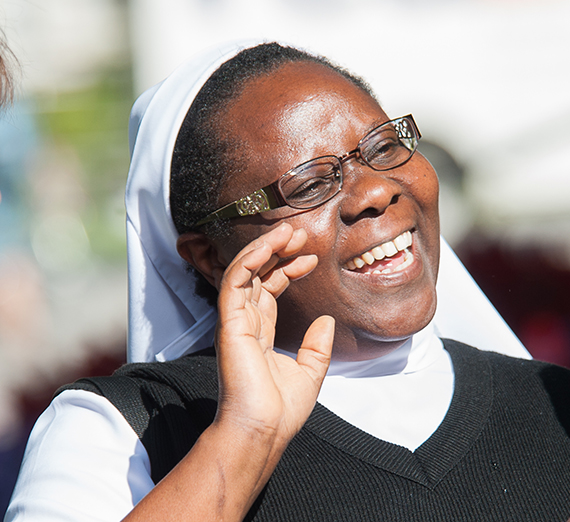 ---
By Sidnee Grubb ('18)
People all around the world are searching for a certain commodity, a hidden gem, if you will. A place of rest, peace, learning, laughter and paradise on Earth. One such spot exists right next to Gonzaga in the Logan Neighborhood.
Students of the Ministry Institute call Gonzaga 'home' for a unique period in their lives – a sabbatical, a time of rest from their ministries. They are priests and nuns coming from countries around the world.
When they arrive, Shonna Bartlett, program director of the Ministry Institute tells them they can find their way home by simply looking for the two crosses atop St. Al's Church. "They're lit up even at night and you can see them from any place on campus many places in the city. Put your back to the front doors of the church and start walking – you're two blocks from home."
From the vicinity of those iconic spires, participants of the Ministry Institute return to the roots of their faith through study of Ignatian Spirituality. They also take classes each semester, sometimes among the undergraduates of the Religious Studies department and sometimes within Gonzaga's graduate programs. Most come bearing degrees of their own.
After 12 years of full-time ministry, one Kenyan minister said he felt he had become a machine. "I came because I needed time to renew my time with God," he said.
The 2017-18 cohort included eight nuns and three priests. They join the hundreds who have sought rest and rejuvenation at Gonzaga in order to return to their work with refreshed energy and perspectives.
About the Institute
The Ministry Institute started in 1981, when Father Armand Nigro, SJ, Father Vince Buezer, SJ, and Father Jack Evoy, SJ, anticipating a shortage of priests, found men who had been widowed and in other careers, but were interested in serving as Catholic priests. Conventional seminary training was not appropriate, so they established the Ministry Institute as a seminary to train second-vocation men for the priesthood.