Retired Nike executive inspires Gonzaga students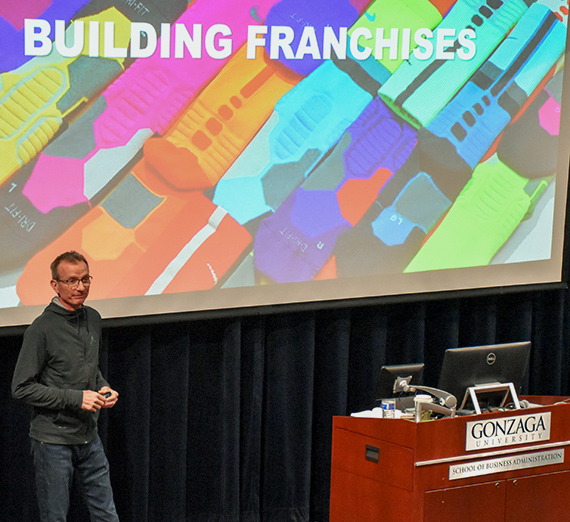 ---
A retired Nike marketer shared timeless lessons learned over 27 years at the innovative Oregon company during a talk with current Gonzaga students as spring semester wrapped up.
Mac McDevitt spoke to an attentive crowd which took time out from finals preparations to hear about his work with some of the brand's most iconic athletes, including: Michael Jordan, Kobe Bryant, Derek Jeter and LeBron James, along with many NCAA elite teams and their coaches. He worked with Jordan Brand for five years among his longtime work with Nike Basketball.
McDevitt is the proud parent of a Zag alum who clearly admires the Gonzaga way, an experience formed in part by his work over the years with GU sports teams. He was brought to campus by the School of Business Administration for a talk that was moved to Wolff Auditorium due to high demand.
McDevitt shared stories behind some of the company's brand successes, as well as best practices on personal branding and how to land a job at companies such as Nike. His dynamic talk focused on encouraging students to chase their wildest dreams, pointing out he is a living example of that goal.
"You can do it all," McDevitt said, remembering the time when he was 17 years old and dreamed of working for Nike. Then, almost on cue to further prove his point, he called on a graduating GU Engineering senior in the audience who landed a "dream job" with Nike.
Since retiring last year, McDevitt's goal is to mentor, develop and prepare future business leaders for career opportunities in brand building, product marketing, and merchandising excellence. That was his purpose in addressing the students.
"Now that he's retired, he has a real desire to give back," said GU marketing professor Peggy Sue Loroz. "It's such a great alignment with Gonzaga's values: this idea of your profession as a vocation – and then how you continue to contribute to society through that lens."
– Jeff Bunch