Campus Garden Promotes Sustainable Food Practices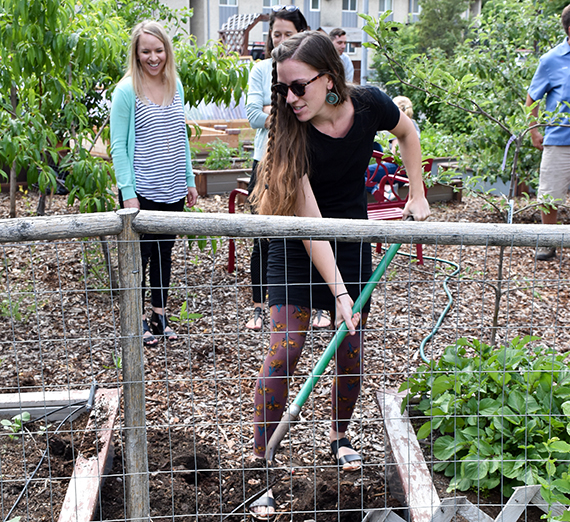 ---
(Above) Kelsey Solberg and other employee sustainability ambassadors plant an apple tree in the GU Campus Garden on May 30. Earlier this spring, students planted the garden. GU photo by Jeff Bunch.
Story and video by Jackson Scallen ('20)

Gonzaga News Service

SPOKANE, Wash. — Students in Gonzaga University's Collegiate DECA Club kicked off the growing season recently in the GU Campus Garden, planting a variety of vegetables and learning to grow food using sustainable practices. Through their efforts, students learn the empowering nature of taking food security into their own hands.
"I think everyone needs to know how to grow their own garden," said Katie Bresnan ('19), who oversees the community garden and led the students through the planting process. "They don't have to rely on going to the store and paying overpriced amounts for food there."

The garden, located behind Faber House at 718 E. Sharp Ave., is in its third growing season. Carrie Herrman ('17), who coordinates Gonzaga's employee sustainability ambassadors as an AmeriCorps Volunteer, was instrumental in launching the garden as a GU sophomore along with students Ben Covino, Ira Ford, and Mari Shramm.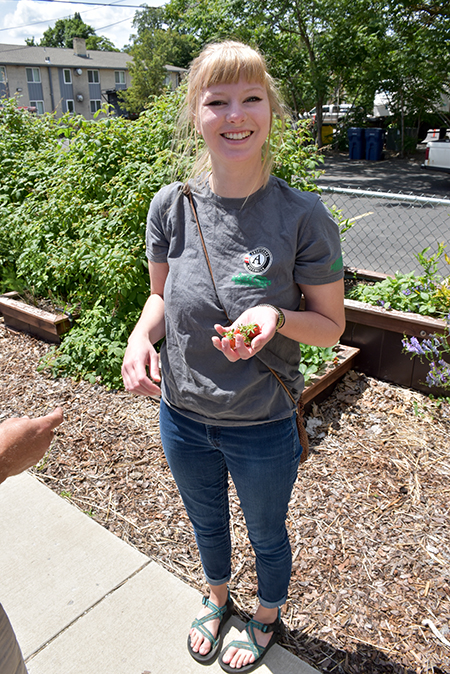 Bresnan, who tends the garden this summer with help from another student Tori Shaw ('19), is active in sharing the benefits of growing food sustainably.
"I think that with having your own garden you can tackle your own food security. A lot of kids on campus are so reliant on the COG (campus food services) and their parents, and I think after they leave college they should have a little sense of being food secure by being able to produce their own produce," she said.

DECA Club was inspired by their adviser, an avid gardener, and reached out to Bresnan to help assist with the planting process. Bresnan also assists Jim Simon, Gonzaga's director of sustainability.
"I'm just glad everyone came out. The teamwork was the best part about it. It's cool because a lot of people don't know that the campus garden exists so now we have awareness," said DECA Club President K.J. Forman ('18).

Members of the DECA Club planted vegetables including peas, salad, melons, squash, cantaloupe, asparagus, and cucumbers. DECA hopes its participation in the process will inspire students in the Logan neighborhood to get involved in the garden.

"If we just had more awareness that the garden is here, a lot more students would volunteer," Bresnan said.

Most club members present will return to campus this coming fall and will be able to see the results of their work and will help in the harvest. They will continue to spread awareness about the importance of growing sustainable food.

"With the harvest that we get from this year, we're going to try to use some of that and have cooking classes at the sustainability office to show people how to prepare food without having to go and actually buy anything from the store," said Bresnan.

All Gonzaga community members are welcome to visit the garden and plant their own seeds or pick vegetables. Students who want to join in the gardening process can join the Gonzaga Campus Gardeners Club.

Organizers also hope to make the Campus Garden a space where students can come to relax. The garden received initial funding from the Gonzaga Green Fund and has since received support from University donors. The garden was envisioned as part of Gonzaga first comprehensive Climate Action Plan (approved in 2013) that aims for Gonzaga to achieve climate neutrality — zero emissions — by 2050.