All in the Family: Citizen Hall of Famers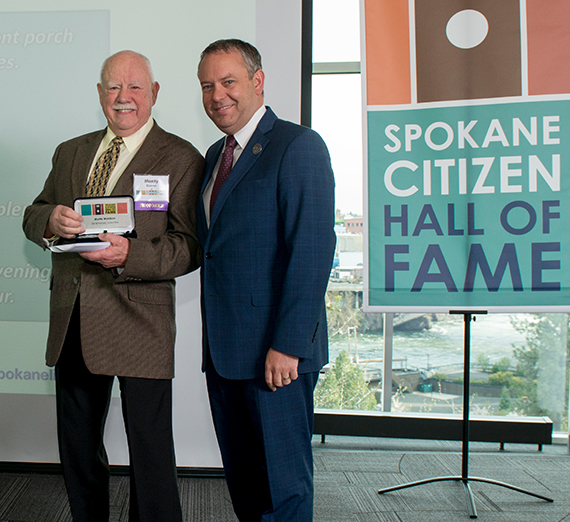 ---
By Kate Vanskike-Bunch

In virtually every sector of our community, there are Zags in the spotlight. Alumni, students, faculty and staff members, board members, friends and supporters. This year's Citizen Hall of Fame was no exception. This benefit for the Spokane Library Foundation honored five Gonzaga friends we'd like to acknowledge and celebrate.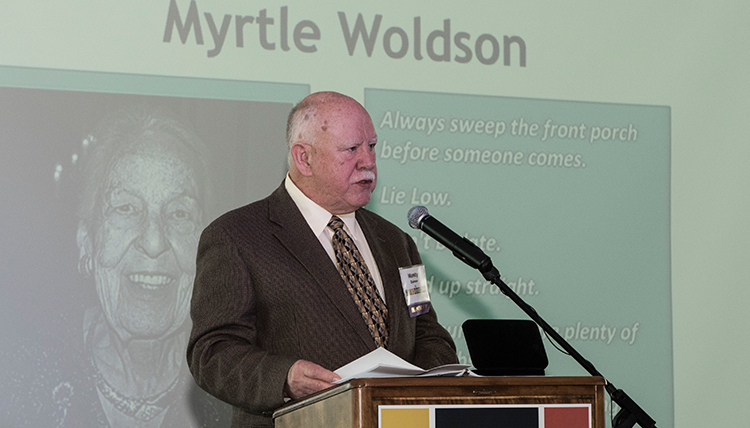 A 2018 "Historic Inductee" is the late Miss Myrtle Woldson, whose generosity toward Gonzaga will bear fruit in the new performing arts center (opening in 2019) as well as through the dozens of students who will receive financial assistance through her scholarship endowment. Monty Danner, Miss Woldson's personal representative, who accepted the award on her behalf, said she was "a master of storytelling and a master of her business empire," which included real estate investments in Spokane and Seattle. More importantly, "Philanthropy gave her great pleasure. She left behind a legacy of love, respect and hope for Spokane."
Beloved Spokane artist and 1972 Gonzaga alum Ken Spiering ('72) received the key to the city for his contributions in the Arts & Letters category. A sculptor, painter, educator and all-around Spokane arts supporter, Spiering gave his thanks to the Library for the honor, and gratitude for the late Harold Balazs who supported Spiering throughout his career. He encouraged all present to continue enjoying the beauty of our city.
In the category of Education, Father Bernard Coughlin, S.J., received honor for the accomplishments he achieved at Gonzaga and in the community over 42 years as the university's president and chancellor. Joe Poss, vice president of University Advancement and pictured here with Mayor David Condon, accepted the honor on behalf of Fr. Coughlin who now resides in California. Poss turned the attention to the two other nominees in the education category, just as Fr. Coughlin would have done, recognizing the legacy of Leonard Oakland, a professor at Whitworth University, and Phyllis Stephens, a WSU master gardener. Poss said, "(Father Coughlin) believes in the power of relationship and understanding the stories of others."
Ninety-one-year-old former State Representative and City Councilwoman Lois Stratton is a longtime Gonzaga supporter who won the Citizen Hall of Fame category for Public Service and Philanthropy, and one of two other nominees honored was Irv Zakheim, founder and chair of Zak Designs. Zakheim serves on Gonzaga's Board of Regents and is a champion for local children in need, raising more than $5.7 million through the Zak!Charity Open.
Congrats to all of these wonderful community members. We are proud to call you family.