'1st Inland Northwest Juried Landscape Art Exhibition' Opens May 26 at Jundt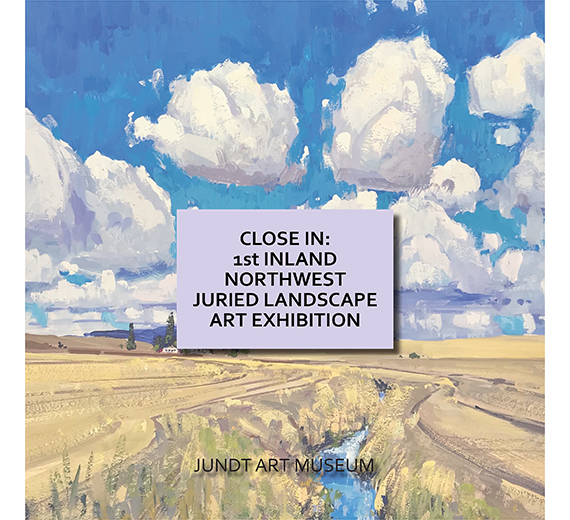 ---
Image above: Aaron Johnson (Moscow, Id). Palouse Farm (Detail), 2016. Gouache on Illustration Board.
Gonzaga News Service
SPOKANE, Wash. – The "1st Inland Northwest Juried Landscape Art Exhibition" opens May 26 at the Gonzaga University Jundt Art Museum and runs through Aug. 11. Organized by Paul Manoguerra, director/ curator, and Karen Kaiser, curator of education, the exhibition focuses on Inland Northwest landscape-based objects created by artists from the region.
Part of its "Close In" series, the objective of this exhibition is to present the diversity and dynamism of contemporary artistic activity in the Inland Northwest while celebrating the relationship between art and the local landscape.
The landscape works for the exhibition were selected by the staff of the Jundt Art Museum. Works were chosen for the show based upon criteria such as the museum staff's understanding of artistic quality and merit, the work's adherence to the landscape theme, the educational and professional achievements of the artist, and the observance of the rules and guidelines of the application process.
Artists selected for the exhibition are: M. Acuff (Walla Walla, Washington), Mary Ahmad (Spokane), Sandy Aronson (Spokane), Tom Askman (Spokane), Scott Bailey (East Wenatchee, Washington), Ladd Bjorneby (Spokane), Christy Branson (Spokane), Lisa Brown (Spokane), Kathleen Casteel (Walla Walla), Hank Chiappetta (Spokane), Melissa Cole (Spokane), Sena Clara Creston (Richland, Washington), Dennis DeHart (Pullman, Washington), Michael Dinning (Spokane), Nora Egger (Spokane), Jen Erickson (Hayden, Idaho), Ray Esparsen (Lewiston, Idaho), Mary Farrell (Spokane), Amalia Fisch (Spokane), Meghan Flynn (Yakima, Washington), Laura Gable (Kennewick, Washington), Julie Gautier-Downes (Spokane), Sheila Grubb (Spokane), Tobe Harvey (Spokane), Leslie Ann Hauer (West Richland, Washington), Chris Heard (Ellensburg, Washington), Michael Holloman (Pullman), Michael Horswill (Hayden Lake, Idaho), Jenny Hyde (Spokane), Eric Jensen (Roslyn, Washington), Aaron Johnson (Moscow, Idaho), Delphine Keim (Moscow, Idaho), Bill Kostelec (Spokane), Kathy Kostelec (Spokane), Robert Kraut (Spokane), Leslie LePere (Harrington, Washington), Michael Lewis (Othello, Washington), Delbert Lusk (Spokane), David Martin (Clearwater, Idaho), Owen McAuley (Cheney, Washington), Karen Mobley (Spokane), Phillip Mudd (Richland), Lisa Nappa (Spokane), Megan Perkins (Deer Park, Washington), Cozette Phillips (Pasco, Washington), Nicole Pietrantoni (Walla Walla), Hannah Pomante (Colbert), Gregg Schlanger (Ellensburg), Ashley Sea (Coeur d'Alene, Idaho), Maja Shaw (Richland), Dennis Smith (Medical Lake, Washington), Laura Truitt (Spokane), Jacqueline Trujillo (Ellensburg), Chris Tyllia (Spokane),Vicki West (Spokane), and Gordon Wilson (Spokane).
A free public reception for the artists will be held from 4-9 p.m., Friday, June 1. The museum's exhibitions and events are free and open to the public from 10 a.m.-4 p.m., Monday through Saturday; closed for University holidays. For more information call (509) 313-6843 or visit www.gonzaga.edu/jundt. To arrange a docent guided tour, please call Karen Kaiser, curator of education, at (509) 313-6613.