The Entrepreneurial Jacob Masters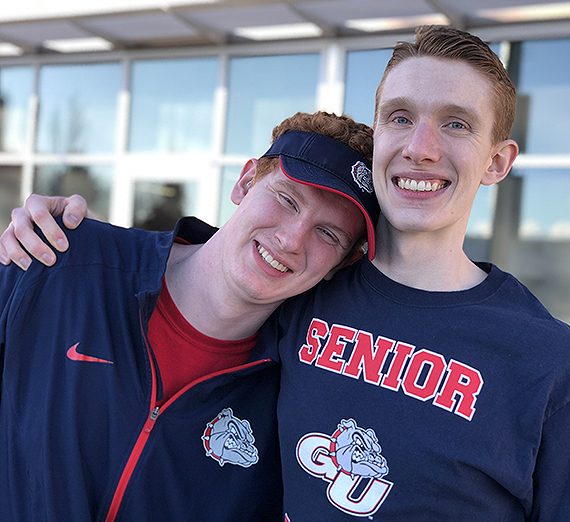 ---
Jacob Masters (right) with his younger brother Joshua, a rising sophomore at Gonzaga.
Gonzaga News Service
SPOKANE, Wash. -- As a student in Gonzaga University's Hogan Entrepreneurial Leadership Program, Jacob Masters knew that he would thrive in an entrepreneurial environment. Thanks to hard work, networking, a business administration degree and a minor in entrepreneurial leadership, Masters' wishes are coming true.
After graduating on May 13, Masters, from Woodinville, Washington, will serve as a market analyst at GenPrime, Inc., a biotech company in downtown Spokane led by entrepreneurs Buck Somes, the chief executive officer, and Darby McLean, the chief operating officer.

Masters had the good fortune to be taught by McLean, a part-time professor in the Hogan program.

Benefitting from broad exposure to both large-scale corporations and small independent firms through professional internships, GU Business Treks and focused professional relationship-building, Masters is excited to work for a company that resonates with his roots in the Hogan program.

"GenPrime is one of those unique companies that is well-established within its industry yet still operates very much like a startup," Masters says. "Being able to work under Buck and Darby truly is an invaluable opportunity, and I look forward to learning from their shared experiences just as much as I look forward to fulfilling my job's responsibilities."

Masters, who also earned concentrations in finance and marketing, said his favorite part of being a Gonzaga student has been sharing a sense of commitment with the rest of the student body.

"I have come to realize that what unites us as Zags is a shared sense of passion and purpose for whatever subject, career, cause or purpose that an individual might feel called to pursue," he said. "Our underlying passions enable us to genuinely bond with one another, so much so that it has naturally resulted in the 'community' that Gonzaga University has become so famous for today."

Masters also has contributed significantly to the GU community as a leader in housing and residence life. In his two years as a resident assistant and one year as an assistant resident director, Masters has worked to foster inclusive environments in the residence halls through relationships with residents and staff. In his spare time, he has enjoyed working out frequently at the Rudolf Fitness Center.