Olivia Rebro Brings Calm, Compassion to Nursing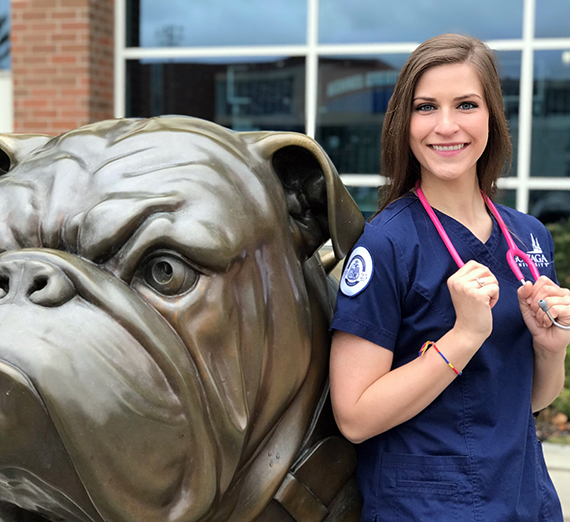 ---
Gonzaga News Service
SPOKANE, Wash. -- Olivia Rebro, who graduated with a bachelor of science degree in nursing from Gonzaga University in ceremonies May 13, is described by nursing faculty as a top student and a leader with exceptional people skills who has a bright future in pediatric nursing.

"Olivia is a highly self-motivated and giving individual. She has strong leadership skills in the classroom and clinical settings," said nursing Lecturer Carsen McGuire. "She has a beautiful ability to connect with children and their families. Olivia's presence is calm and compassionate. Her patients and their parents sense this, which brings peace to unpleasant experiences. She will do great things as a pediatric nurse."

The Kent, Washington, native will work in Washington, D.C.

"I will be working as a nurse in the nurse residency program at Medstar Georgetown University Hospital," Rebro said. "I will be working on the general pediatric unit, with focuses in hematology and oncology. Part of the unit is also devoted to epilepsy monitoring for both adults and children."

Looking back on her time at Gonzaga, Rebro said the University has provided her with more than an education.

"Gonzaga has provided me with opportunities not only to grow up, but to flourish as an individual, discover my life passions, explore my faith, and challenge my mind," Rebro said. "The friends I have made within the Gonzaga community are close to my heart, and I consider many of them my family. These last four years were priceless in my eyes, and I will always be thankful for the cultivating experience I received at GU."

Kaye Slater, nursing lecturer, describes Rebro as "a true leader who has only to realize her potential."
"She has been a calm powerhouse -- so professional, bright, engaged, and yet all without any need to seek or receive attention for her greatness," Slater said.