Brahiam Villanueva Finds Passion for Writing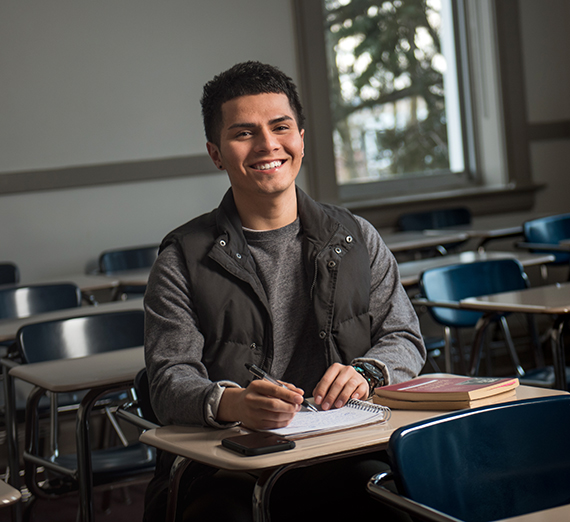 ---
Gonzaga News Service
SPOKANE, Wash. -- Graduating senior Brahiam Villanueva ('18) says he found his passion for writing at Gonzaga University after throwing himself into multiple endeavors.

Among his many involvements, Villanueva served on Gonzaga's Board of Regents, worked with the immigrant-rights advocacy group the Washington Dream Coalition, competed in the mock trial program, and edited Reflection, Gonzaga's journal of art and literature, with poetry, short fiction, photography, artwork, and more.

Recognizing his literary ability, his writing professors nominated Villanueva to attend the 2017 Port Townsend Writers' Conference.

Villanueva captured first place recently for both fiction and poetry in Gonzaga's annual Michael & Gail Gurian Writing Awards. His best piece of advice to all incoming students? Try new things -- lots of them.

"I couldn't have learned so much had I been afraid of trying new things," said Villanueva who was inspired to attend Gonzaga by alumna Mariel Rodriguez ('14) a triple major, Gates Scholar and -- like Villanueva -- a first-generation college student from Moses Lake, Washington.

"I always thought Gonzaga must be an awesome place full of interesting and independent people because she herself was a very productive, hard-working person. Growing up I didn't know very many other people who had attended college," Villanueva said. "I remember Mariel was raising money for the earthquake that devastated Haiti in 2010, and I associated her altruism with Gonzaga and decided I wanted to be in a school that attracted people like her. I wanted to be a Zag so I could work alongside people who shared her spirit."

Villanueva says his favorite moment at Gonzaga occurred near the end of his first semester when he was feeling overloaded with his involvements in academics and activities. Ironically, it was through an involvement that he discovered he truly belonged at Gonzaga.

He was the only GU first-year student selected to attend the Ignatian Family Teach-in for Justice in Washington, D.C. The event brought students from Jesuit colleges and universities nationwide together in the pursuit of faith, justice and solidarity -- including advocacy on Capitol Hill. The experience convinced him to stay at Gonzaga.

"We visited the offices of Congress members during the last day of our stay, advocating for immigration reform -- an issue that is very personal to me," he said. In those few days, Villanueva discovered that he needed to reach out to others for help.

"Asking for help was hard for me then," he recalls. "I learned I needed to trust people and open up to those around me who wanted the best for me. I also learned how much other students at Gonzaga wanted me to succeed, and I decided I would take the steps necessary to have four successful years here."

He vividly recalls the flight back to Spokane and his thoughts about returning to Gonzaga.

"I really felt like I was returning to a second home, a campus full of people with distinct interests, people who I was really excited to learn from and grow with. I remember that after that trip I really wanted to be the person I would become after four years at Gonzaga," he said, expressing gratitude for financial aid that allowed him to attend.

"Growing up, I always saw my mom work really labor-intensive jobs for minimum wage or very low pay. I knew that when it came time for me to go to college I would be on my own, and while my savings and the many jobs I held over the last four years helped some, I am very grateful to all of the people who made my education possible," he said. "I never really felt alone at Gonzaga. I always knew I had the support of so many people who wanted to see me graduate."

In ceremonies on May 13, he received bachelor's degrees in history and English with a concentration in writing and plans to move to either Seattle or the San Francisco area to work and pursue a professional fiction writing career.