Report Shows Success of Class of 2017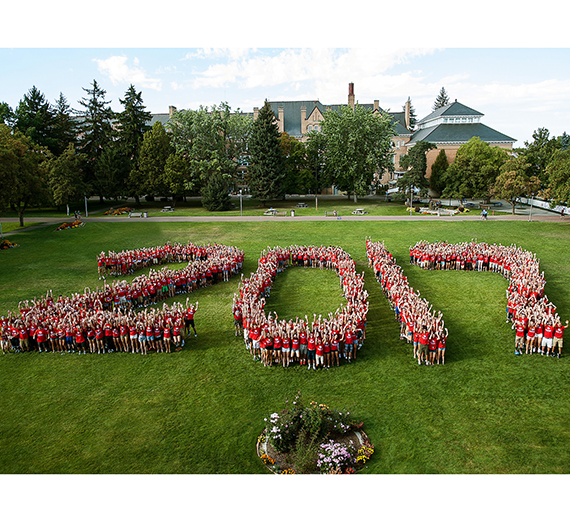 ---
'Success Rate' of 95 Percent
Gonzaga News Service
SPOKANE, Wash. – Ninety-five percent of the Gonzaga University graduates who received their bachelor's or graduate degrees with the class of 2017 reported they are employed (full- or part-time), continuing their education, or doing volunteer work.

Gonzaga's 2017 First Destination Survey Report includes data from 1,546 of the 1,631 undergraduate and graduate students who earned degrees between July 1, 2016 and June 30, 2017. The report found that more than 78 percent of those graduates were employed (full- or part-time; including 2 percent in the military), 14 percent were continuing their education, and 3 percent were volunteering. Five percent of the graduates were still seeking employment or acceptance into a graduate or professional school, while 1 percent were not – for a variety of reasons, including taking time off and traveling abroad – pursuing employment or continuing education.

According to the study, 93 percent of the bachelor's degree recipients (991 of 1,067) and 98 percent of the graduate degree recipients (555 of 564) were employed, continuing their education or serving as volunteers.
The report was prepared by Gonzaga's career and professional development office using guidelines developed by the National Association of Colleges and Employers.

Ray Angle, Gonzaga's assistant vice president for career and professional development, said the University's "success rate" of 95 percent for the class of 2017 offers additional affirmation of the value of a Gonzaga degree.
While the NACE has not yet issued its success rate report for 2017, it reports that 81 percent of 2016 bachelor's degree graduates nationwide were employed or in graduate school within six months of graduation.

"This report is a reflection of how committed the Gonzaga community – faculty, employers, alumni, parents, Regents and Trustees – is to our students," Angle said. "The career and professional development team is excited to work with these stakeholders who are always eager to help our students achieve their career and educational goals."


Top Cities for Zag Graduates
The report also shows that the top destination cities for Gonzaga's 2017 bachelor degree recipients were: Seattle (257), followed by Spokane (249), Portland (49), San Francisco (40), and Los Angeles (37). The top cities for Gonzaga's 2017 graduate degree recipients were: Spokane (129), Seattle (88), Portland (23), Calgary, Alberta (19) and Tri-Cities, Washington (11).

For more information about the report and additional statistics, visit: 2017 First Destination Survey Report.