Scholarship Spotlight: Octavio Rivas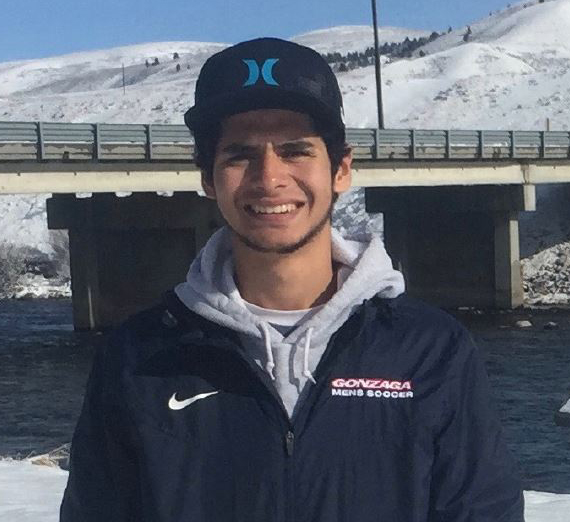 ---
Scholarship gifts go a long way in providing access to education for Gonzaga students, but in the case of civil engineering major and sponsored Zag Octavio Rivas ('19), you've also helped discover a new "home."
Whether a literal house or the feeling of community that welcomes Gonzaga students, "home" has been a common theme throughout Rivas' experience at GU. When he completes his engineering degree with a minor in finance, Rivas has goals to someday build homes and communities for others. Prior to GU, Rivas' home was in Orange, California, where he was the oldest of three children. He left the beach-going lifestyle of Southern California and made Spokane his home to follow his dream of earning a Gonzaga degree.
"I chose GU for the Jesuit education," he said, "and that's what I've found. In my time here I've had some amazing moments where my professors created an environment in which my classmates and I are not just learning from instructors, but also from each other."
Rivas has experienced Gonzaga's transformative power first-hand. Adjusting to the Inland Northwest from Southern California was a challenge, but his new friends in the GU community helped him along the way.
"It really made me appreciate the things I have," he said, adding, "I can tell these friendships are going to last a lifetime."
Preparing to begin his junior year, Rivas' favorite Gonzaga experience thus far was made possible by the scholarships provided by committed GU supporters. Because of those donations, Rivas didn't have to take on extra work to pay for his education; instead, he was able to volunteer with Habitat for Humanity — an experience that reinforced his passion for engineering.
"It was so amazing," said Rivas, "to see how the organization's idea for building homes has made such a difference in the lives of so many families. Also, I just love the idea of having a design start on a piece of paper and then helping construct it into a final product — someday I would love to have my own company to build quality homes and communities that will benefit people of all economic classes."
Rivas continues on his path, thanks to donor support. In addition to expressing his gratitude, Rivas also shared that he is looking forward to following the footsteps of Gonzaga supporters as a person for others.
"Thank you so much for donating to scholarships," he said. "You have helped me and my family to figure things out; I still have two younger sisters who want to attend college, so you've made a difference for all of us. You have inspired me to strive for the means to give back to students one day, too."
Support students like Octavio by making your own scholarship gift today.