Choirs' Performance to Foster Awareness of Anti-Semitism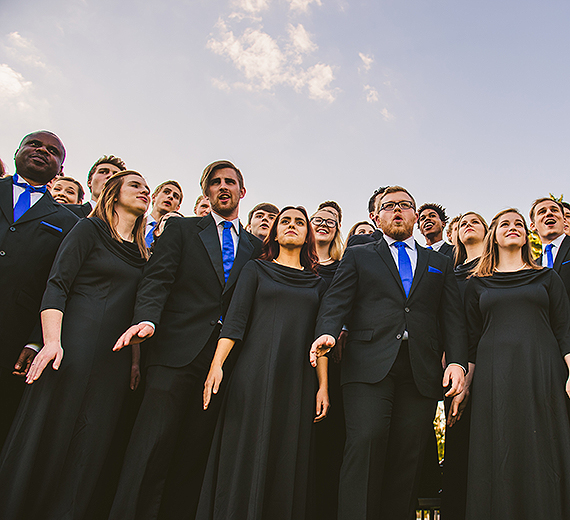 ---
Gonzaga News Service
SPOKANE, Wash. – With $4,000 from Spokane Arts Grants Awards, the Gonzaga University Choirs will present a special performance later this month to cultivate awareness of modern anti-Semitism and foster remembrance of the Holocaust.
More than 60 members of the GU student choir and an orchestral ensemble of 40 professional instrumentalists from Incendo Music Ensemble will perform a dramatic performance of Michael Tippett's "A Child of Our Time" at 7:30 p.m., Saturday, April 28 at the Martin Woldson Theater at the Fox. Visit for information about tickets.
Composed in 1939-1941, this secular oratorio is inspired by events and anti-Semitic violence in Germany at that time. Tippett's composition uses five African American spirituals interspersed throughout the work to convey hope in the face of oppression. A message of reconciliation and understanding underscores the drama, engaging with issues of "our time." Preparation for the performance includes education collaboration with members of Spokane's Jewish community.
The concert will be rebroadcast on Spokane Public Radio, KPBX, 91.1 FM, on May 14 for its "Concert of the Week."
As part of the collaboration with Spokane's Jewish community for the presentation, Temple Beth Shalom arranged for a Holocaust survivor to speak recently with the GU Concert Choir. In addition, members of the Concert Choir will sing a short offering at Gonzaga's Holocaust Remembrance Day Yom Hashoah service on Wednesday, April 11. The event is led by Rabbi Elizabeth W. Goldstein, Ph.D., Gonzaga associate professor of religious studies, and is open to the public.
For more information, please contact please contact Timothy Westerhaus, assistant professor of music and chair of the Gonzaga music department, at (509) 313-6737.