Stephanie Lister Recognized at 26th Annual Myra Bradwell Award Ceremony
---
Reflection written by Gonzaga Law 2L student Nicole Luth
This past March, on International Women's Day, the Gonzaga Women's Law Caucus had the esteemed privilege to honor Ms. Stephanie Lister as the 26th Annual Myra Bradwell Award recipient. Law students and staff filled the Barbieri Courtroom, along with past award recipients, judges, Assistant U.S. Attorneys, and local legal professionals.

The ceremony opened with a welcome from Women's Law Caucus co-presidents Brooke Frickleton and Emily Hazen. They shared a brief history of Myra Bradwell's legacy and what her admission to the bar in 1890 meant for women in legal practice. Lister was then introduced by Kyle Olson (3L), who nominated her for the award. He shared his experience of working with Lister at the U.S. Attorney's Office and how she has helped shape his law school experience.
Lister has served as an Assistant U.S. Attorney for 30 years, and she is on the forefront of child pornography prosecutions not only in Spokane, but the entire nation. She is nationally recognized for her ground-breaking work in the development and implementation of Project Safe Childhood, an initiative that combats the growing epidemic of child sexual exploitation and abuse.
It was a humbling experience to hear Lister speak about her work. Her passion for protecting youth was felt throughout the room, and the level of dedication she has shown to fighting child pornography throughout her career is inspiring. Her colleagues say she believes in working for the children and has the inner strength necessary to prosecute these very difficult crimes. Lister attributes her success to the wonderful team she works with and the mentoring she has received from Assistant U.S. Attorney Earl Hicks.

The Women's Law Caucus was blown away by her nomination, and there was none more deserving than her. Congratulations, Stephanie!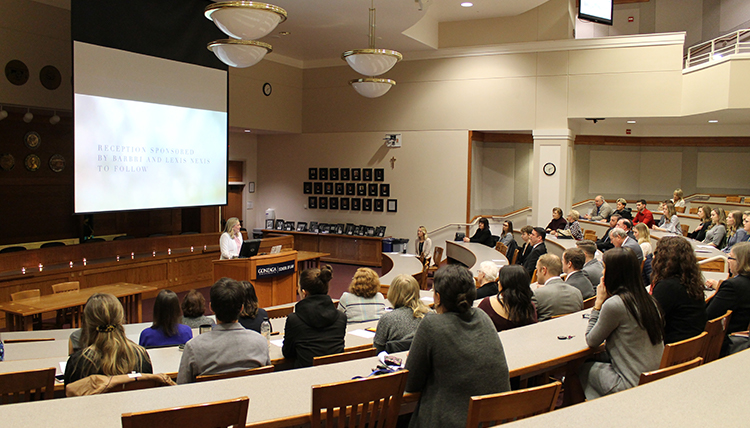 Stephanie Lister addresses the Barbieri Courtroom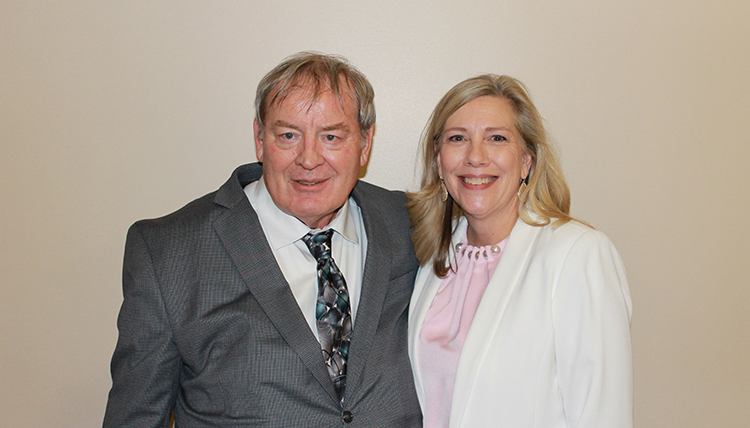 Left: Earl Hicks, Right: Stephanie Lister