GU's First Diversity Post-Doc Fellows Reflect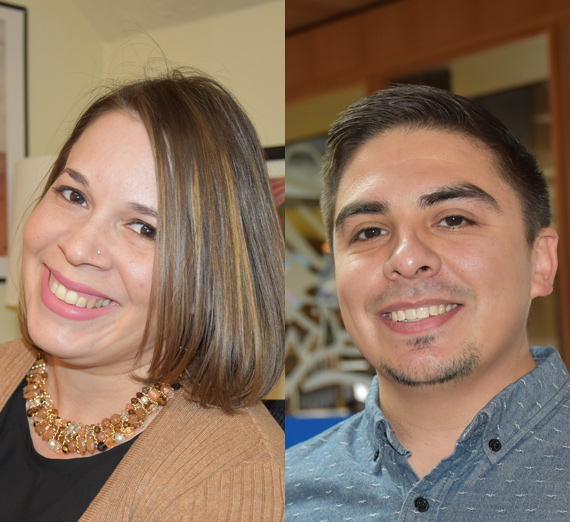 ---
When the University of Washington Diversity Post-Doctorate Fellowship began two years ago for Noralis Rodriguez-Coss and Tony Abeyta, neither they nor Gonzaga program organizers were sure how it would all work out – these scholars coming from a research university with enrollment exceeding 40,000 in a big city, to GU, undergraduate enrollment around 5,000 where traffic is seldom an issue.
But as both complete their two-year appointments here, they reflect positively on their experience. And certainly Gonzaga program directors Ann Ostendorf and Jessica Maucione sing its praises.
"What I have found most valuable is to be part of a community that is committed to learn and become better," Rodriguez-Coss says. "The GU community has challenged me to work hard in becoming a better instructor and scholar every day. I found great collaborative spaces, and being able to contribute to those spaces has made this one of the best academic and processional experiences of my life."
Abeyta concurs. "The biggest honor that I received here was having students confide in me, seek advice, and ultimately ask me for letters of recommendation as they progress toward graduate and medical school," says Abeyta, a biology instructor. "This experience provided me with valuable insight and opened my eyes to what a tenure-track faculty career would entail."
One of the goals of this program, first imagined by former Gonzaga AVP Patricia Killen, was to receive feedback from the diversity post-doc fellows on how we as a university can do better to unify the GU community through differences.
"Great strides have been made to that end: The administration is taking great steps in advancing a minor in Ethnic Studies. The Center for Teaching and Advising is providing great tools for faculty members. The Unity Multicultural Education Center and the Lincoln LGBTQ+ Center, among other programs, are doing an excellent job to support our students," says Rodriguez-Coss. "Nevertheless, our students still lack exposure to a variety of perspectives and life experiences that can enrich the way they understand society and the world. The presence of faculty of color is fundamental to providing our students with such intellectual and multicultural enrichment. A wide representation of scholars from different backgrounds and racial diversity can help to advance institutional excellence and make our mission a stronger example of praxis."
Rodriguez-Coss will continue teaching at GU in Women's and Gender Studies, Abeyta is weighing two outside offers to teach, and GU's two first-year fellows Shruti Patel and Eunice Kim have accepted tenure-track positions at Salisbury University in Maryland and Furman University in Greenville, S.C., respectively.
"Though we'd love to have all of them around for the two years, the point of the post doc is for them to get enough experience so they find success on the job market. Thus far, this seems to be working well," says Ostendorf.