Greater Gonzaga Guild builds community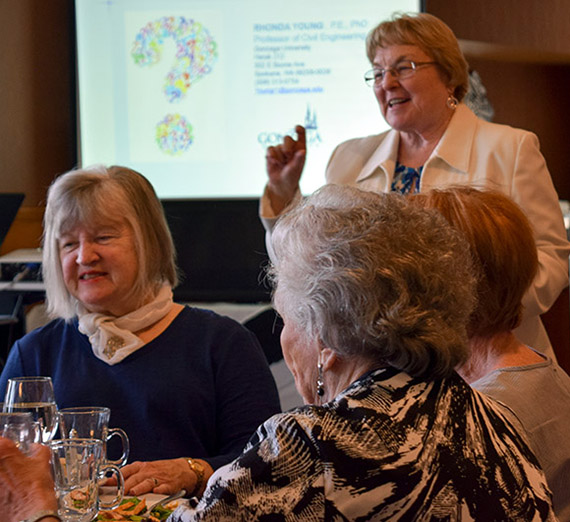 ---
By Jeff Bunch
On a sunny spring day in the Herak Club Room on the southern end of Gonzaga's campus, a group of longtime friends gathers for a longstanding ritual.
Dozens of Gonzaga community members socialize in small groups around the room, catching up on grandkids, gardening and other topics. They soon settle into their seats beside guests from the community and the campus to hear about cutting-edge transportation topics of connected vehicles and urban greenways.

The annual finale luncheon of the Greater Gonzaga Guild is underway, with Civil Engineering professor Rhonda Young, Ph.D. as its guest speaker. Her talk caps off another successful year of an organization that has a long, successful history at Gonzaga.

Members of the Guild, which has been a GU fixture since its founding in 1956, gather six times a year to share friendship, learn from scholars, students and staff, and help build awareness for the University. The group is comprised of alumni, former faculty, staff, supporters and friends.

Peggy Doering ('71) has been board President for several years. She is an active leader in the greater Spokane community, but feels the Guild attracts a unique and loyal following. As a student, her schedule didn't allow her to attend similar events, so she's making up for lost time.

"I would receive the notices and the lectures looked interesting," said Doering, who started attending after her children were grown. "I wanted that connection back to the university that I love so much… I feel like it's an invaluable gift that keeps giving back from Gonzaga University."

Mary Anne Stuckart, also a '71 alumna, has been attending the events since retiring in 2015. Stuckart says she finds the events a rewarding mix of interesting topics and valued friendships.

"I love being at Gonzaga and I learn a lot whenever I come. They're always interesting and informative - maybe even something I didn't think about knowing - and I see friends here that I don't see very often," said Stuckart.

The Guild has great stability as an organization. Doering was a Guild member many years before becoming president, yet that's a drop in the bucket compared to other board members.

"I've been doing this for 25 years," says treasurer Katie McFarland. "Once you volunteer to do a job with them, they don't let you out of it," she said with a twinkle in her eye.

Doering says the leaders feel appreciated and want to stay in their roles. The core group is a solid one and their efforts are bolstered by organizational support of the University Advancement division, which helps to line up the speakers and market the luncheon programs.

Annual dues are a modest $30, for which Guild members get access to exclusive and diverse programming, such as the compelling and wide-ranging lineup from the 2017-18 academic year:
Kristine Hoover, Ed.D., Director of Gonzaga University Institute for Hate Studies, spoke about the work of the institute and its October International conference;
Darryl Potyk, M.D., and Courtney Law, Ph.D., UW School of Medicine-Gonzaga Regional Health Partnership, gave an update about the Partnership's growth and impact;
Mike Roth, Director of Athletics, led an engaging conversation about the University's student-athlete programs;
Ann Ciasullo, Ph.D., associate professor of English, presented research on "Why Studying Popular Culture Matters";
Joe Albert, Ph.D., associate dean, School of Professional Studies, spoke about "Personal Identity and Storytelling"; and
Rhonda Young, Ph.D., professor of Civil Engineering at Gonzaga, talked about a pair of progressive transportation research projects.
In her opening remarks of the final meeting of the year, Doering captured the essence of the Guild: "We love the variety of stimulating topics, the smart thinking of our speakers and their thoughtful responses to our questions. And we appreciate the opportunity to come together as colleagues and friends to learn something new."
To learn more information about the Guild, including membership, email Barbara McNabb.