Humanitarian, U.S. Senator, Jesuit Speak at 125th Commencement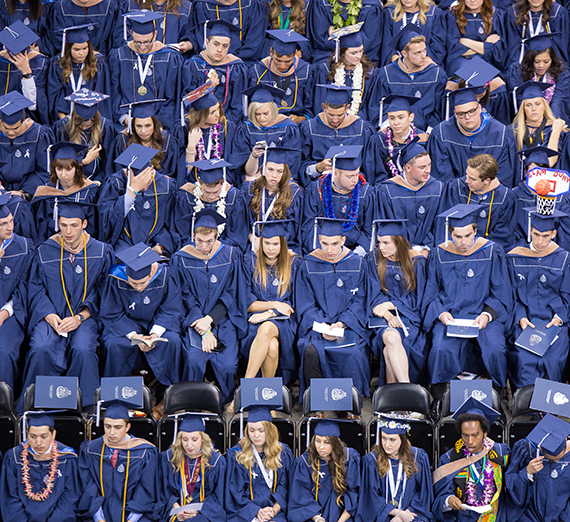 ---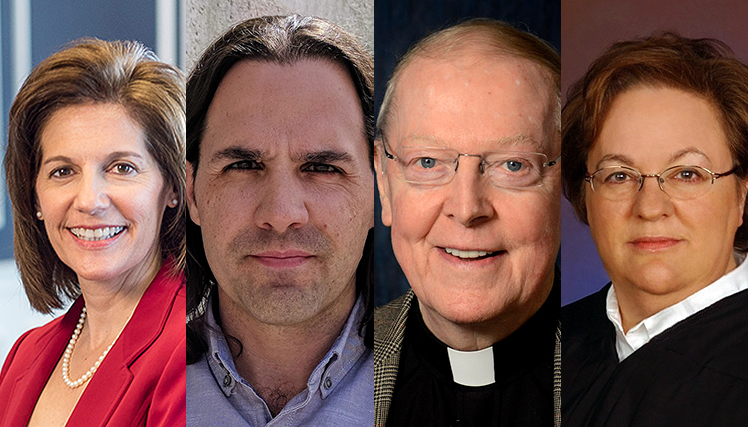 Honorees (from left): Sen. Catherine M. Cortez Masto, Andrew Dwonch, Fr. Leo J. O'Donovan, S.J., & Judge Rosanna Malouf Peterson
SPOKANE, Wash. -- Andrew Dwonch, mission director in Palestine for Mercy Corps, a global non-governmental, humanitarian aid organization and a 1999 Gonzaga University alumnus, will deliver the keynote address at Gonzaga University's undergraduate commencement ceremony at 9:30 a.m., Sunday, May 13 in the Spokane Arena. The ceremony is among Gonzaga's three 125th commencement exercises May 12-13.
At the undergraduate ceremony, Dwonch will receive an honorary Doctor of Laws degree to honor his commitment to the urgent needs of some of the world's most vulnerable people through a career in international relief and development that has included service with nonprofits in six countries, in both engineering management and senior leadership roles. Molly Bosch, graduating with a bachelor of science in nursing, will give the student address.

Law School Commencement, May 12
Sen. Catherine Cortez Masto, D-Nevada
, a 1990 Gonzaga University School of Law alumna and former Nevada attorney general, will deliver the keynote address at the Law School commencement, starting at 9 a.m., Saturday, May 12 at the McCarthey Athletic Center. Cortez Masto, who in 2016 became the first Latina and first woman from Nevada elected to the U.S. Senate, also will receive an honorary Doctor of Laws. Also at the Law School commencement,
U.S. District Court Judge Rosanna Malouf Peterson
will receive the Gonzaga Law Medal, recognizing her exceptional lifetime commitment and distinguished service of justice through the practice of law.
Benjamin Awuku Asare
, graduating with a Juris Doctor, will give the student address.
Graduate Commencement, May 12
Fr. Leo J. O'Donovan, S.J.
, of Jesuit Relief Services and president emeritus of Georgetown University, will deliver the graduate commencement address at noon May 12 at the McCarthey Athletic Center. In recognition of a life lived in service to the mission of higher education not only within the United States but around the world, Gonzaga will honor Fr. O'Donovan with the DeSmet Medal, the University's highest honor.
Nneka Enemkpali
, graduating with a master's in organizational leadership, will give the student address.
Gonzaga to Confer 2,083 Degrees
Gonzaga expects to confer a total of 2,083 undergraduate, graduate and law degrees (2,197 in May 2017), including: 1,151 bachelor's degrees (1,283 in 2017), 770 master's degrees (774 in 2017), 64 doctorates (32 in 2017), and 98 law degrees (108 in 2017).
Other Gonzaga Commencement Events
SOCIAL JUSTICE MISSIONING CEREMONY: 3:30, Friday, May 11, in University Chapel (third floor of College Hall). This event honors seniors who are embarking on service work through organizations including the Peace Corps, Jesuit Volunteer Corps and others.
ROTC COMMISSIONING CEREMONY: 5 p.m., May 11, St. Aloysius Church; guests welcome; reception follows in Cataldo Hall.
SCHOOL OF LAW COMMENCEMENT MASS: 5:30 p.m., May 11, University Chapel in College Hall (all welcome).
UNDERGRADUATE, GRADUATE COMMENCEMENT MASS: 3:30 p.m., May 12, McCarthey Athletic Center (all welcome).
COLLEGE OF ARTS & SCIENCES STUDENT AWARDS: 8:30 a.m., May 12, Hemmingson Center Ballroom.
NURSING PINNING CEREMONY: 9 a.m., May 12, St. Aloysius Church; ceremony welcomes newly graduated nurses into their profession; reception follows in Cataldo Hall.

Visit the Gonzaga commencement site online for a complete list of all commencement-related events
Speakers & Honorees
Andrew Dwonch
Shortly after earning a degree in civil engineering with minors in philosophy and business from Gonzaga, Dwonch launched a career in international relief and development that has spanned nearly 19 years and has included roles in engineering management and senior leadership. From 1999-2006, he managed more than 250 community infrastructure construction projects in Albania, Serbia, Iraq and Lebanon, building schools, roads, bridges, community centers, health clinics and water systems to support vulnerable communities. In 2006, he turned toward humanitarian and recovery assistance for victims of Middle East conflicts. As Mercy Corps' mission director for Palestine (2006-10 and 2015-present), he has worked to meet urgent humanitarian needs while providing new resources and hope for lasting change. In seeking humanitarian solutions to refugee problems, he is addressing what the United Nations has called one of the most pressing problems of our world. In Gaza, Dwonch and his teams have provided food and clean drinking water, financial assistance, home reconstruction, and life-sustaining work by designing high-impact projects and securing nearly $150 million to aid more than a million people. In the past year, Dwonch has chaired the Association of International Development Agencies and advocates for a new approach to the Israeli-Palestinian conflict based on equal rights. He has helped the Palestinian technology economy provide jobs for youth, including an innovation hub and -- in partnership with Google -- a startup accelerator known as Gaza Sky Geeks.


Sen. Catherine M. Cortez Masto
The first Gonzaga graduate elected to the U.S. Senate, Cortez Masto is a proud native Nevadan who grew up with strong family values. Her father, a Clark County commissioner, demonstrated the ability to make a difference in his community by taking action. He instilled in her a passion for public service. "I also learned that I needed to be better prepared to advocate for underrepresented or vulnerable populations and defend them from criminals. It was heartbreaking to see my grandparents become targets of fraud," she said, noting that elder protection became one of her first priorities as the state's attorney general. Her law degree provided the tools necessary to fight for the voiceless, build bridges in the community and bring awareness to the issues facing Nevadans. In her two terms as attorney general, Cortez Masto also fought drug crime, led a fight against home foreclosure fraud (securing nearly $2 billion for Nevada homeowners from banks as part of the National Mortgage Settlement), and worked to strengthen laws preventing sex trafficking and violence against women. Before that, she worked as an assistant county manager for Clark County, served as a federal criminal prosecutor for the U.S. Attorney's Office in Washington, D.C., and was chief of staff to Gov. Bob Miller.


Father Leo J. O'Donovan, S.J.
As a grammar school student following the attack on Pearl Harbor, O'Donovan and his class - directed by a Dominican sister - painted a nativity scene set in Japan. Through this act of "ethical imagination" (to use his words), empathy and global awareness deeply influenced him and foretold a lifetime as a Jesuit priest filled with opportunities to reflect these values. Born in New York City, Fr. O'Donovan is a graduate of Georgetown University, Fordham University, Woodstock College, and the University of Münster (in then West Germany), where he earned a doctorate under Karl Rahner. Fr. O'Donovan is president emeritus of Georgetown, where he served as president from 1989 to 2001 and oversaw the tripling of the endowment, a major increase in the university's research budget, and launched several innovative new academic endeavors, including the Center for Muslim-Christian Understanding and the Center for Social Justice. Education, ethical imagination, and global awareness mark his work at Georgetown and, more recently, at Jesuit Refugee Service/USA where he works in support of the Global Education Initiative that educates refugees - bringing new opportunities for human dignity to marginalized people. In addition, he has returned to teaching, serves on a number of boards, and publishes articles frequently on theology and art criticism.
Judge Rosanna Malouf Peterson
After graduating from the University of North Dakota School of Law in 1991, Judge Peterson became the staff attorney for the Hon. Fred Van Sickle, U.S. District Court for the Eastern District of Washington until 1993. For the next 17 years, she worked in private practice focusing on federal and state criminal defense, employment, and education law. She also served as president of the Washington Women Lawyers Bar Association and as president of the Federal Bar Association of Eastern Washington. During that time, she also taught at Gonzaga Law School in courses involving federal jurisdiction, evidence, and trial advocacy. While at Gonzaga, Judge Peterson also served as director of the Gonzaga Law Externship Program (2002-2010), which offers law students opportunities for professional development - earning practical lawyering skills, building professional networks, and gaining further insight into the legal system. In 2010, President Obama appointed her as the first woman to serve as a federal judge for the Eastern District of Washington. A year later, she became chief judge (2011-2016).